Frogman's Print Workshop Presents "Sateen Dura-Luxe" in Osborne Gallery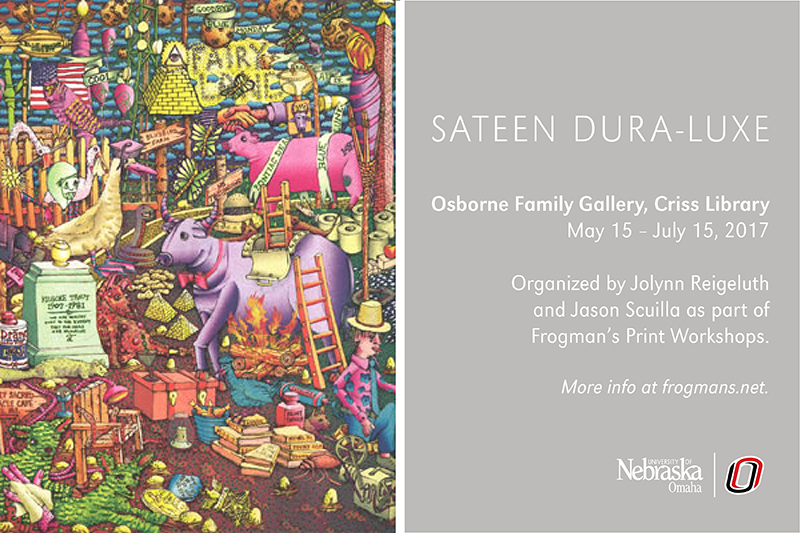 Organized by Jolynn Reigeluth and Jason Scuilla, "Sateen Dura-Luxe" will be on display in the Osborne Family Gallery in Criss Library from May 15 through July 15, 2017. 
Print artists featured: Dennis Ahearn, Katharina Bossman, Megan Burke, Larry Cooper, Matthew Egan, Oscar Gillespie, Melissa Harshman, Matthew Hopson-Walker, Mary Jones, Brian Kelly, Andrew Kosten, Emmy Lingscheit, Joe Petro, Jolynn Reigeluth, Robert Rivers, Brandon Sanderson, Teresa Schmidt, Jason Scuilla, Greg Stone, Ashley Taylor, and Andrew Winship.
---
The exhibit is part of the internationally-known Frogman's Print Workshops, which found a new home at the University of Nebraska at Omaha (UNO) in 2016. Made up of two, one-week residencies, the summer program draws artists from across the nation to UNO. Frogman's participants are a unique mix of undergraduate and graduate students, professors, school teachers, and professional artists.
Learn more about Frogman's move to UNO.
Contact Us
For more information about including events and announcements in the Criss Library News Center, email us at unocrisslibrary@unomaha.edu.
Unless otherwise clearly stated, any views or opinions expressed as part of events, exhibitors, or presenters in the UNO Libraries (Dr. C.C. and Mabel L. Criss Library and the KANEKO-UNO Library) should not be viewed as endorsements by the University of Nebraska at Omaha (UNO) and do not reflect the official position of UNO or the University of Nebraska system.