Spring Poetry Reading
Join the UNO Library Friends for a Spring Poetry Reading, free and open to the public. Hear from local authors Michael Catherwood, Greg Kosmicki, and Rich Wyatt.
date: 04/10/17
time: 7:00 PM - 9:00 PM
location: Thompson Alumni Center, UNO's Dodge Campus • maps
add
04/10/2017 7:00 PM
04/10/2017 9:00 PM
America/Chicago
Spring Poetry Reading
Join the UNO Library Friends for their Spring Poetry Reading, free and open to the public. Hear from local authors Michael Catherwood, Greg Kosmicki, and Rich Wyatt.
Thompson Alumni Center, UNO's Dodge Campus
false
MM/DD/YYYY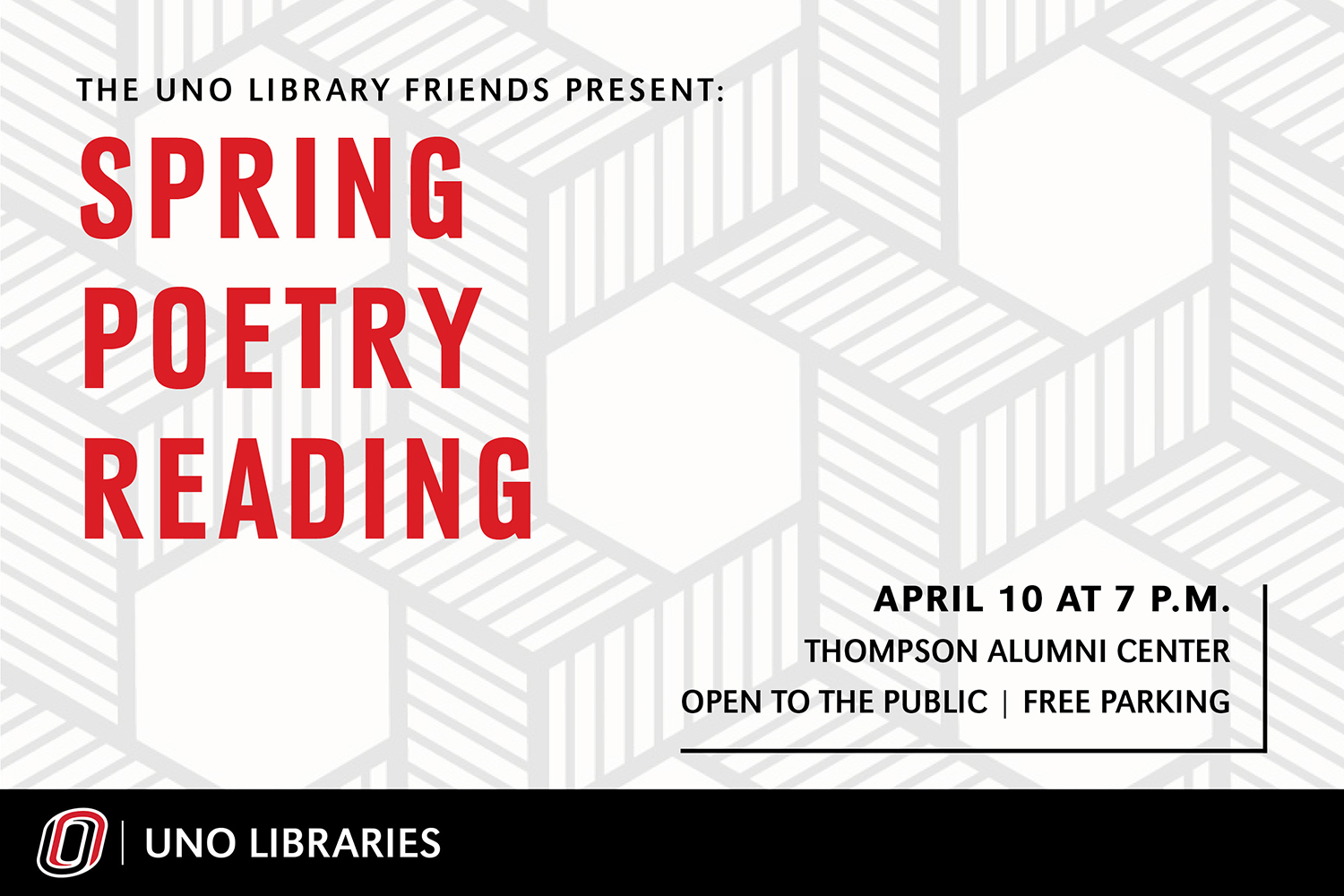 APRIL 10 AT 7 PM
Open to the Public | Free Parking
---
FEATURING THE WORKS OF:
Michael Catherwood
If You Turned Around Quickly
Michael Catherwood has published poems and essays in several magazines. 
In 2006 The Backwaters Press published his first book of poems entitled Dare. He has worked as a truck driver, weed whacker, garbage man, teacher, tutor, substitute teacher, and administrator. He has taught creative writing at the University of Arkansas, the University of Nebraksa at Omaha, and at Creighton University. 
His awards include an Intro Journals Award for Poetry from AWP, two Lily Peter Fellowships, a Pushcart Nomination, the Holt Prize for Poetry, and National Finalist for the Ruth Lily Prize. In 2003, he received an encouragement award from the Nebraska Ms Council.
Greg Kosmicki
It's As Good Here As It Gets Anywhere
A poet and retired social worker who lives in Omaha, Nebraska, Greg received his Bachelors and Masters Degrees in English from the University of Nebraska-Lincoln, where he studied under the poet Greg Kuzma. 
He founded The Backwaters Press in 1997, which he now serves as Editor Emeritus. His poetry has been published in numerous magazines since 1975, both print and online, Some of his earliest publications were in Poetry NOW in 1975 and Paris Review, in 1977. 
His poems have been anthologized many times, most recently in 2015 in A Sandhills Reader: Thirty years of great writing from the Great Plains, Stephen F. Austin State University Press. He received artists fellowships for his poetry from the Nebraska Arts Council 2000 and 2006. He is the author of foll' books and 8 chapbooks of poems. Two of the poems from his book from Word Press, Some Hero of the Past, and one poem from his chapbook from Pudding House Publications, New Route in the Dream, have been selected by Garrison Keillor and read by him on The Writer's Almanac on Minnesota Public Radio. Greg has been nominated several times for the Pushcart Prize. His newest book, Sheep Can Recognize Individual Human Faces, was published in June of 2014 by Stephen F. Austin State University Press. A new collection, Leaving Things Unfinished: Forty-some Years of Poems is due out in 2017 from Sandhills Press.
Rich (David) Wyatt
Gathering Place
David Wyatt was born in Southern California a year before the end of World War II, spending his childhood and early twenties in the Golden State, an agricultural and horticultural paradise well into the Fifties. Before and after time in the US Army in the mid-Sixties, Wyatt attended San Diego State, the University of Nebraska, Omaha, and the University of Oregon, where he held a graduate teaching fellowship in creative writing. He has also lived in Illinois, Long Island and Seattle, working (and not working) various jobs. 
He has been employed at UNO's Criss Library since 1996. Wyatt was awarded a Distinguished Merit Fellowship from the Nebraska Arts Council in 2006, and won the inaugural Loraine Williams Poetry Prize from The Georgia Review in 2013. He has published poems in ABZ, The Christian Science Monitor, Prairie Schooner, Natural Bridge, The Georgia Review and Poetry. He lives in Omaha with his wife, Susan. Gathering Place is his first full-length collection of poetry.
Contact Us
For more information about including events and announcements in the Criss Library News Center, email us at unocrisslibrary@unomaha.edu.
Unless otherwise clearly stated, any views or opinions expressed as part of events, exhibitors, or presenters in the UNO Libraries (Dr. C.C. and Mabel L. Criss Library and the KANEKO-UNO Library) should not be viewed as endorsements by the University of Nebraska at Omaha (UNO) and do not reflect the official position of UNO or the University of Nebraska system.
Our Campus. Otherwise Known as Omaha.
The University of Nebraska does not discriminate based on race, color, ethnicity, national origin, sex, pregnancy, sexual orientation, gender identity, religion, disability, age, genetic information, veteran status, marital status, and/or political affiliation in its programs, activities, or employment. Learn more about Equity, Access and Diversity.
scroll to top of page