UNO Libraries' Archive of Historic Nebraska films Help Kids Celebrate Nebraska's 150th Anniversary
Clips from films produced by Harold Chenoweth, Nebraska's first film producer, are on display as part of Nebraska's 150th anniversary of statehood mobile children's museum, Truckin' Through Nebraska.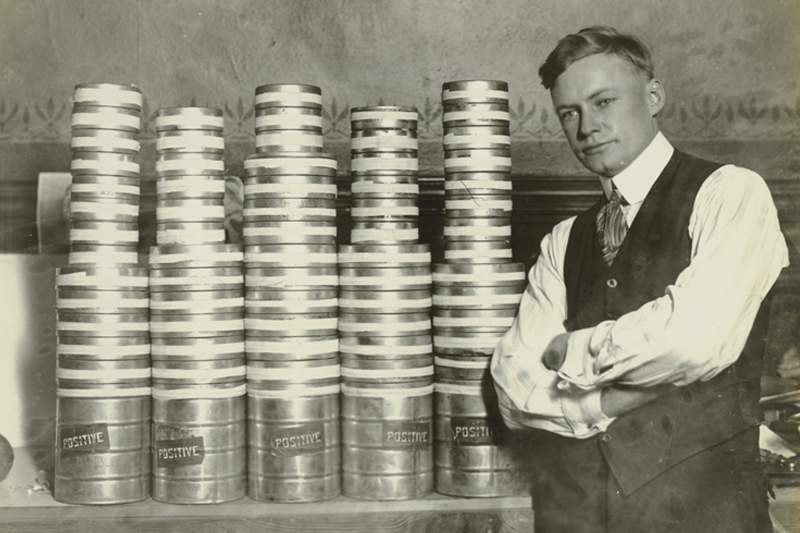 The Chenoweth films are part of an interactive station where visitors can make their own movie about Nebraska, incorporating the historical footage and adding their own audio tracks for fun. Truckin' Through Nebraska makes its debut April 7, 2017 and will tour the state through the fall, visiting 42 Nebraska communities.
Clips used from the archive of Harold Chenoweth films include home movies as well as commercial films and feature scenes of 20th Century transportation, factories, agriculture, radio announcers, and more from everyday life. The films also feature notable Nebraska sports history – from the University of Nebraska-Lincoln football team to baseball legends Babe Ruth and Lou Gehrig meeting a chicken in Omaha circa 1927.
Donated to Archives & Special Collections in 2014, the Harold Chenoweth Film Collection includes commercially produced films and home movies from as early as 1915. Harold Chenoweth was one of Nebraska's first filmmakers and specialized in sponsored newsreels with films about people, businesses, and events from Omaha, throughout Nebraska, and the Great Plains. Click to learn more about the films and Chenoweth.
UNO Libraries' Archives & Special Collections obtains and preserves unique, rare, and specialized material. The collections are available for the university community and general public at the Dr. C.C. and Mabel L. Criss Library and online.
Contact Us
For more information about including events and announcements in the Criss Library News Center, email us at unocrisslibrary@unomaha.edu.
Unless otherwise clearly stated, any views or opinions expressed as part of events, exhibitors, or presenters in the UNO Libraries (Dr. C.C. and Mabel L. Criss Library and the KANEKO-UNO Library) should not be viewed as endorsements by the University of Nebraska at Omaha (UNO) and do not reflect the official position of UNO or the University of Nebraska system.
Our Campus. Otherwise Known as Omaha.
The University of Nebraska does not discriminate based on race, color, ethnicity, national origin, sex, pregnancy, sexual orientation, gender identity, religion, disability, age, genetic information, veteran status, marital status, and/or political affiliation in its programs, activities, or employment. Learn more about Equity, Access and Diversity.
scroll to top of page