Local Creativity is Home at Read Local Author Showcase | March 9
date: 03/09/17
time: 10:00 AM - 4:00 PM
location: Osborne Family Gallery, Dr. C.C. and Mabel L. Criss Library • maps
add
03/09/2017 10:00 AM
03/09/2017 4:00 PM
America/Chicago
Local Creativity is Home at Read Local Author Showcase | March 9
Join the UNO Bookstore and Criss Library for a showcase featuring local authors reading their latest works on the hour, from 10 A.M. to 4 P.M.
Osborne Family Gallery, Dr. C.C. and Mabel L. Criss Library
false
MM/DD/YYYY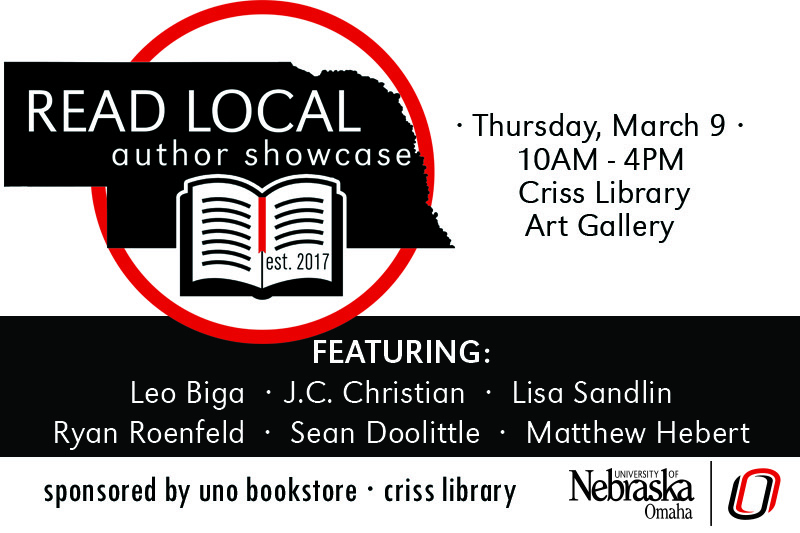 Join the UNO Bookstore and Criss Library for the newly established Read Local Author Showcase on March 9, 2017. The Read Local Author Showcase will feature local authors with varying writing styles, including authors: Leo Biga, J.C. Christian, Ryan Roenfeld, Lisa Sandlin, Sean Doolittle and Matthew Hebert.
The event will be hosted at the Criss Library Osborne Family Gallery from 10 A.M.  to 4 P.M. and will offer: author readings, Q&A sessions, and signings after each author's presentation. There will be a limited quantity of books that will be available to purchase at the event! Please come out and support your local community's creativity!
---
10 A.M. | Leo Biga - Alexander Payne: His Journey in Film 
11 A.M. | J.C. Christian - Reaching for Light: An Incest Survivors Story
12 P.M. | Ryan Roenfeld - Wicked Omaha
1 P.M. | Lisa Sandlin - The Do-Right
2 P.M. | Sean Doolittle - Lake County: A Novel, Rain Dogs, and The Cleanup
3 P.M. | Matthew Hebert - Beneath the Surface and Breaking the Surface
Contact Us
For more information about including events and announcements in the Criss Library News Center, email us at unocrisslibrary@unomaha.edu.
Unless otherwise clearly stated, any views or opinions expressed as part of events, exhibitors, or presenters in the UNO Libraries (Dr. C.C. and Mabel L. Criss Library and the KANEKO-UNO Library) should not be viewed as endorsements by the University of Nebraska at Omaha (UNO) and do not reflect the official position of UNO or the University of Nebraska system.
Our Campus. Otherwise Known as Omaha.
The University of Nebraska does not discriminate based on race, color, ethnicity, national origin, sex, pregnancy, sexual orientation, gender identity, religion, disability, age, genetic information, veteran status, marital status, and/or political affiliation in its programs, activities, or employment. Learn more about Equity, Access and Diversity.
scroll to top of page