'Under the Bright Lights' video exhibit added to Chuck Hagel Archives
On display through May 12, 2017 in Archives and Special Collections. Located on the first-floor of Criss Library.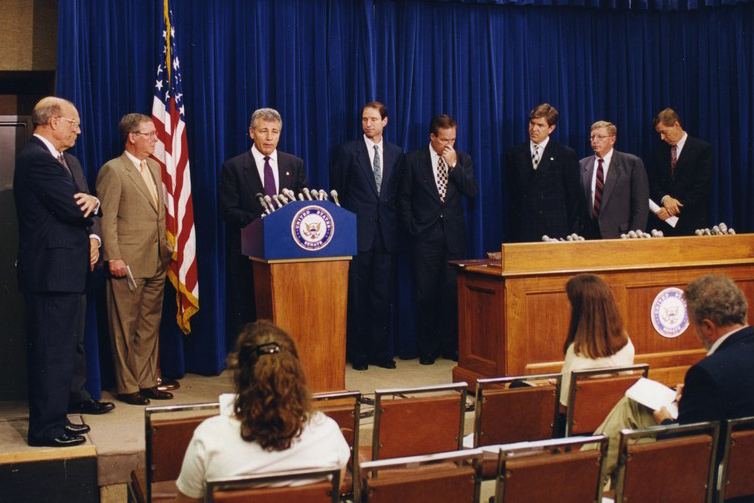 Senator Hagel's video record was recently added and is now open for research. Out of over 460 videos, 161 are available online in a new exhibit: Under the Bright Lights: Videos in the Chuck Hagel Archives. The videos show him on news programs and in the Senate, giving speeches in Nebraska and around the U.S, and campaigning for office in 1996 and 2002. There are serious videos, like the dozens of videos relating to conflicts around the world. There are funny videos, like his visit to the Daily Show. There are sweet videos with family.
The remainder of the exhibit begins with press and campaign materials from Senator Hagel's successful run for office in 1996 and continues with a look at how the freshman senator and his staff settled into their new press and media responsibilities. A large section of the exhibit shows how Hagel juggled interviews from news outlets and responded to military and veterans issues during his twelve years in office. Finally, the exhibit fast forwards to Hagel's last two years in office as he reflected on his service and looked ahead. This exhibit was co-curated by Magda Bátiz, a UNO senior and student assistant in Archives & Special Collections, and Hagel Archivist Lori Schwartz.

In addition, hundreds of speeches, press releases, newsletters, and other press and media material are now online. The online exhibit focuses on the press, media, and speech material produced by Senator Hagel and his staff as they responded specifically to veterans issues, drought in Nebraska, the Iraq War, disaster response and recovery in Nebraska, Native American issues, and September 11, 2001.

All of the press, media, and speeches in the Hagel Archives are available for visitors and researchers to see in person. For more information, visit the Hagel Archives online.
UNO alum Chuck Hagel served as a soldier in Vietnam, a U.S. Senator (NE-R) for twelve years (1997-2009), and a U.S. Secretary of Defense for two (2013-2015). When he left the U.S. Senate, he donated his records to his UNO. They became the U.S. Senator Chuck Hagel Archives. 
Contact Us
For more information about including events and announcements in the Criss Library News Center, email us at unocrisslibrary@unomaha.edu.
Unless otherwise clearly stated, any views or opinions expressed as part of events, exhibitors, or presenters in the UNO Libraries (Dr. C.C. and Mabel L. Criss Library and the KANEKO-UNO Library) should not be viewed as endorsements by the University of Nebraska at Omaha (UNO) and do not reflect the official position of UNO or the University of Nebraska system.
Our Campus. Otherwise Known as Omaha.
The University of Nebraska does not discriminate based on race, color, ethnicity, national origin, sex, pregnancy, sexual orientation, gender identity, religion, disability, age, genetic information, veteran status, marital status, and/or political affiliation in its programs, activities, or employment. Learn more about Equity, Access and Diversity.
scroll to top of page