Miguel Brieva Exhibit
A variety of the Spanish cartoonist and author's work will be on display in the gallery from January 30 - February 23.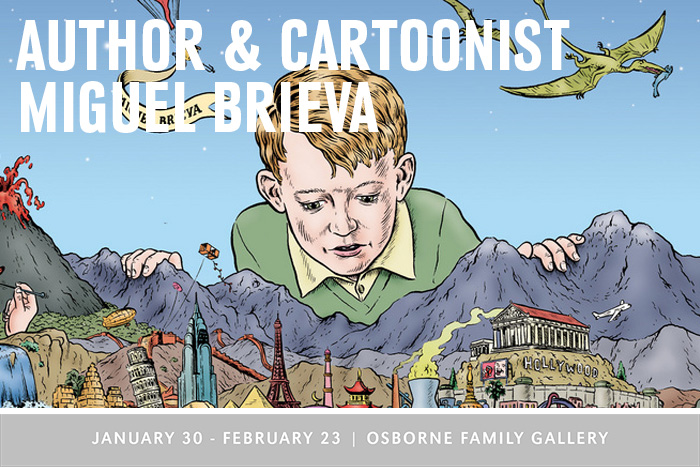 About the Artist
Miguel Brieva (Seville, 1974) is a Spanish cartoonist who has worked in various genres and sub-genres, frequently combining text and image, such as comics, graphic humor, illustration, animation, visual poetry, and sketches. Often described as a cross between George Crumb and El Roto, Brieva has become one of Spain's most renowned critical humorists. The present exhibition features a variety of posters, book covers, comics and illustrations that span Brieva's career and reflect his sharp political wit and talent for incisive commentary. The author was invited to UNO by the Foreign Languages and Literature Department and some of his work is currently studied in SPAN 4960 / 8966, Contemporary Spanish Culture, a seminar taught by Dr. Steven L. Torres.
Behind the Work
Brieva began his career by publishing his own fanzine, Dinero (Money), in collaboration with a small publisher in Barcelona (Doble Dosis). Initially, Brieva packed copies of his fanzines in his back-back and took them to bookstores in order to convince the store owners to sell them. Within a short time, the entire series, which was published between 2001 and 2005, became a cult object among followers of the Spanish counterculture. Since then, Brieva's gag-cartoons have appeared in some of Spain's most prominent magazines and newspapers, while his books have received widespread acclaim from critics and readers alike.
Most of Brieva's work carries on the tradition of the Juvenalian saeva indignatio, that is, the satire of savage indignation, the condemnation of stupidity and venality in a society in which vice, having reached its highest point, rules over virtue. In order to carry out his critique, Brieva systematically uses strategies of defamiliarization and affective distantiation so that the reader is forced to contemplate the familiar and quotidian from a different perspective, without ever being able to fully identify with the characters presented. In this sense, Brieva's work reveals almost all of the distantiation techniques associated with the esperpento tradition, such as exaggeration, degradation, animalization, humanization, the fusion of human and animal forms, irrationalism, reification, theatricality, incongruence, emotional indifference, anti-sentimentalism, superiority as a point of view (that is, the puppet-master's perspective as described by Valle-Inclán), the combination of nightmare and reality, as well as the presence of elements that are grotesque, absurd, surreal and lacking in verisimilitude.
On the other hand, Brieva's cartoons frequently emulate the general style of U.S. advertisements published during the forties, fifties and sixties. The author typically depletes such imagery of any substantive emotional content in order to produce a symbolic re-appropriation of the advertisement image, one which is capable of questioning, dedoxifying and resemanticizing the representational conventions associated with consumer society and its promise of happiness. As Brieva has stated, it was during these decades that the "propaganda machine of our fascist-recreational-democratic consumer neocapitalism emerged". No doubt this is one of the reasons why Brieva often resorts to the naïve imagery of these specific decades, often pressing the stereotypes even further so as to generate a form of counter-advertising through various forms of détournement and culture jamming.
---
Photo courtesy link: https://apps.carleton.edu/brieva/
Contact Us
For more information about including events and announcements in the Criss Library News Center, email us at unocrisslibrary@unomaha.edu.
Unless otherwise clearly stated, any views or opinions expressed as part of events, exhibitors, or presenters in the UNO Libraries (Dr. C.C. and Mabel L. Criss Library and the KANEKO-UNO Library) should not be viewed as endorsements by the University of Nebraska at Omaha (UNO) and do not reflect the official position of UNO or the University of Nebraska system.