UNO School of Public Administration's Professional Programs Partners with EducationQuest and Affiliates
The UNO School of Public Administration Professional Programs partnered with Nebraska-based EducationQuest and affiliate companies to offer the Certificate in Emerging Nonprofit Leadership to cohort of employees this summer.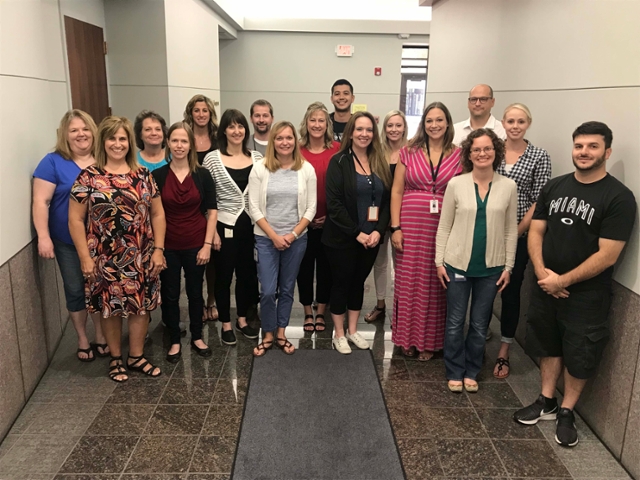 EducationQuest cohort during the summer 2019 session of the Emerging Nonprofit Leadership Certificate.
Omaha – Three Affiliated Companies Invest in Employee Professional Development through UNO's Emerging Nonprofit Leadership Certificate
Eighteen employees from EducationQuest Foundation, Inceptia, and Foundation for Educational Services (FES) are undergoing professional development training with their employers' full support. The three affiliated nonprofit organizations are based in Lincoln.
EducationQuest President & CEO Liz Koop said she and the CEOs of the other two companies – Randy Heesacker from Inceptia and C. J. Thoma from FES – were looking for a resource to provide management/leadership training for employees who showed potential in those areas. "When we learned about the UNO program, we knew it would be a good fit, and we were even more excited to learn it was focused on nonprofits."
Participants in the Emerging Nonprofit Leadership Certificate program from the University of Nebraska at Omaha (UNO) learn to manage work through effective planning, develop themselves with a commitment to continuous learning and improvement, and work with integrity. All of this is done with a nonprofit service focus, and with the overarching idea of utilizing "change leadership" to implement strategies that help others adapt to ever-evolving work environments.
"This course is very dynamic," said FES Accounting Supervisor Lauren Dyer. "The variety of topics address the qualities needed for effective leadership; and challenge participants to be better people outside of the workplace. Throughout the course, I've gotten to know and understand myself better. It has helped inspire me to be a better leader not only for my organization, but also my family and my community."
All Emerging Nonprofit Leadership courses are taught by UNO faculty who teach in the Master of Public Administration Program, as well as public or nonprofit professionals who are recognized experts in the areas they teach.
The certificate is designed with working professionals in mind. Each cohort meets just once per month in person, and all requirements are fulfilled within six months. The certificate is also affordable, accessible, and provides necessary skills nonprofit professionals need today.
"The Certificate in Emerging Nonprofit Leadership is truly a win-win for both employers and employees. Employers are recognizing and investing in their employees, and employees are gaining lifelong knowledge to operate by both personally and professionally," said Ellen Freeman-Wakefield, Director of Professional Programs of the UNO School of Public Administration. There's no reason not to take full advantage of this compelling opportunity for you and your employees today!"
Brandon Schrupp, Assistant Supervisor in Inceptia's Financial Aid Operations department, said, "This class has challenged me to alter the way I train others. Instead of telling them how things are, I ask what their preferred learning style is, which makes a difference in how they retain information. When we get people to talk about what drives them, what they really want, and how we can do things better, we create energy and life within the organization as we move toward our company goals."
Are you ready to be part of the next Emerging Nonprofit Leadership cohort?
Contact the Director of Professional Programs at UNO today for more details:
Ellen Freeman-Wakefield
Director of Professional Programs, School of Public Administration
University of Nebraska at Omaha
402.554.2636
efreemanwakefield@unomaha.edu
spa.unomaha.edu/emergingonprofit