CPACS Graduate Programs Climb 2023 U.S. News Rankings
UNO's College of Public Affairs and Community Service houses highly ranked graduate programs; programs among the best in the nation.
published: 2022/04/12
contact: Jennifer Knight - College of Public Affairs and Community Service
email: jenniferknight@unomaha.edu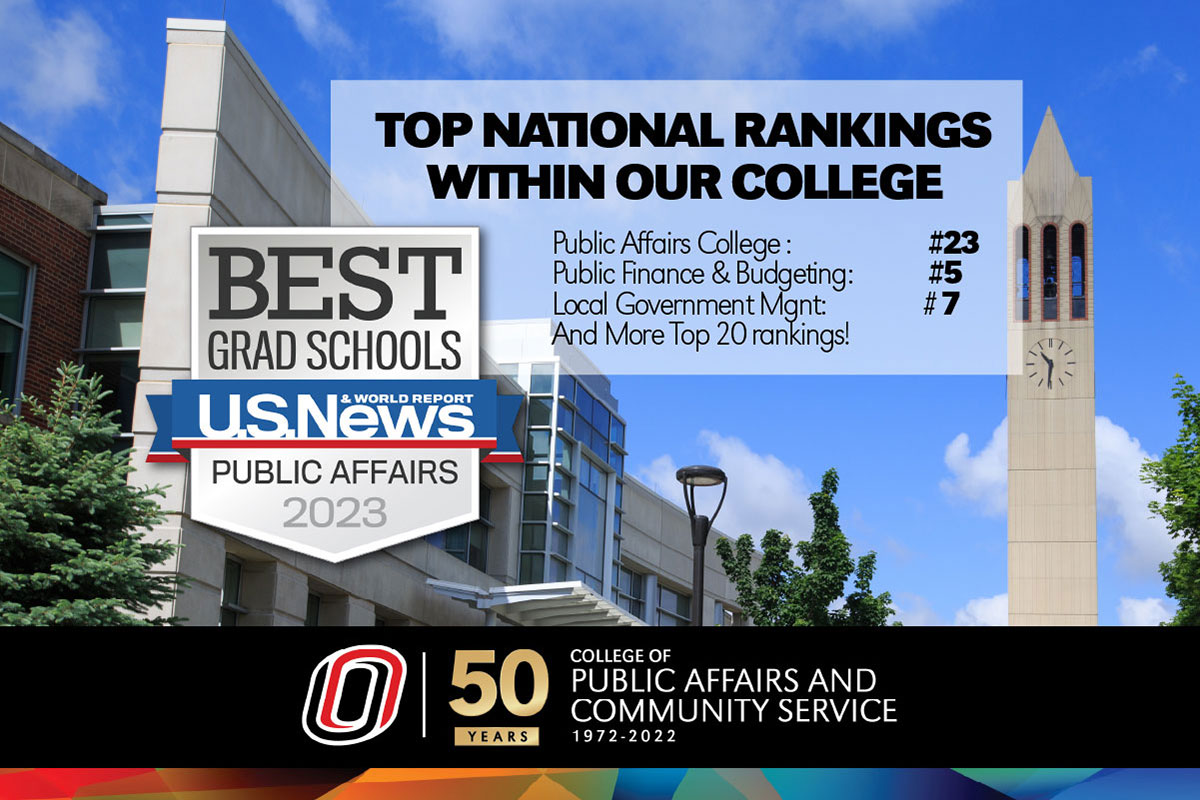 We strive for excellence and this shows in our soaring national rankings.
The new 2023 Best Graduate Schools Rankings from U.S. News & World Report has increased our public affairs programs' rankings across the board. These public administration programs have been consistently ranked high in the last decade and now two of our programs break the top ten in the nation: Public Finance & Budgeting is ranked fifth and Local Government Management is ranked seventh. These programs are part of the School of Public Administration, now ranked 23rd in the nation.
John Bartle, Ph.D., dean of CPACS, said the recognition for his college's programs highlight the programs' quality, "It's no surprise to see UNO's School of Public Administration ranked alongside institutions like Duke, Columbia, Texas A&M, and Kansas."
"The school has a world-class faculty. We attract students from all over the world and give them a rigorous, relevant education. The top ten rankings in the specialty areas are also a welcome recognition of our leadership in the field. And while we are nationally ranked, we are also locally engaged: our faculty and students work closely with community partners, nonprofits, and governments to solve community problems," he said.
The specialties within the School of Public Administration (#23 in the nation) which are highly ranked for 2023 are:
Public Finance & Budgeting — No. 5
Local Government Management — No. 7
Nonprofit Management — No. 11
Public Management & Leadership — No. 19
Craig Maher, Ph.D., director of the School of Public Administration, attributes these high rankings to both the committed faculty, staff, and students, and support from the university, "This level of recognition requires a sustained history of excellence. Our faculty are emerging and leading scholars in their respective fields and their efforts are reflected in these new rankings. 
"Our national rankings also speak to the institutional support we receive at UNO. To be this highly ranked requires a highly effective team that is supported in ways that enable us to do what we do best — affect our community through a combination of research, teaching, and community service," he said.
Students looking for exceptional education in public affairs will find it throughout the college.
Founded in 1972, CPACS is the only college in the University of Nebraska system dedicated entirely to public affairs and civic engagement. As such, it serves a statewide mission of coupling quality education with professional services for any student looking to improve their community.
Within the many programs offered by the college, high rankings remain high for the UNO's  popular School of Criminology and Criminal Justice graduate program, ranked 13th nationally. (U.S. News & World Report kept the rankings the same for all criminology programs this year.) UNO's Criminology program is in the ranks of large schools, such as Northeastern, Florida State, and Michigan State. 
Also notable is the ranking of the Grace Abbott School of Social Work's graduate programming in the top 100 programs nationally.
Praise for the college continues from Juan F. Casas, Ph.D., acting dean for graduate studies at UNO.
"The highly ranked programs within CPACS are a real point of pride for the campus. These are programs of high quality and rigor that offer world class training in a supportive, student-centered environment that prepares students well to meet their career goals and the challenges of today's world. The graduates of these programs will thrive professionally and will undoubtedly make a positive impact in their community. As always, CPACS leads the way with a tremendous amount to be proud of. Congratulations to the entire college," he said.
Read about all of the UNO Graduate Programs Recognized by U.S. News & World Report.