CPACS Celebrates 50 Years
Remarkable faculty and staff; distinguished alumni; national rankings; and excellence top the charts as the College of Public Affairs and Community Service begins celebrating the last 50 years.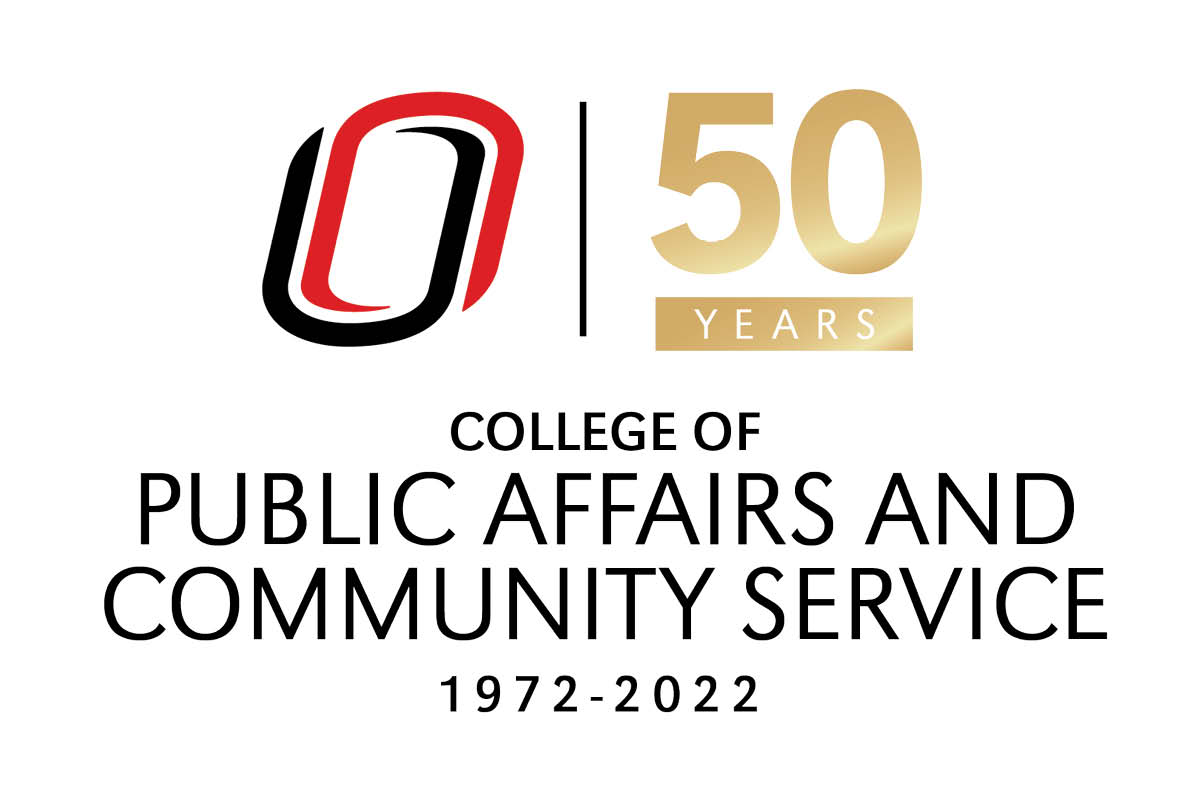 As we nod to the accomplishments and accolades of the past, we look toward 2022 to celebrate the 50th Anniversary of the UNO College of Public Affairs and Community Service (CPACS).
"Fifty years ago, CPACS was created to 'attack community problems' and harness the intellectual power of the university to be part of the solution," said John Bartle, CPACS Dean. "We have educated generations of students, but more notably, are directly involved in solving many complex social problems both in the Omaha area, and statewide. The Omaha community is stronger and more humane because of CPACS."
CPACS plan was built on three UNO goals
1. Place students at the center of the educational enterprise.
2. Achieve academic excellence consistent with being a metropolitan university of high distinction considered among the nation's premier state-supported institutions located in an urban setting.
3. Actively engage with the community.
Today, CPACS continues to be a nationally recognized college of inspirational teaching, innovative research and transformative service striving to create an equitable and just society.
CPACS 50th Anniversary Events
Festivities in honor of the CPACS 50th Anniversary will kick off with events throughout the year commemorating the history of the College. Each unit within the College will also hold celebrations. Check back here for full details moving forward.
Collegewide events:
Spring 2022: Baseball, Reserved seating for game TBA

November 2022: Ending event, possible events include: Hockey or basketball game early November, Dinner celebration of the conclusion of the celebration, Major speaker
The Schools and Departments within CPACS will have their own events:
Aviation Institute

:

Durham Lecture and Honors Convocation | Tuesday, April 12

William Brennan Institute of Labor Studies: "Nebraska Works! Collaboration Conference," late March/early April. Planned 100-120 attendees. Panels include: (1) Nebraska Labor Market Conditions, (2) Labor and Business Trends, (3) Cross-Sector Collaboration

Grace Abbott School of Social Work: Wine and Cheese event | May 11, 5-7 P.M.

Department of Gerontology: Major lecturer for the Chuck Powell Memorial Lecture Series | September

School of Public Administration: Event to coincide with beginning of Fall 2022. Goals are programs promotion, recruitment, fundraising, and connecting with alumni. Two events: (1) On campus: Bring in a national speaker and possible forum in morning on the Evolution of Schools of Public Administration with focus on our SPA. Session on our SPA, its history, current structure, and its future. Breakout sessions in afternoon focusing on the future of the fields associated with SPA: Aviation, Emergency Management, Urban Studies. Seek to bring retired faculty to campus. (2) Online event with our international friends: Lithuania, Denmark, South Korea, China etc.

Goodrich: Alumni weekend including a dinner (Alumni House), sporting event, dinner/presentation and golf outing | September 22-24

Division of Continuing Studies: TBA
Enjoy just a few fast facts about CPACS
- CPACS was established in 1972, comprised of eight units and departments today
- Enrollment is the highest in the history of the College. Last fall it went up 11.4%, and in the last decade, 43%, the largest increase among the six colleges at UNO
- Seven of our academic programs are ranked in the top 30 in the nation
- The UNO School of Public Administration within CPACS houses the NextGen Leadership Corps, and is one of just four universities in the United States to house such a program
- Twelve alumni were recognized as CPACS alumni awardees in 2021, including the College's exclusive Hubert Locke Award
About the UNO College of Public Affairs and Community Service