ISQA CAPSTONE STUDENTS GRADUATE
14 students completed their master's degrees by finishing their Capstone class led by Dr. Fruhling and participated in the commencement on December 16, 2016.
ISQA FACULTY AND STUDENT HONORED AT AIM TECH CELEBRATION
The AIM Institute hosted their first Tech Celebration on Wednesday, October 14th, 2014. Among the six honorees were two members of the College of Information Science and Technology.
Sandy Vlasnik, instructor in the Department of Information Systems and Quantitative Analysis, received the Tech Educator of the Year award. Sandy leads the Women in IT Engagement link at UNO and coordinates the annual Nebraska affiliate NCWIT Award for Aspiration in Computing for high school girls. In the classroom, she likes to use her background as a software engineer to create a practical teaching experience for her students. Sandy has also won the UNO Alumni Teaching Award in the past.
Pawankumar Sharma, Master's student in the Management Information Systems program, was recognized as the Tech Student of the Year. He is an intern at CSG International, where he helped set up a disaster recovery process. He worked with CSG teams and an outside vendor to complete the process in just 10 weeks.
Sandy Vlasnik and Pawankumar Sharma
PRESIDENT'S AWARD FOR IS&T'S JUDITH MONARREZ DIAZ-KELSEY
Judith Monarrez Diaz-Kelsey was awarded the President's award for Community Service by Dean Hesham Ali and signed by President Obama. Judy has served the greater Omaha community for many years including teaching and advising inmates at the Douglas County Department of Corrections (the Jail Course). Judy also serves on the Honors Committee representing the College of IS&T, on the board for the Latino Center of the Midlands and on a selection committee for Big Brothers Big Sisters. Judy has just had a conference paper accepted for the Heartland Campus Compact Conference.
Judith Monarrez Diaz-Kelsey earned both her undergraduate and graduate degrees from the University of Nebraska at Omaha (UNO). She holds a Bachelor of Arts in Psychology and a Master of Science in Counseling from UNO. Judy is also the very proud mother of one of our May 2014 graduates in Information Assurance, Jovan Kelsey.
The Jail Course developed with Donna Dufner, Ph.D. was cited as an exemplary program in UNO's 2014 President's Higher Education Community Service Honor Roll application, It is viewed as one of the finest examples of community outreach by the UNO administration.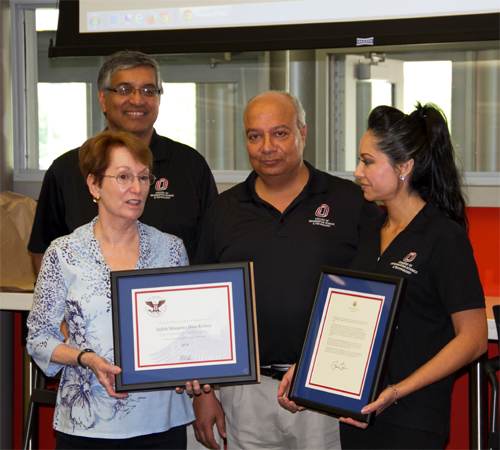 IS&T STUDENTS PARTICIPATE IN GOOGLE SUMMER OF CODE
For the first time, students from the University of Nebraska at Omaha's College of Information Science & Technology will participate in the Google Summer of Code. The two students, Zac McFarland (CS) and Alex Gang Ling (ISQA), will participate in the Linux Foundation's SPDX Workgroup projects. Zac and Alex will engage in open source projects, learning a lot about open source compliance, open source participation, and open source community members. Both students will receive summer stipends from Google, a Google Summer of Code t-shirt, and an experience that will last a lifetime.
We would like to thank the Linux Foundation, specifically Till Kamppeter, for their support of the Linux Foundation's SPDX Google Summer of Code projects. We would also like to thank Google for providing the opportunity for Zac and Alex to engage in these amazing projects.
ISQA FACULTY RECOGNIZED
The Information Systems profession has recognized the research efforts of some of the outstanding ISQA faculty. First, in the introduction to the MIS Quarterly Special Issue on Business Intelligence Research (December 2012), ISQA professor Yong Shi was identified as #3 on the list of Top Academic Authors in Business Intelligence and Analytics. In addition, professors Stacie Petter and Matt Germonprez were recently listed among the 100 top researchers by the Association for Information Systems for the 2011-2013 period.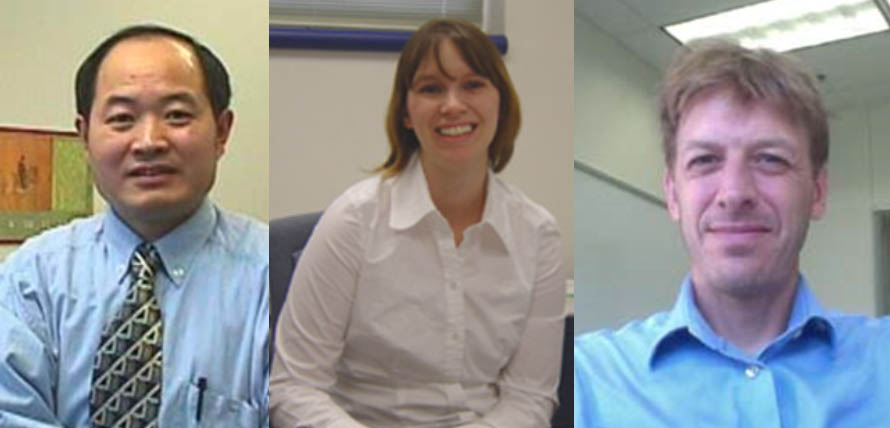 DATA ANALYTICS CERTIFICATE TO BE OFFERED
A new certificate in Data Analytics will be offered as part of the MS in MIS program, starting in the Fall 2014 semester. Read more about the
need for this certificate
or for details on this certificate, visit the
Graduate Certificates
page. [January 28, 2014]
MISSO HOSTS ALUMNI CAREER PANEL
On November 1, the MIS Student Organization hosted an Alumni Career Panel for its members. Our panel consisted of Bob Merkley (IPG), Corey Erkes (Sogeti), Brenton Bazata (ConAgra), and Shonna Dorsey (Sogeti). MISSO members learned about the importance of taking the initiative, about how to stay current in the IT field, and much more! [November 2, 2013]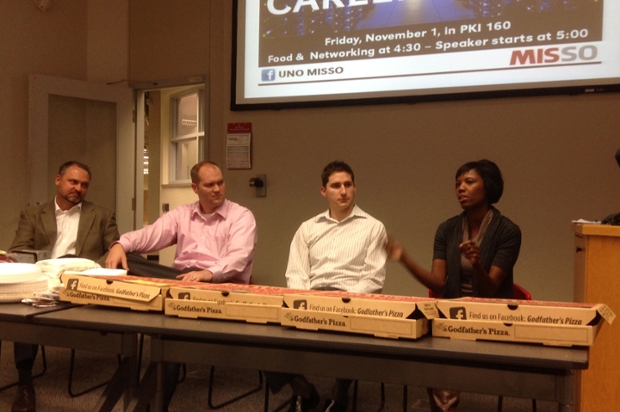 IT ADMINISTRATION CERTIFICATE NOW AVAILABLE
A new undergraduate certificate in Information Technology Administration has been designed for students who are interested in managing the complex technical infrastructure of today's organizations. This certificate is offered in partnership with University of Agder in Norway (UiA), a sister university to UNO. For details on this certificate, visit the
Undergraduate Certificates
page. [July 26, 2013]
ISQA CHAIR TO STEP DOWN
ISQA Chair Dr. Ilze Zigurs will retire from her full-time position at UNO at the end of the spring semester. Fortunately for us, Dr. Zigurs will continue to teach some online courses for ISQA. Dr. Zigurs' accomplishments and future plans were appropriately celebrated this past weekend at the home of Dr. Khazanchi. All of us in ISQA thank Dr. Zigurs for her leadership and hard work and wish her nothing but the very best as she enjoys some well-deserved time off on the beautiful Whidbey Island. [April 29, 2013]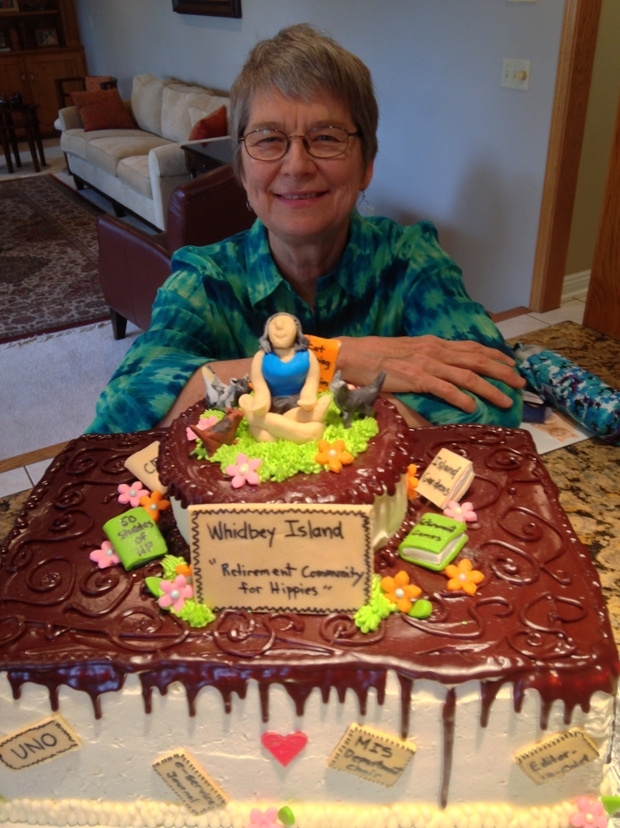 Ilze Zigurs
ISQA FACULTY MEMBER WINS PRESTIGIOUS TEACHING AWARD
Dr. Peter Wolcott has been awarded the 2013 UNO Outstanding Teaching and Instructional Creativity Award (OTICA). Dr. Peter Wolcott has been awarded the 2013 UNO Outstanding Teaching and Instructional Creativity Award (OTICA). This award recognizes individual faculty members who have demonstrated meritorious and sustained records of excellence and creativity in teaching. Dr. Wolcott already is an award-winning professor, having received UNO's Excellence in Teaching Award and the Outstanding Service-Learning Faculty Award in 2011. In evaluations, students consistently praise his mastery of course content and his ability to communicate it effectively.
Dr. Wolcott also is committed to service learning, regularly making connections with microenterprises in Omaha and supervising groups of students who work with those businesses to provide solutions, coaching, skill-building and planning for their technology needs. "The help and empowerment these students provide makes a real difference, and Peter provides the leadership to make that happen," Dr. Wolcott's department chair, Ilze Zigurs, wrote in his nomination letter. Wolcott also has been a leader in distance learning, making educational opportunities available to many more students. The award will be officially presented during a luncheon in April. Congratulations to Dr. Wolcott for this well-deserved award! [April 20, 2013]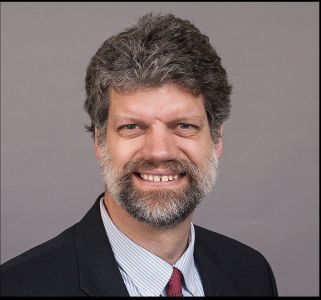 ISQA ROCKS UNO FUNDRAISER
The Chancellor's Commission on the Status of Women sponsored a raffle and campus-wide change campaign to raise money for the UNO Employee Loan Fund. This fund allows UNO employees to apply for an interest free loan if they encounter a financial hardship. Through both the raffle and change campaign, over $1,600 was raised to help UNO employees during a difficult time in their lives. Congratulations to the Information Systems & Quantitative Analysis department which will receive a cookie party and visit from Chancellor Christiansen after raising over 27 pounds of change through the CCSW Change Campaign. The Biology department and Information Services, Student Affairs, and Enrollment Management group were the second and third place winners, respectively. A special thanks to all that participated and donated through these events. [April 16, 2013]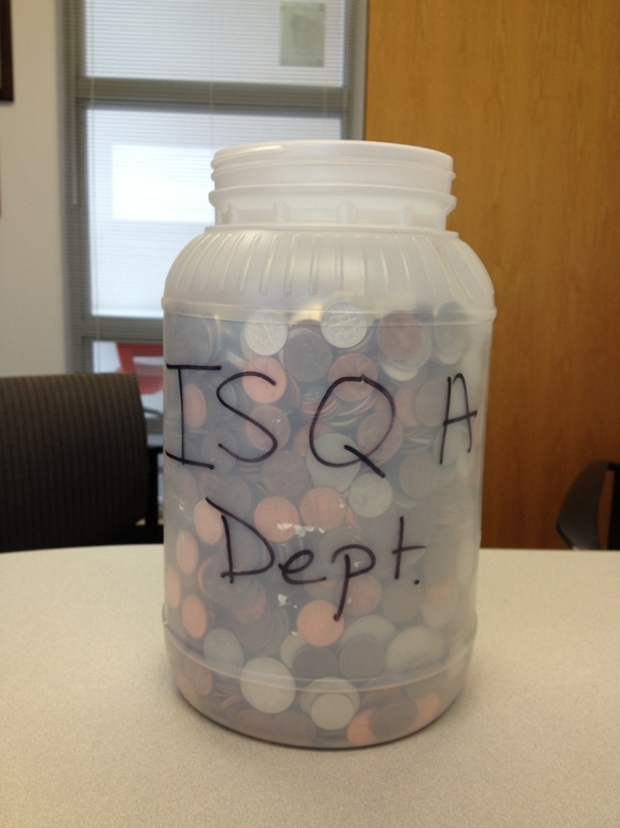 NEW ISQA FACULTY MEMBER WINS BEST PUBLICATION AWARD
New ISQA faculty member Matt Germonprez - along with co-authors Dirk Hovorka and Uri Gal - have been awarded the
Best Publication of 2011
Award by the Association for Information Systems. They received this honor for the paper titled "Secondary Design: A Case of Behavioral Design Science Research," which was published in the Journal of the Association for Information Systems. Congratulations to Matt and his co-authors for this important award! (Click the picture at left for a larger version.) [January 4, 2013]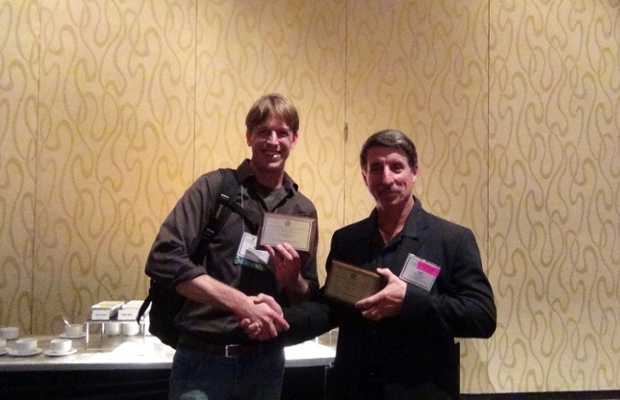 GRADUATE CAPSTONE PROJECT HIGHLIGHTED
A
recent article in the Omaha World Herald
highlighted the Fall 2012
graduate capstone project
. [December 19, 2012]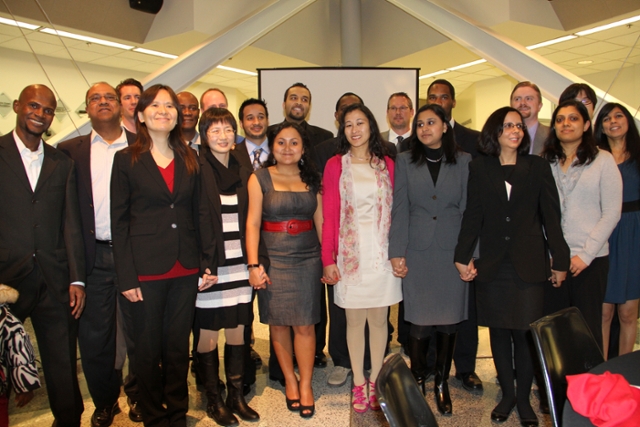 ANALYTICS CONCENTRATION TO BE OFFERED
A new concentration in Analytics will be offered as part of the MS in MIS program, starting in the Fall 2013 semester. For details on this concentration, visit the
Graduate Concentrations
page. [November 13, 2012]
NEW INTERNATIONAL DUAL DEGREES ADDED
The MS in MIS program has added two
international dual degree tracks
in collaboration with the
Management Center Innsbruck in Austria
and the
Technical University of Braunschweig in Germany
. These dual degree tracks require half of the graduate coursework to be taken at one of these partner institutions. For more information, check out the
international dual degree page
. [July 23, 2012]
GRADUATE STUDENTS PRESENT CAPSTONE PROJECT
The second Spring 2012 MS in MIS Capstone group at the University of Nebraska at Omaha, was tasked to build a prototype tool that an investor could employ to assist them in choosing the optimized combination of option contract trades which would provide an optimum return on investment. Designed to use available open programming interfaces from many major brokerage firms, the team developed a web-based, analytical tool that will choose the optimal option contracts to purchase. This puts enormous power into an investors hands. The set of tools will allow a customer to interact with their brokerage accounts, and choose various investment strategies that conform to their individual investment styles. Through a direct connection from the analysis tool, clients are able to purchase all option contracts directly from their brokerage account. Additionally, clients are able to leverage their history on future investments. [May 6, 2012]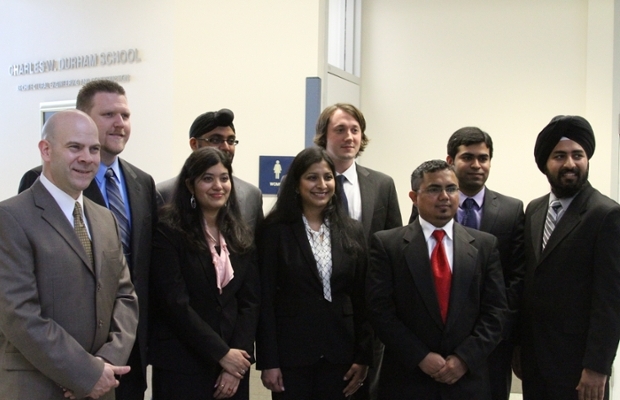 GRADUATE STUDENTS PRESENT CAPSTONE PROJECT TO DOMESTIC VIOLENCE COORDINATING COUNCIL
The Spring 2012 MS in MIS Capstone group under the name Team UniteDVCC was commissioned to develop a data collection and reporting system for
Domestic Violence Coordinating Council
(DVCC). This system allowed for input of various aggregate statistical data from the partners of DVCC. It further provided DVCC the ability to summarize this data for reporting purposes as needed in the grant application process as well as for use by DVCC in their daily operations and performance improvement initiatives.The completed application-the UniteDVCC System-provides a web-based interface for partner agencies to enter their respective reporting data for use by DVCC. This Capstone class comprised of fifteen students who made up the UniteDVCC team. The UniteDVCC system will help the DVCC fight Domestic Violence in the Omaha Area through the power of data analysis, making our community a safer place to live. [May 4, 2012]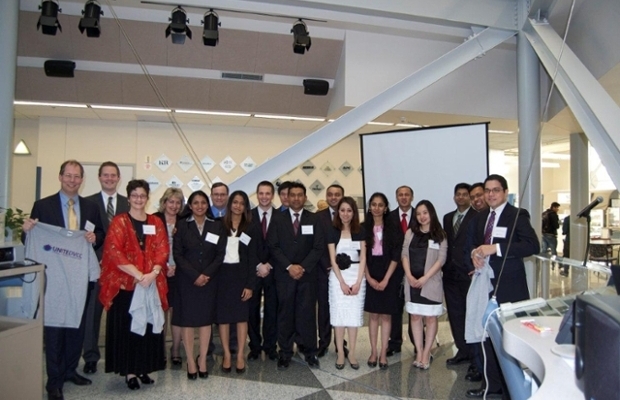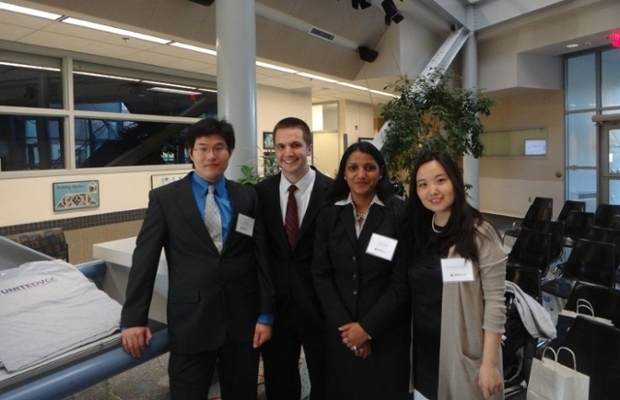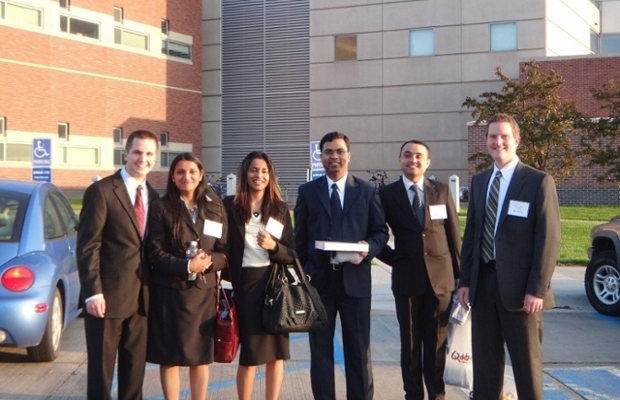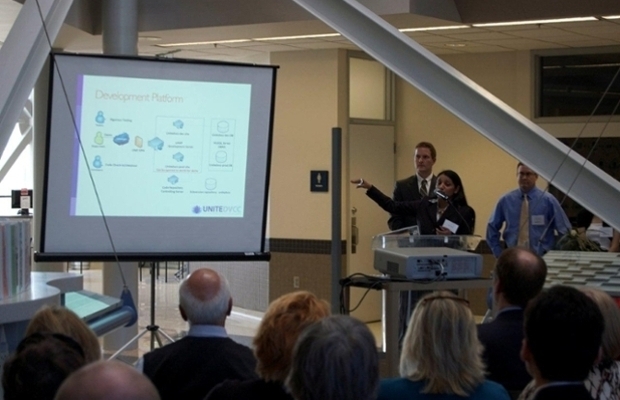 DR. ZIGURS HONORED WITH CCSW AWARD
The UNO Chancellor's Commission on the Status of Women (CCSW) has selected Dr. Ilze Zigurs as the winner of this year's CCSW Outstanding Achievement Award. The selection committee made their decision based on her significant contributions toward addressing and improving the status of women and gender issues at UNO in their academic work or activities. Dr. Zigurs was presented with this award on Wednesday, March 28, 2012. (Click the picture at left for a larger version.)
The ISQA department congratulates our Chair, Dr. Zigurs, on this well-deserved award! [April 12, 2012]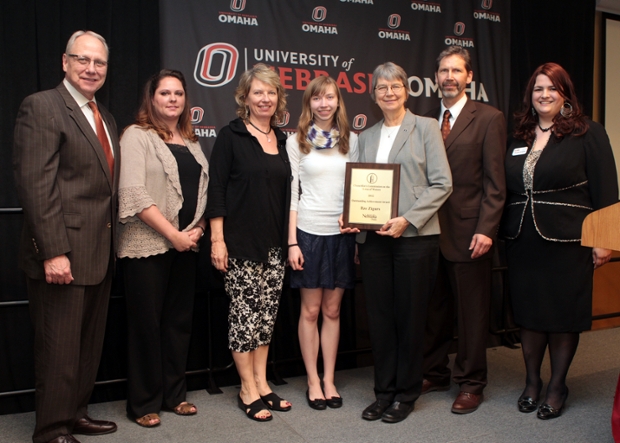 ISQA OFFERS UNDERGRADUATE CERTIFICATES
ISQA now offers two undergraduate certificates on the subjects of Data Management and systems development. The goal of these certificates is to provide non-traditional and traditional students an opportunity to take a focused set of undergraduate courses and earn a certificate of completion. Should a student decide to pursue a degree after starting or completing the certificate program, all credits taken for a certificate can be applied towards the completion of an undergraduate degree in the college. You can find out more about these certificates at the
ISQA Undergraduate Certificates
page. [November 15, 2011]
UNO NAMED FINALIST FOR SERVICE AWARD
The University of Nebraska at Omaha was nominated as a finalist in the General Community Service category for the the 2010 President's Higher Education Community Service Honor Roll by the Corporation for National and Community Service. The Honor Roll recognizes higher education institutions that reflect the values of exemplary community service and achieve meaningful outcomes in their communities. This selection is recognition from the highest levels of the federal government of UNO's commitment to service and civic engagement.
The ISQA department has long contributed to UNO's service learning activities, through projects such as the undergraduate systems development capstone projects, the computer skills teaching project at the Douglas County Department of Corrections, the graduate capstone course, and the Information Technology for Development program which provides IT counseling for local microenterprises. [May 16, 2011]
ISQA HONORED WITH UNIVERSITY-WIDE DEPARTMENTAL TEACHING AWARD
The ISQA department has been awarded the
University of Nebraska 2011 University-Wide Departmental Teaching Award
. University President, Dr. James Milliken mentions that the ISQA department "has distinguished itself through excellence in a wide range of accomplishments and initiatives. It demonstrates commitment to the finest in teaching, as well as a commitment to serving the Omaha community, the state of Nebraska, and the profession. Members of the department have shown exceptional dedication to the education of students by successfully incorporating new technologies into the curriculum and providing students with extensive opportunities for valuable training and hands-on experience."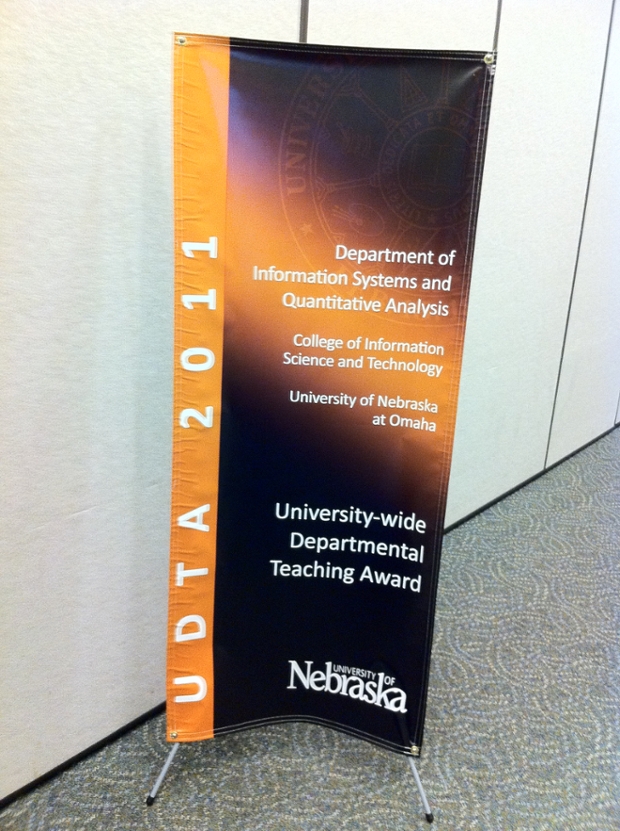 The award was presented to the department by University of Nebraska President James B. Milliken at a ceremony at the Scott Conference Center on Friday, April 1. [April 4, 2011]
A short video highlighting ISQA's accomplishments can be found here.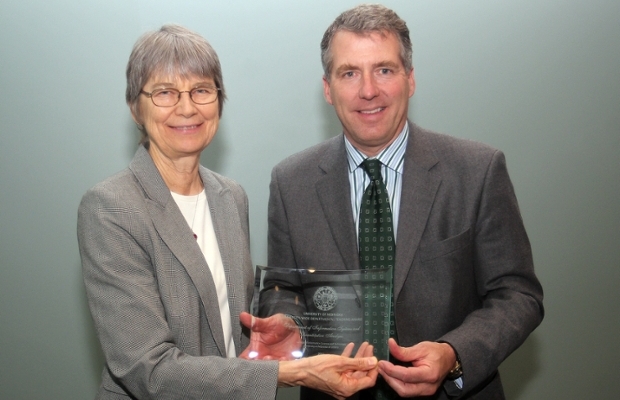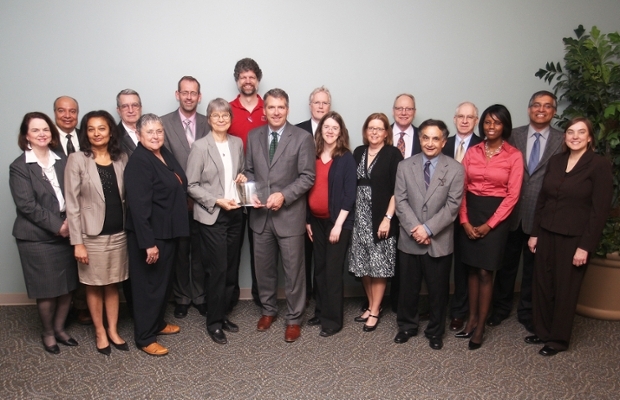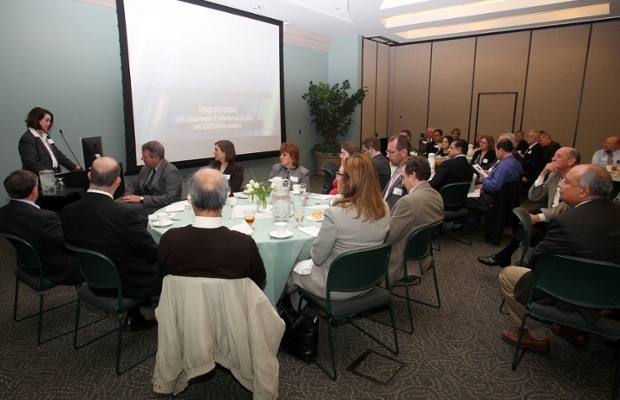 ABET ACCREDITATION
The ISQA undergraduate Information Systems program is now one of only a handful of programs in the world that is
accredited by ABET
, an international accreditation organization for engineering and technology
www.abet.org
.