Ph.D. Alumni Awarded Grant to Further Native American Owned Small Business Research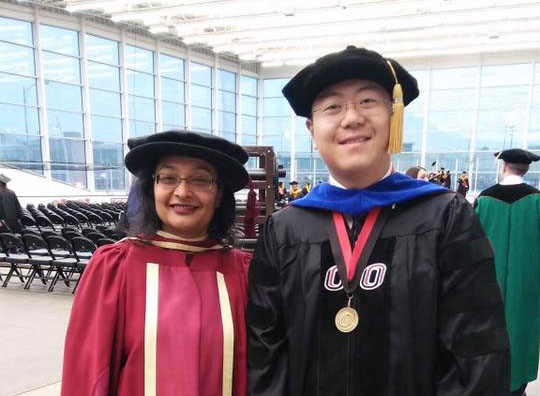 Dr. Jason Xiong, a 2016 Ph.D. in Information Technology graduate of the University of Nebraska at Omaha (UNO) College of Information Science and Technology (IS&T), is one of 36 recipients of the 2017 Ralph E. Powe Junior Faculty Enhancement Award by Oak Ridge Associated Universities (ORAU). Competing with 125 other applicants, Xiong was awarded a one-year, $5,000 grant to expand upon his research for his project "Information and Communications Technology (ICT) for Sustainable Development: Interventions with Native American Owned Small Businesses."
Currently a professor of computer information systems and supply chain management at Appalachian State University, Xiong will use the award support data collection and analysis for his project and will help support his work with the conduction of interventions of IT for development of Native American owned small businesses in North Carolina and Nebraska. Xiong's project is an extension of his work with IS&T's lab Information Technology for Development, which focuses on the impact information technology has on small businesses. The ORAU grant supports junior faculty at its institutions with the goal of supporting research and professional growth of young faculty.
"We are're extremely excited for Jason to be able to continue the important work he did while working with us in the ITD Cloud Computing Lab. He collected data on how micro-enterprises grow using technology and is able compare his findings with additional datasets contained on the ITD Lab server". Dr. Sajda Qureshi, Dr. Xiong's dissertation chair, stated.
"Our rigorous program helps students to lay the groundwork for influential research that powers their careers. At the same time, their research is also relevant to solving real world problems – in this case helping businesses grow using information technology. To see a recent graduate be awarded such a prestigious national award is very rewarding and an excellent example of how students who conduct research in the IS&T labs are able to launch successful academic careers while making a difference in the lives of people they serve. We are very honored to be contributing to the crucial accomplishments of our future educators and scholars." Dr. Qureshi, who is also director of the Ph.D. in information technology program at the UNO College of Information Science and Technology commented.
In addition, Xiong will be awarded a $5,000 matching grant from the Walker College of Business at Appalachian State University. To read more about Xiong's award, please visit: https://business.appstate.edu/news/walker-college-computer-information-systems-professor-earns-junior-faculty-award