Student Highlight: Aditya Chouhan
MIS Graduate Student, Aditya, tells us about his new career in Omaha, his love for UNO, and his past life in India.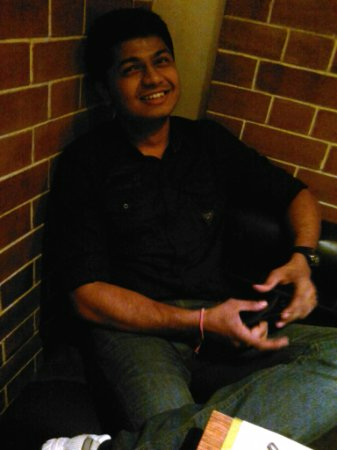 Full Name: Aditya Chouhan
Masters Degree: MS in MIS (Management of Information Systems)
Hometown/Country: Indore/ India. Indore is in the central part of India.
Undergraduate University/degree/location: RGTU/ B.E in CS/ Indore (India)

Q: Congrats on your new job offer! Tell us a little bit about where you're going and what you'll be doing.
I am joining Conductix Wampfler. Its manufacturing company present in over 50 countries around the globe. I would be working as 'Full Stack Web Developer' in IT department of the company. As part of my job there, I would be working on the development of their web applications.

Q: Sounds like you got a lot of experience working with Dr. Fruhling in our Health Informatics lab. Could you talk about your work there, and how it helped you in your future career?
I started working with Dr. Fruhling in Feb 2016. During my tenure of 19 months with Dr. Fruhling, I worked on 'Optimizing EHR/ PHR systems' project. This research project is a collaboration between UNO and UNMC with Dr. Fruhling as Co-Principal Investigator of the project. My job here was to design and develop PHR web application. Talking about how this job helped me in my career-
- I am well aware of working culture in India as I had worked for almost 5+ years in Indian IT before coming here to the USA but this job at UNMC helped me in understanding the work culture of USA. How differently things work here.

- I got to learn the importance of teamwork as we are a team of 10-12 people with each one of us bringing lots of experience and knowledge to the table. It was very interesting to work with such diverse and intelligent group.

- Most important of all, this job acted as a turning point in my career because prior to this I had always worked as Backend Developer but here I started working on front-end development which made me a Full Stack Developer (someone who can work in any area of software development). Full stack development is in huge demand in the industry right now. Me getting offer letter from three companies proves the same.

- I got to learn Angular, Bootstrap, HTML5 which are trending skills in IT. (Angular ranks third in the list of top job skills).

- I also got to explore the new dimension of myself- 'Research'. I realized the importance of research and learned how patient one needs to be for doing research. In development, you see instant results but research demands more time and tests your patience.
Q: What have been the best experiences in your program? Why are you glad you came to UNO for your master's degree?
After working for almost 5 years in technology I realized I need to nurture my managerial skills as well so I decided to go for MS in MIS (Management of Information systems). UNO's MIS curriculum is the perfect blend of technical and managerial courses. Management lessons from Dr. Royce and Professor Schoff would definitely help me in my career in the long run. Dr. Royce introduced me to many modern management tools. I got to learn computer networking concepts in Dr. Ryan Schuetzler's class and his pragmatic way of teaching networking concepts was really interesting. Dr. Wolcott's database class polished my database management concepts.
In recent years, I had been hearing terms like Hadoop, Cassandra, Redis and Map Reduce. These keywords are trending in almost all the technology blogs, articles, and magazines. Be it be Quora, StackOverflow, CodeProject or any other tech blog these are the trending searches everywhere. Thanks to this class now even I can provide my two cents to such articles. Apart from this awesome academic experience, I had very great experience with college management. Staff at IS&T is very helpful. Leslie my graduate advisor was reachable 24*7 throughout my degree. I never saw her angry or irritated with me for changing enrolled classes and bugging her for permit numbers.
I can proudly say that two years back I took the right decision of joining UNO for my MS.

Q: You said you love Omaha and you're excited to stay here. What about Omaha do you love?
I am in love with the simplicity of this city. People greet me with a smile on the streets. This is the surrounding you need when you are thousands of miles away from your family. Comforting and welcoming!. Cost of living is low, people are cheerful and helpful, No rush, less traffic.
People often crib about bad winters here but for an individual like me who has never seen snow in India, even snowfall looks awesome.