The College of Education, Health, and Human Sciences Welcomes Third Cohort of the Teacher Scholars Academy
The Teacher Scholars Academy is a select group of high-achieving teacher candidates who embody leadership qualities and commitment to their communities.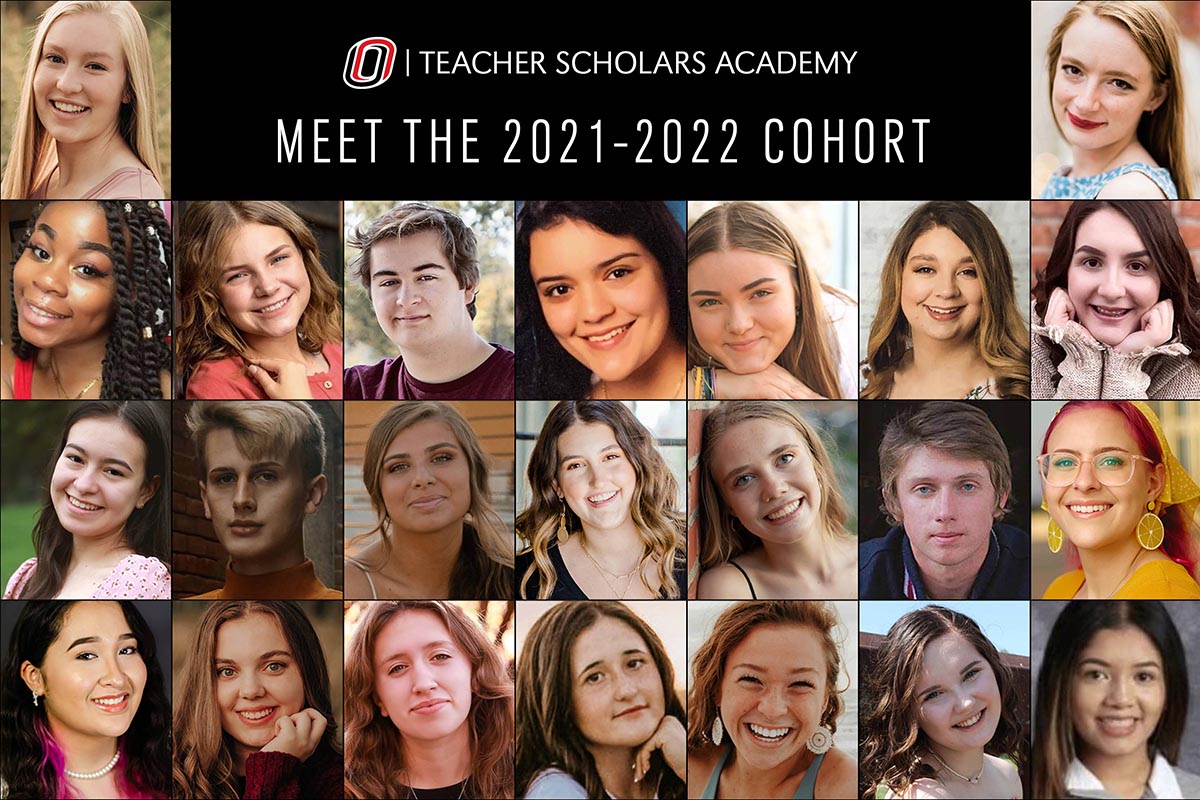 The College of Education. Health, and Human Sciences (CEHHS) is excited to welcome the third cohort of students to the Teachers Scholars Academy (TSA). This fall, the Teacher Scholars began pursuing majors in Elementary Education, Secondary Education, Special Education, and Music Education.
These 23 high-achieving teacher candidates hold strong academic records, with an average high school GPA of 3.81 and an average ACT score of 23. They represent 17 high schools across six different counties in Nebraska and Iowa.
As a Teacher Scholar, students will work closely with other high-performing Scholars by engaging in small specialized courses, seminars, and special projects specially designed for each cohort. They will graduate with a strong network of professional peers.
Experiential learning is a key part of the Teacher Scholar experience, including both service to the community and hands-on educational experiences. Through service learning projects, the previous TSA cohorts partnered with Inclusive Communities, fifth-grade students from Crestridge Magnet Center, and the Union for Contemporary Art for a project, Redlining Conversations. The project explored the history of Redlining in North and South Omaha and how those foundations of structural racism have had lingering effects on the Omaha community.
TSA is led by Dr. Gerry Huber, former director of CEHHS' Office of Academic Advising.
---
Meet the 2021-2022 Teacher Scholars
| Name | Major | High School |
| --- | --- | --- |
| Yulisa Aguilar-Carmona | Elementary Education | Omaha South High School |
| Keaton Allis | Elementary Education | Papillion - LaVista South High School |
| Alexia Austin | Early Childhood Inclusive Education | Bellevue West High School |
| Grace Beister | Elementary Education | Papillion-LaVista South High School |
| Abigail Carlson | Elementary and Special Education | Westside High School |
| Harley Cribbs | Elementary Education | McCook Senior High School |
| Allee Galusha | Elementary and Special Education | Grand Island Senior High School |
| Jacqueline Gonzalez-Torres | Elementary Education | Abraham Lincoln High School |
| Abby Heimann | Secondary Education | Wakefield High School |
| Emily Herrera-Franco | Secondary Education | Omaha South High School |
| Mila Herzbaum-Harding | Elementary Education | Omaha Central High School |
| Rebecca Humphus | Elementary Education | Millard North High School |
| Chase Jensen | Music Education | Blair High School |
| Sarah Johnson | Elementary and Special Education | Papillion – LaVista South High School |
| Joseph Lamb | Elementary Education | Humboldt Table Rock Steinauer High School |
| Sophie Larson | Music Education | Gretna High School |
| Madelyn Lichti | Elementary Education | Millard South High School |
| Mackenzie McGuire | Elementary and Special Education | South Sioux City High School |
| Monserrat Medina Hernandez | Elementary Education | Omaha South High School |
| Mason Pair | Secondary Education | Lincoln North Star High School |
| Reagan Ptacek | Secondary Education | Douglas County West Community High School |
| Hannah Stenger | Secondary and Special Education | Papillion-La Vista High School |
| Morgan Thompson | Music Education | Blair High School |