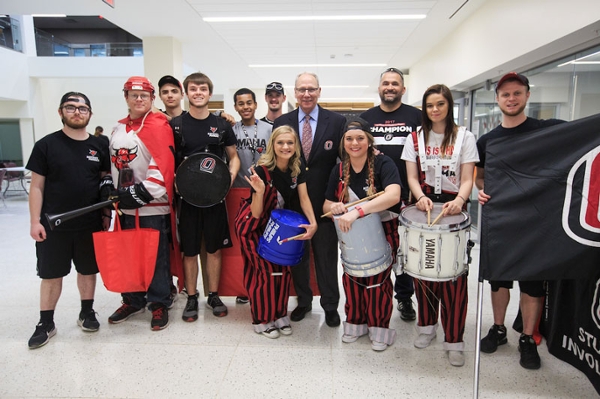 Boost the value of your MBA experience by getting involved. UNO is large enough to offer you opportunities to participate in a wide range of programs—from traditional Greek organizations to athletics. Yet UNO is small enough for you to create and lead organizations that stimulate your personal and professional interests. UNO has specifically designed programs and services to support and enhance your time at UNO. Visit the Student Life webpage for more information.
MBA Association
The UNO MBA Association provides an excellent opportunity to network with fellow MBA students, faculty and alums. For more information about the MBA Association, please contact one of the MBAA officers or visit their Facebook page here.
MBAA Officers
President: Michael Mazgaj (mjmazgaj@unomaha.edu)
VP of Public Relations: Lauranne Beckwith (lbeckwith@unomaha.edu)
VP of Operations: Monica Rocco (mrocco@unomaha.edu)
VP of Finance: Tejashree Pande (tpande@unomaha.edu)
Fall 2017 MBAA Events
August 25th - MBAA Welcoming Event/Fall Kickoff
Atrium meet and greet with new prospective students
September 15th - Dean's Party
Broadmoor Clubhouse in Aksarben Village from 5:00-9:00 p.m
October 13th - UNO Hockey Enrichment Activity
Guest Speaker - Mike Gabinet/Mike Kemp
November 10th - Enrichment Activity: Henry Doorly Zoo
Meet with Craig Jacobs - Strategic Mission
December 1st - Enrichment Activity: Visit local company/guest speaker
Our Campus. Otherwise Known as Omaha.
The University of Nebraska does not discriminate based on race, color, ethnicity, national origin, sex, pregnancy, sexual orientation, gender identity, religion, disability, age, genetic information, veteran status, marital status, and/or political affiliation in its programs, activities, or employment. Learn more about Equity, Access and Diversity.
scroll to top of page