MBA Curriculum
The MBA degree comprises 33 total credit hours: 24 credit hours of core courses and 9 hours of electives. Core classes are scheduled for 8-week sessions during the Fall and Spring semesters and 4 weeks during the summer.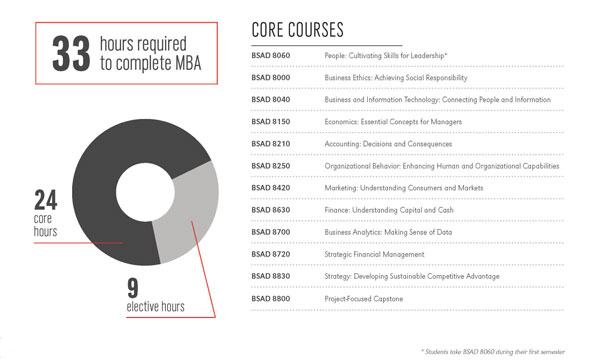 MBA Core Curriculum
Core Courses
The core curriculum is designed to help students develop a strong foundation across various functions of business and to build their leadership, communication and analytical skills.
For students with an undergraduate major or a graduate degree in accounting, economics, finance, management, management information systems, or marketing, the core course(s) corresponding to the student's undergraduate major(s) or graduate degree(s) will be waived. The student who has a core course waiver will be required to take a directed elective in the waived field.
Elective Courses
The nine hours of electives must be selected from the listing of approved MBA electives. The listing includes courses specifically designed for the MBA program, as well as courses from the following departments: Accounting, Communication Studies, Economics, Information Systems, Political Science and Psychology, to name a few.
Project-Focused Capstone Course
In the Capstone course, students will conduct an integrative applied project for an organization. The projects may be conducted in small groups or individually; and have focused on a number of topics, including:
Arts and the executive
Consulting in organizations
Entrepreneurial/executive leadership
Executive civic leadership
Check out some of the great projects our MBA students have completed.
MBA Leadership Seminar Series
UNO MBA students have the opportunity to learn from and interact with the area's top executives and leaders through the MBA Leadership Seminar Series. Students are required to participate in at least two of these events prior to graduation.