Designed for busy professionals.
Most of our students are juggling jobs, families and full personal lives.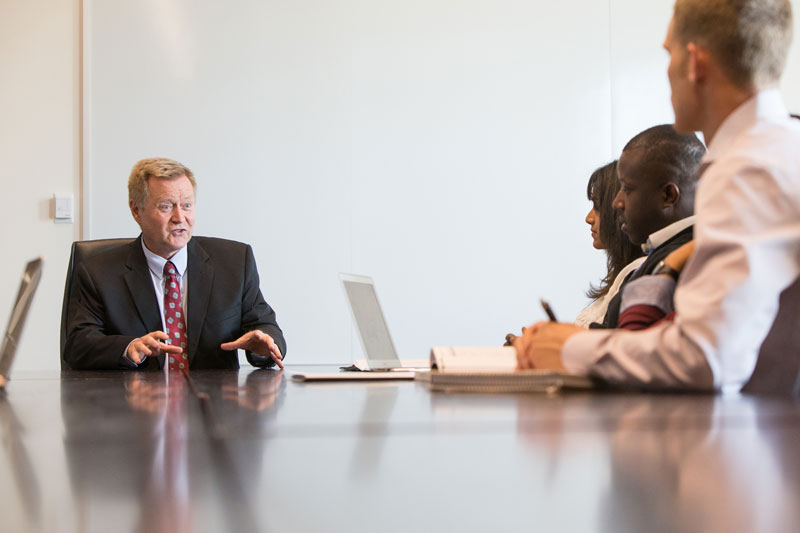 With flexible, eight-week classes offered in person and online, the MBA program allows you to progress in your career while pursuing your degree.
Distinctive curriculum
The UNO MBA uses the triple bottom line framework (people, planet and profit). You'll develop an understanding of the relationship among social, environmental and economic issues in a turbulent business context.
Through small classes, team-based learning, and individualized attention every step of the way, your MBA experience is uniquely your own.
Affordable tuition
UNO offers the most affordable graduate school tuition rates in the Omaha area and provides many funding sources to help students finance their education: graduate assistantships, scholarships, tuition waivers and tuition-reducing programs with neighboring states.
Meaningful connections
The MBA program has strong connections with Omaha's corporations and nonprofits, offering opportunities for internships, class projects, mentoring, networking, and jobs.
Mission Statement
The mission of the University of Nebraska at Omaha Master of Business Administration is to prepare students to contribute significantly to organizational productivity through learning experiences emphasizing the application of sound and innovative business techniques.
Through acquiring the knowledge and abilities necessary to be influential, innovative, a problem solver, and socially responsible, the graduate of the UNO MBA program will be an effective leader in enhancing organizational productivity. The graduate will be well prepared for a responsible management position and will have an understanding of the technological and global business environment.