Explore featured courses being offered in the Department of Philosophy.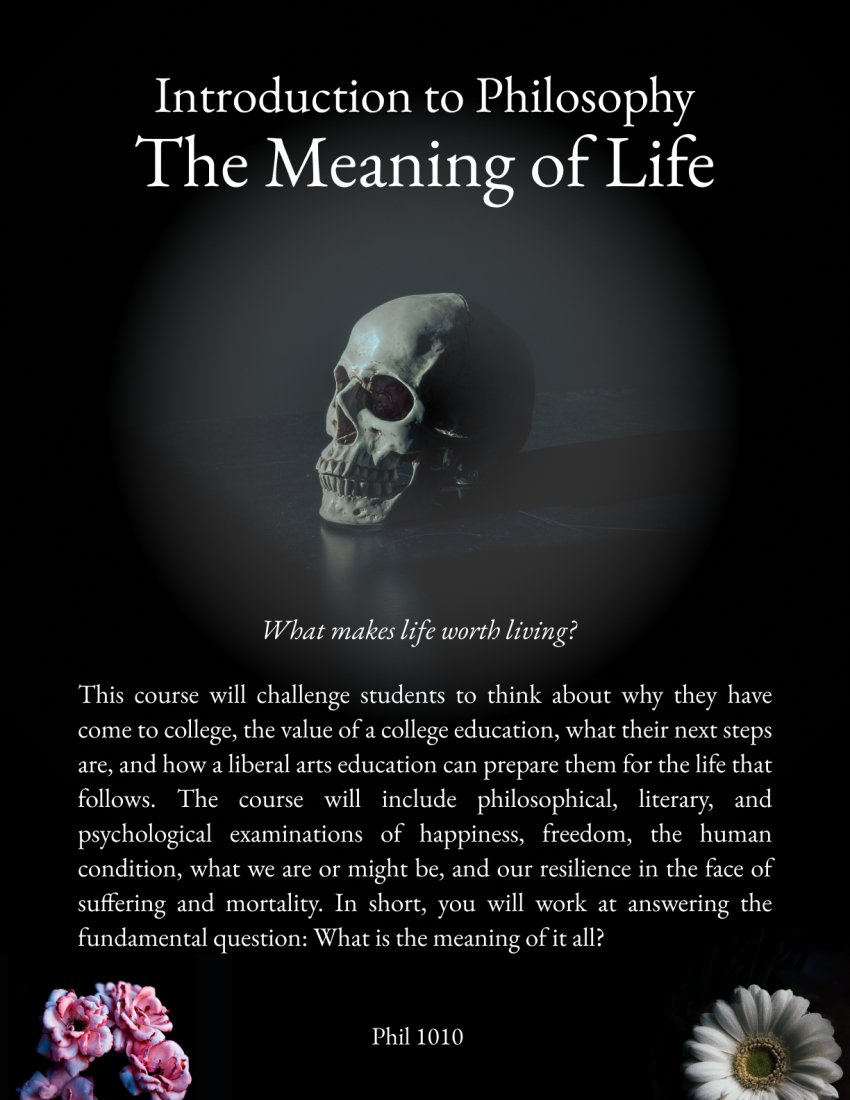 PHIL 1010: Introduction to Philosophy: The Meaning of Life
What does it mean to live a good life? This course will challenge students to think about why they have come to college, what their next steps are, how a liberal arts education can prepare them for what comes down the road, and what is ultimately meaningful in life.
The course will include philosophical, literary, and psychological examinations of happiness, freedom (how do we make transformative life decisions), the value of college education, materialism/consumerism, and resilience in the face of suffering and mortality.
In short, you will work at answering the fundamental question: What is the meaning of it all?
---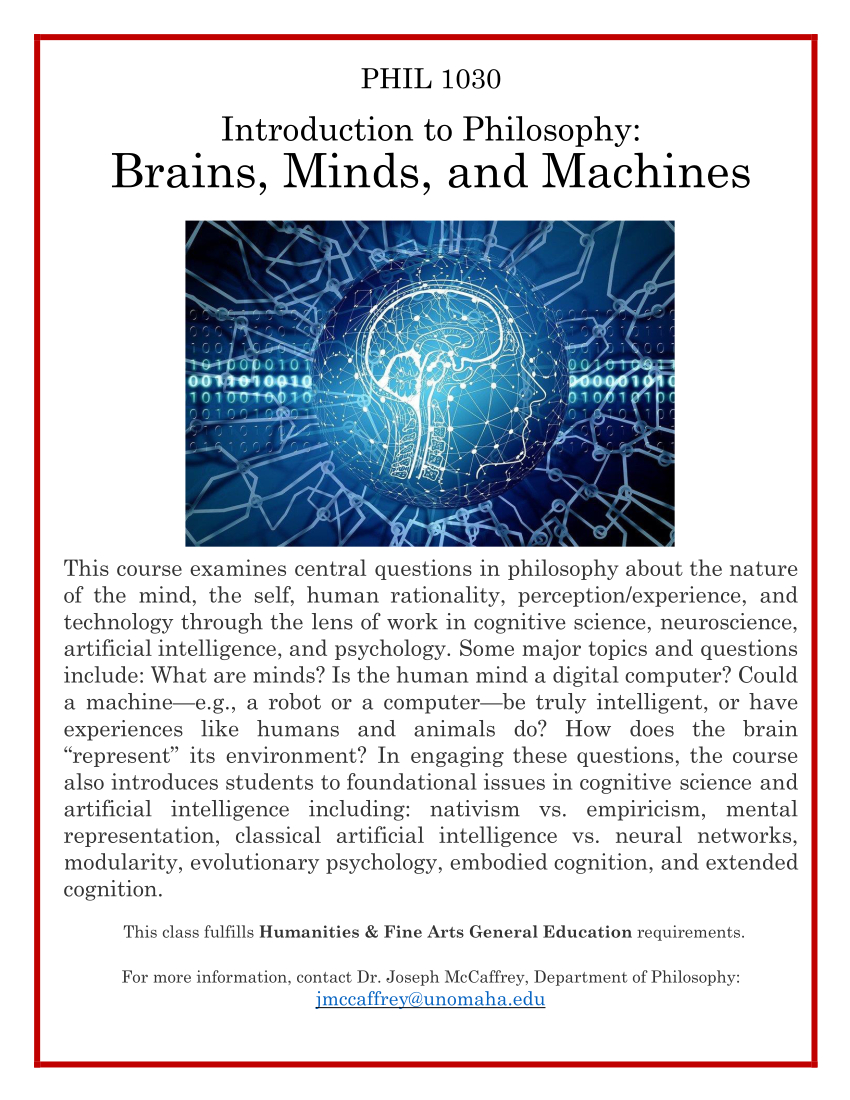 PHIL 1030: Introduction to Philosophy: Brains, Minds, and Machines
This course examines central questions in philosophy about the nature of the mind, the self, human rationality, perception/experience, and technology through the lens of work in cognitive science, neuroscience, artificial intelligence, and psychology. Some major topics and questions include: What are minds? Is the human mind a digital computer? Could a machine—e.g., a robot or a computer—be truly intelligent, or have experiences like humans and animals do? How does the brain "represent" its environment? In engaging these questions, the course also introduces students to foundational issues in cognitive science and artificial intelligence including: nativism vs. empiricism, mental representation, classical artificial intelligence vs. neural networks, modularity, evolutionary psychology, embodied cognition, and extended cognition.
This class fulfills Humanities & Fine Arts General Education requirements.
---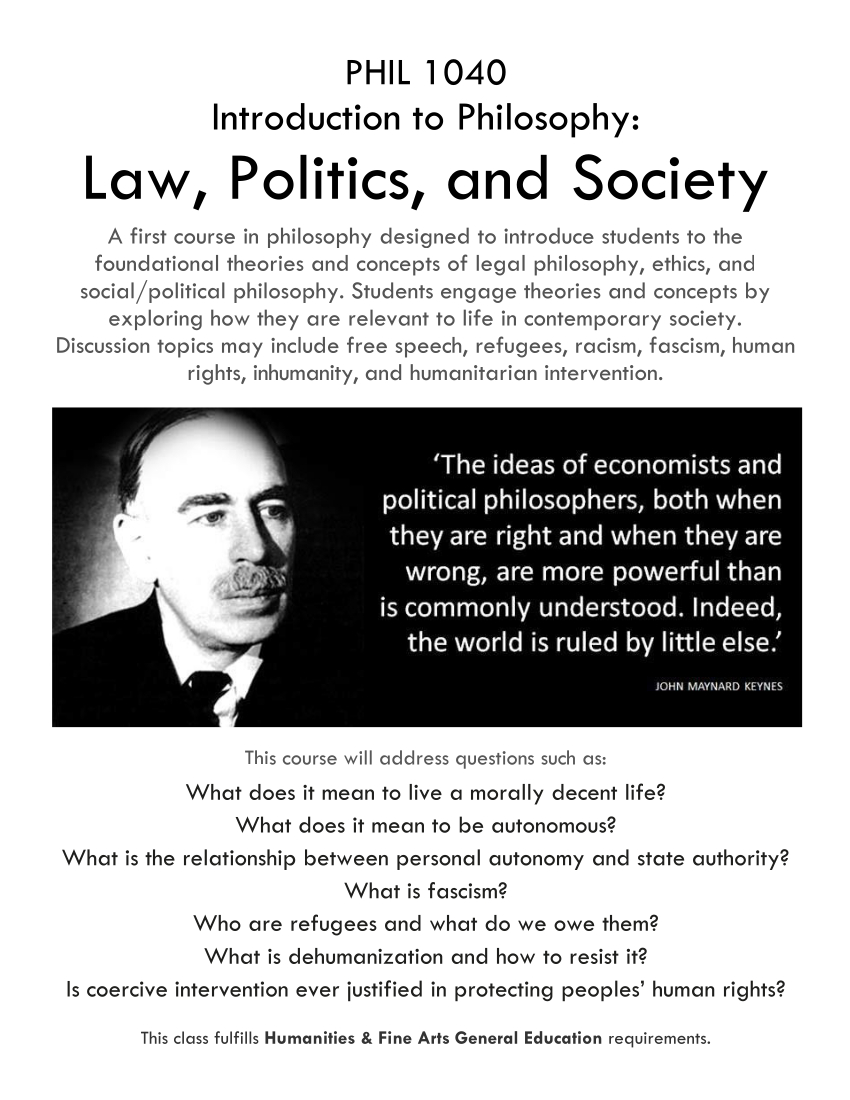 PHIL 1040: Law, Politics, and Society
A first course in philosophy designed to introduce students to the foundational theories and concepts of legal philosophy, ethics, and social/political philosophy. Students engage theories and concepts by exploring how they are relevant to life in contemporary society.
Discussion topics may include free speech, refugees, racism, fascism, human rights, inhumanity, and humanitarian intervention
---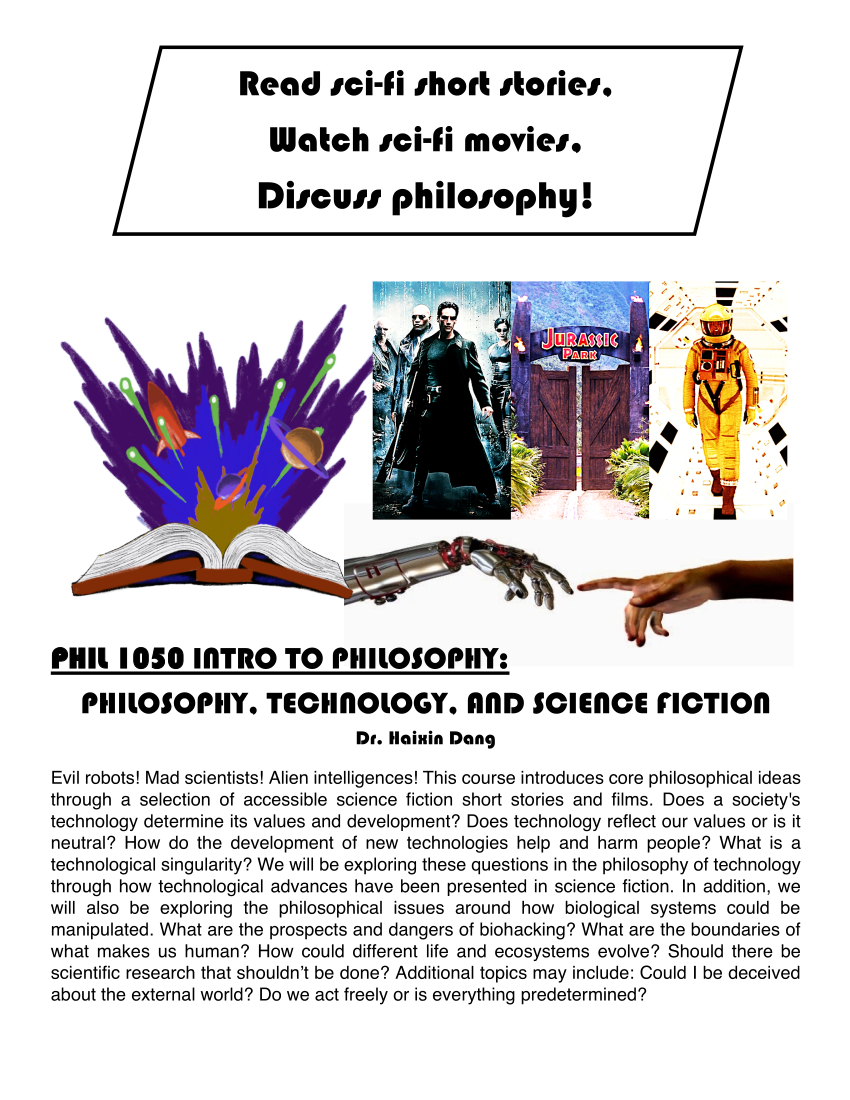 PHIL 1050: Introduction to Philosophy: Philosophy, Technology, and Science Fiction
Evil robots! Mad scientists! Alien intelligences! This course introduces core philosophical ideas through a selection of accessible science fiction short stories and films. Does a society's technology determine its values and development? Does technology reflect our values or is it neutral? How do the development of new technologies help and harm people? What is a technological singularity? We will be exploring these questions in the philosophy of technology through how technological advances have been presented in science fiction.
In addition, we will also be exploring the philosophical issues around how biological systems could be manipulated. What are the prospects and dangers of biohacking? What are the boundaries of what makes us human? How could different life and ecosystems evolve? Should there be scientific research that shouldn't be done? Additional topics may include: Could I be deceived about the external world? Do we act freely or is everything predetermined?
---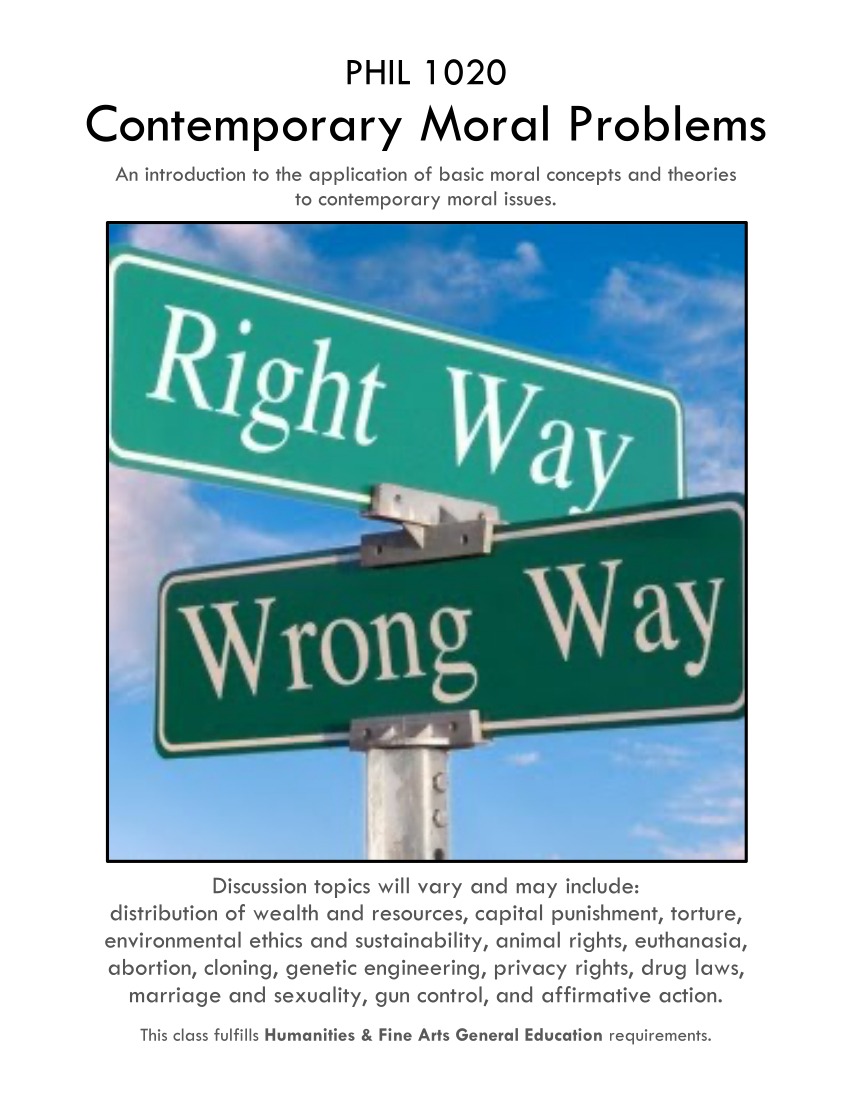 PHIL 1020: Contemporary Moral Problems
Discussion topics will vary and may include: distribution of wealth and resources, capital punishment, torture, environmental ethics and sustainability, animal rights, euthanasia, abortion, cloning, genetic engineering, privacy rights, drug laws, marriage and sexuality, gun control, and affirmative action.
---
PHIL 2030: Introduction to Ethics
What is good? What is right? What should you do? In this class, students learn essential moral distinctions and influential moral theories and learn to apply these in the deliberation of complex ethical issues. At the heart of it all is discussion. Discussion of the theories and their application is central to learning how to reason about ethical problems and make moral progress.
This course fulfills Humanities & Fine Arts General Education requirements, as well as requirements for Nursing Programs (UNMC - Prerequisite), Medical Humanities (BA, BS, and Minor), Psychology (Advocacy, Ethics, Social Justice & Law Cognate Requirement, BS), Neuroscience (Cognate Requirement, BS), Holocaust and Genocide Studies (Minor), Human Rights (Minor), Ethics (Minor), and Philosophy (BA: All Concentrations and Minor).
---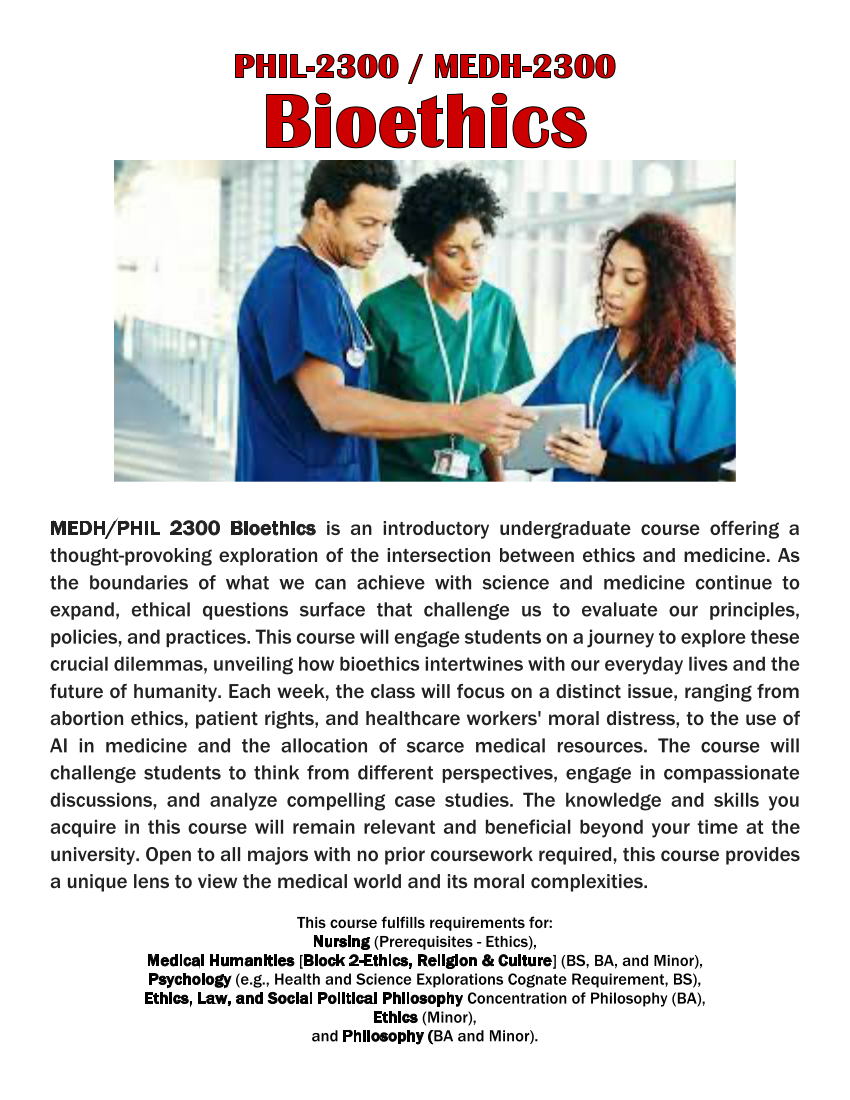 PHIL 2300: Human Values in Medicine
Medicine, with its constant innovations, is a field where new possibilities continually arise, and with those possibilities come new, meaningful questions. In this course, we will examine the values we apply in making decisions about medical care, as well as case studies from real world clinical practice, to gain a deeper appreciation for the human, ethical aspects of medicine. This course should be of interest to any student preparing for a career in health professions and biomedical research.
This course fulfills Humanities & Fine Arts General Education requirements, as well as requirements for Medical Humanities (BS, BA, and Minor), Psychology (Health and Science Explorations Cognate Requirement, BS), Ethics, Law, and Social Political Philosophy Concentration of Philosophy (BA), Ethics (Minor), and Philosophy (BA and Minor).
---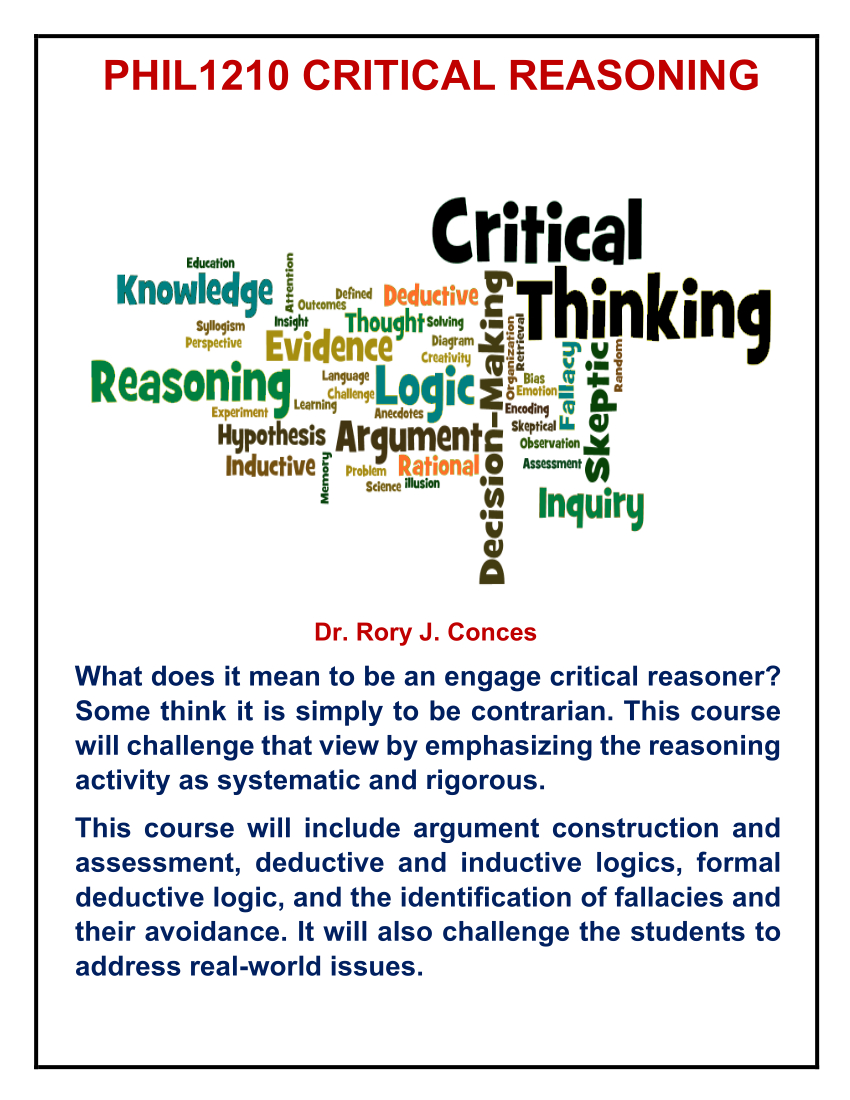 PHIL 1210: Critical Reasoning
What does it mean to be an engage critical reasoner? Some think it is simply to be contrarian. This course will challenge that view by emphasizing the reasoning activity as systematic and rigorous.
This course will include argument construction and assessment, deductive and inductive logics, formal deductive logic, and the identification of fallacies and their avoidance. It will also challenge the students to address real-world issues.
---
PHIL 2010: Symbolic Logic
What are the most fundamental rules for rational thought? This course covers the central aspects of propositional logic and predicate logic. We study both semantics (i.e., interpretive relations between language and subject matter including notions such as truth and reference) and syntax (i.e., formal relations between elements of language). We learn how to construct and translate formal languages and explore the basis of both semantic and syntactic inference. We also explore foundational issues in logical metatheory.
Throughout the course, we discuss broad philosophical themes such as the purpose of language, constraints on translation, and nature of meaning itself.
This course fulfills the reasoning requirement of the Philosophy BA, an elective for Computer Science's Artificial Intelligence Concentration BS, and the Quantitative Literacy Requirement for the Medical Humanities BA and BS and the Women's and Gender Studies BA. It is also excellent preparation for the Law School Admissions Test (LSAT ) and other examinations for graduate study (GRE, MCAT, GMAT)
---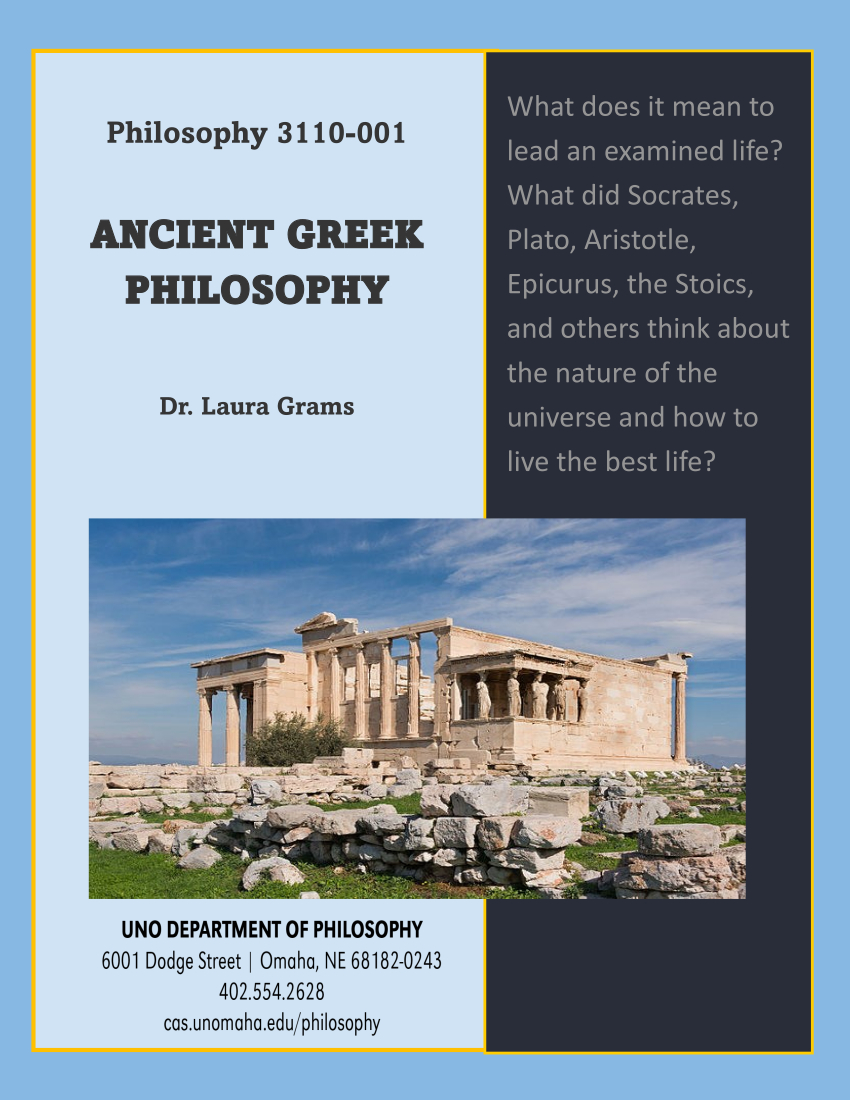 PHIL 3110: Ancient Greek Philosophy
What is it to lead an examined life? What did Socrates, Plato, Aristotle, Epicurus, the Stoics, and others think about the nature of the universe and how to live a good life?
This course is a survey of philosophy from its beginning to the Middle Ages: pre-Socratics, Plato, Aristotle, Cynics, Epicureans, Stoics, Skeptics, Neo-Platonists.
---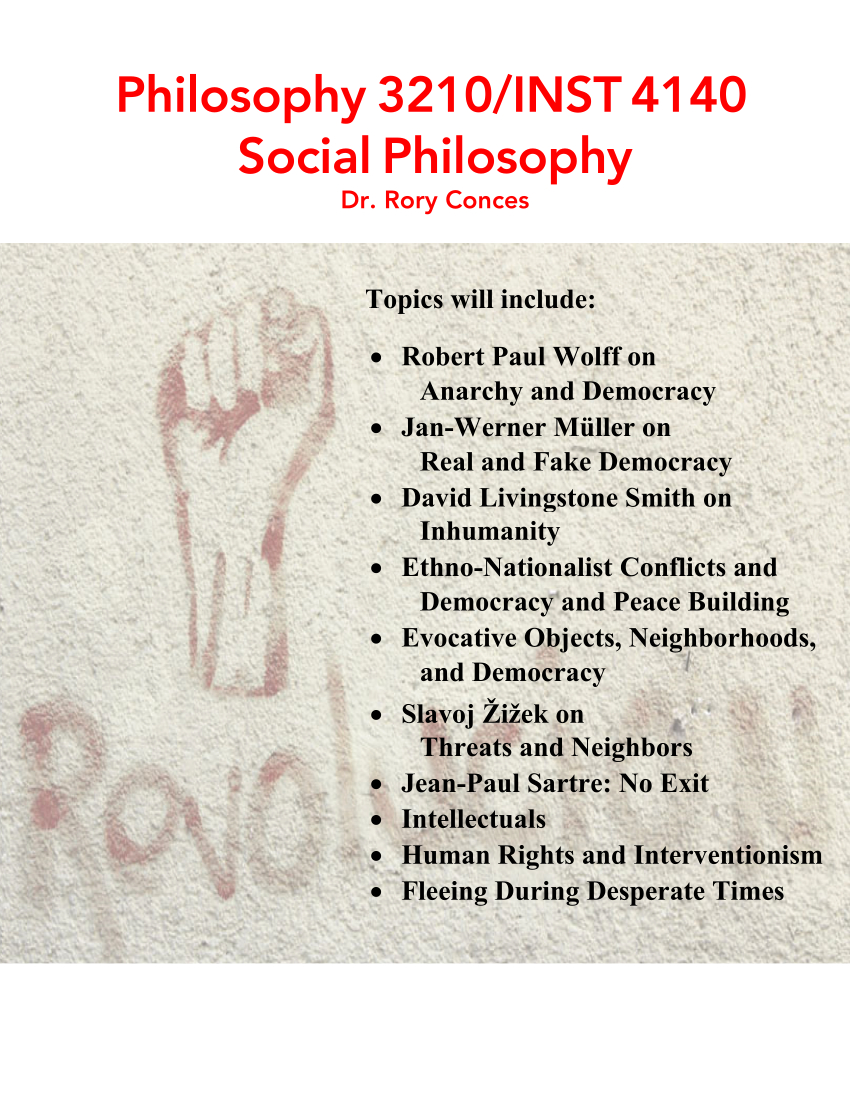 PHIL 3210: Social Philosophy
Topics will include:
• Theories of Justice (Mill, Rawls, Nozick)
• Refugees
• Ethno-Nationalist Conflicts and Nation Building
• Intellectuals and Peace Building
• Ahmet Altan on Imprisonment
• David Smith Livingstone on Inhumanity
• Human Rights and Interventionism
• Human Rights
---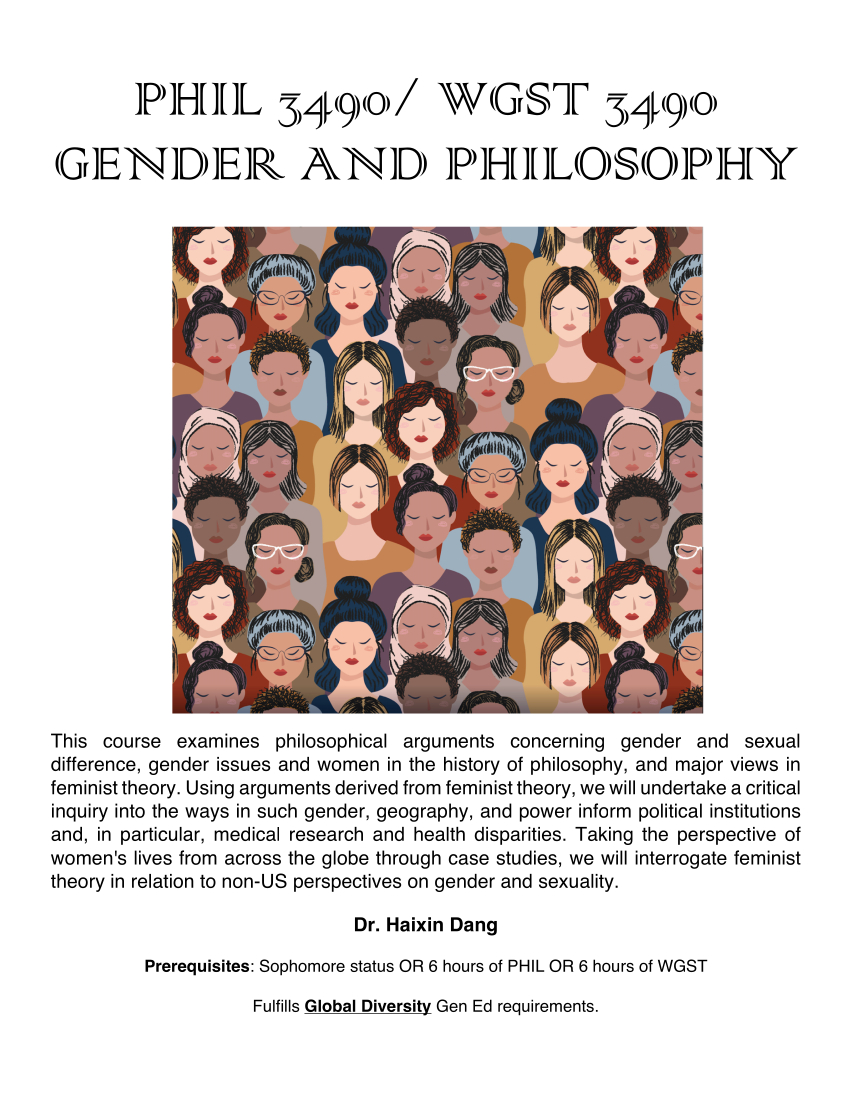 PHIL 3490: Gender and Philosophy
This course examines philosophical arguments concerning gender and sexual
difference, gender issues and women in the history of philosophy, and major views in feminist theory. Using arguments derived from feminist theory, we will undertake a critical inquiry into the ways in such gender, geography, and power inform political institutions and, in particular, medical research and health disparities.
Taking the perspective of women's lives from across the globe through case studies, we will interrogate feminist theory in relation to non-US perspectives on gender and sexuality.
---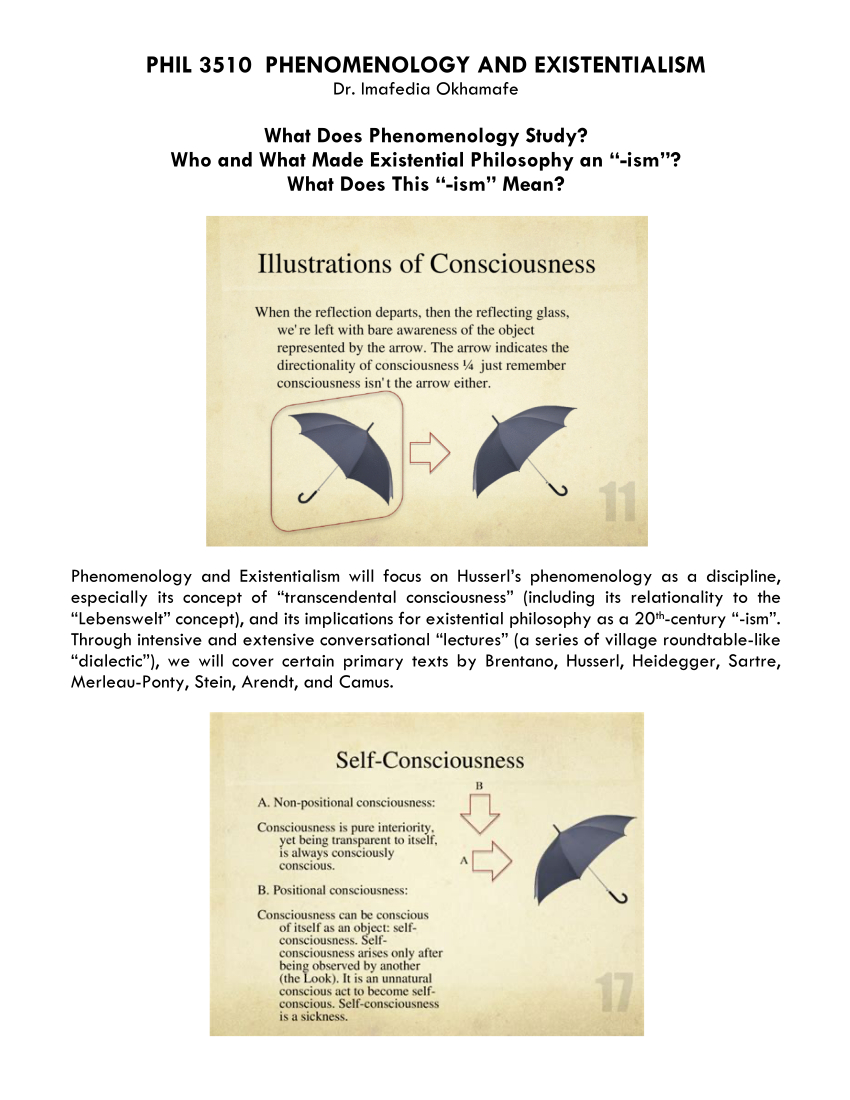 PHIL 3510: Phenomenology and Existentialism
Phenomenology and Existentialism will focus on Husserl's phenomenology as a discipline, especially its concept of "transcendental consciousness" (including its relationality to the "Lebenswelt" concept), and its implications for existential philosophy as a 20th-century "-ism". Through intensive and extensive conversational "lectures" (a series of village roundtable-like "dialectic"), we will cover certain primary texts by Brentano, Husserl, Heidegger, Sartre, Merleau-Ponty, Stein, Arendt, and Camus.
---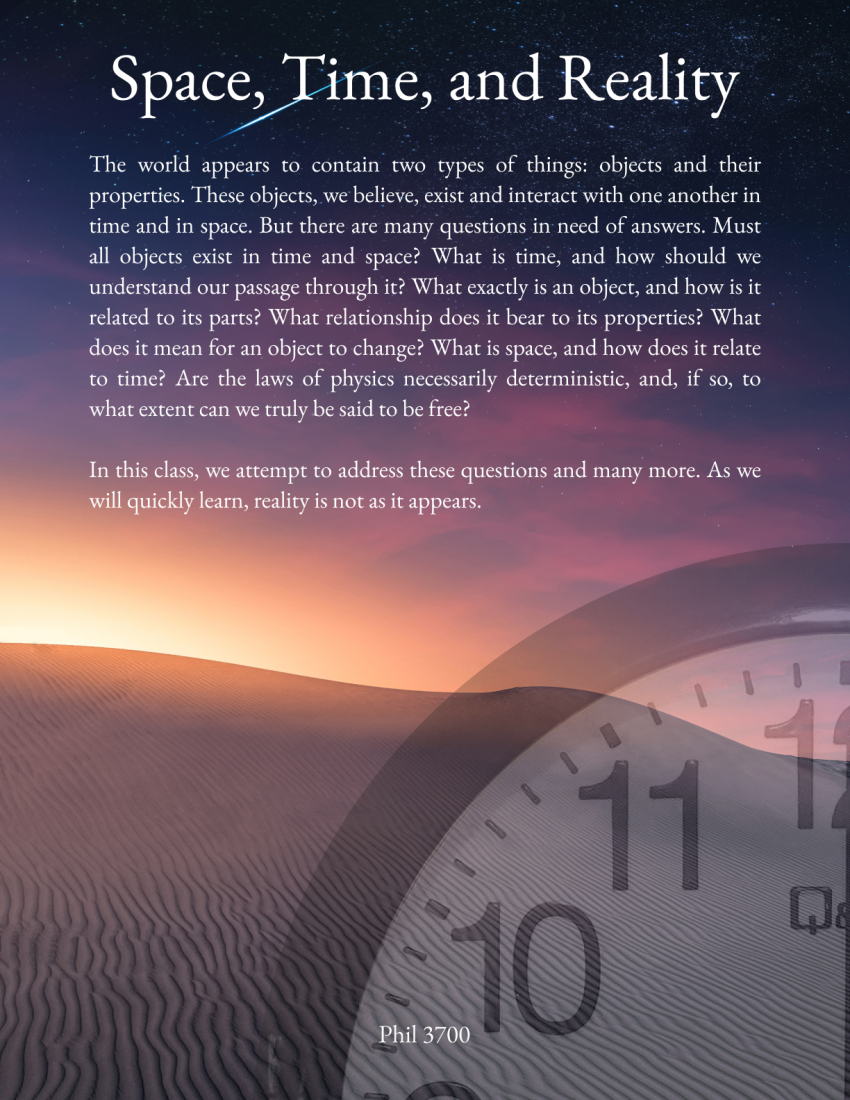 PHIL 3700: Space, Time, and Reality
The world appears to contain two types of things: objects and their properties. These objects, we believe, interact with one another in time and in space. But there are many questions in need of answers. Must all objects exist in time and space What is time, and how should we understand our passage through it? What exactly is an object, and how is it related to its parts? What relationship does it bear to its properties? What does it mean for an object to change? What is space, and how does it relate to time? Are the laws of physics necessarily deterministic, and, if so, to what extent can we truly be said to be free?
In this class, we attempt to address these questions and many more. As we quickly learn, reality is not as it appears.
---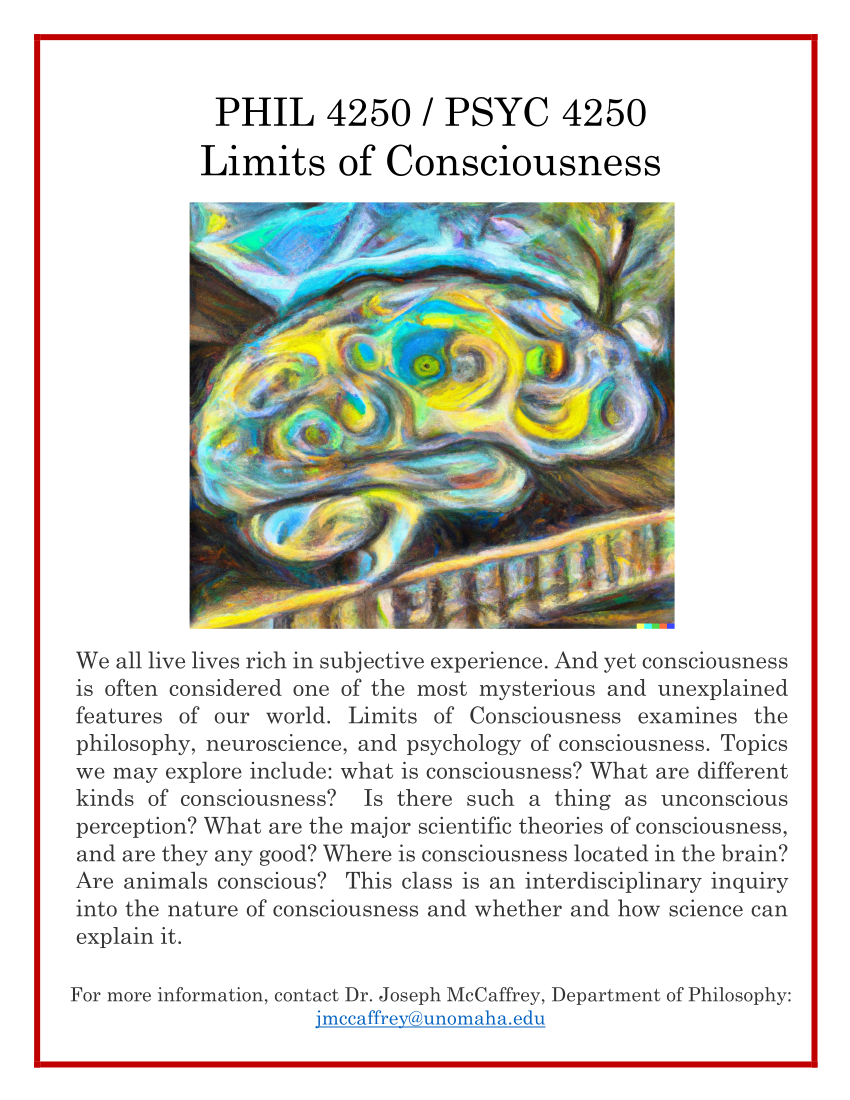 PHIL 4250: Limits of Consciousness
We all live lives rich in subjective experience. And yet consciousness is often considered one of the most mysterious and unexplained features of our world. Limits of Consciousness examines the philosophy, neuroscience, and psychology of consciousness. Topics we may explore include: what is consciousness? What are different kinds of consciousness? Is there such a thing as unconscious perception? What are the major scientific theories of consciousness, and are they any good? Where is consciousness located in the brain? Are animals conscious? This class is an interdisciplinary inquiry into the nature of consciousness and whether and how science can explain it.