UNO's Goldstein Center for Human Rights is Excited to Sponsor the Document Our History Podcast
published: 2022/06/01
contact: Angela Brown - Goldstein Center for Human Rights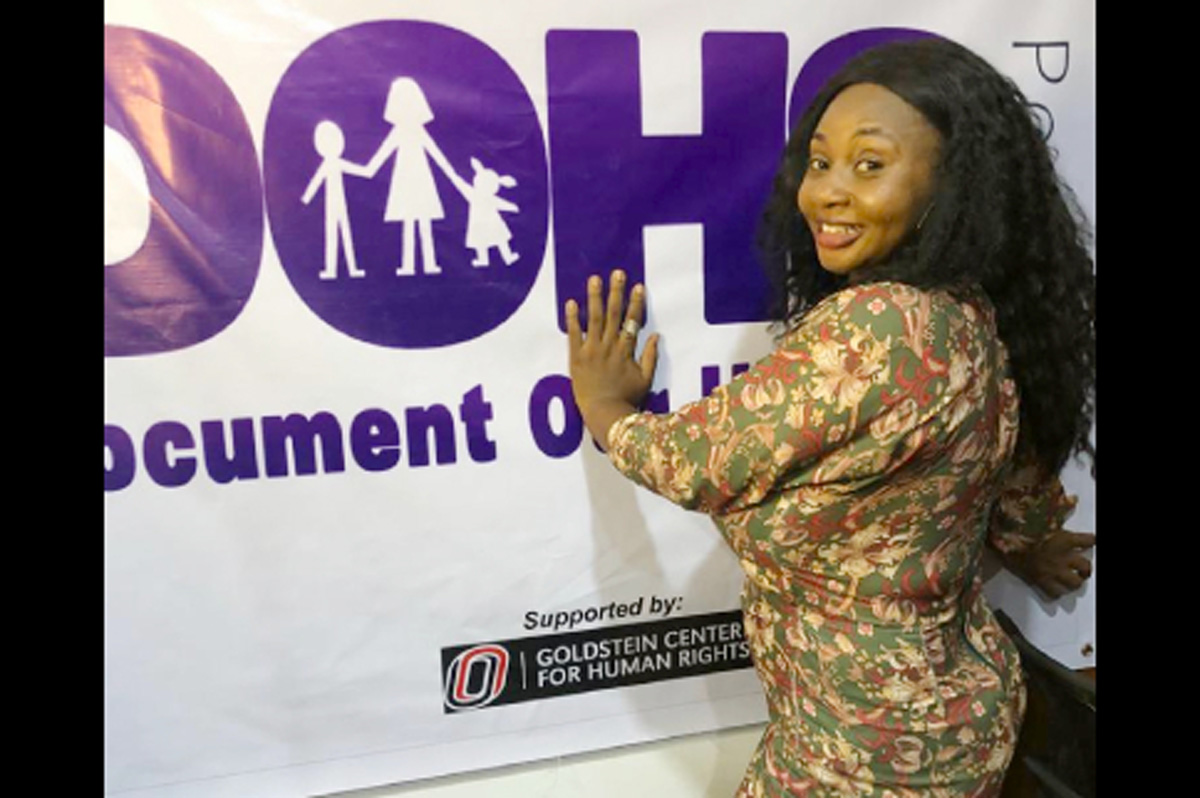 Ololade Ajayi, a Nigerian feminist, compere, and advocate for human rights has started a podcast to tell the stories of survivors and victims of sexual and gender-based violence and help connect them with resources to heal from the physical and psychological abuses they have experienced.
The 'Document Our History' bibliotherapy podcast (DOHS) serves as an art clinic that helps women, girls, and endangered children heal from physical and psychological abuse by providing literary information, guidance and support to victims and survivors who have decided to open-up about their experiences. Bibliotherapy is the use of words and literature to promote and support healing, share experiences, communicate information, and develop empathy. It is used in structured clinical settings, as well as in creative settings and educational institutions.
Ajayi is a poet, satirist, and short story writer. She has won several awards for her poetry including the 2016 Nelson Mandela Day poetry competition (first runner up), and other writing competitions. Her debut book, "We the People" is a collection of satiric poems reflecting the political orientation of her country of Nigeria. As an advocate for women's rights, she is a volunteer for various NGOs that provide support to victims of rape, female genital mutilation, and gender-based violence. She believes her poems will be used in challenging norms and stereotypes surrounding politics and feminism.
Her inspiration for DOHS came from her desire to use her art to create a voice for those who often don't feel like they have one; and to recognize that there is power in speaking and owning one's truth, directing one's own narrative, and documenting one's history. It is her hope to "connect survivors, victims, and listeners through poetry and to poetry."
"I hope that listeners who connect with the stories shared on the podcast can receive the conviction to speak out if in an abusive situation and receive help through the information we send out, and that those who know people in an abusive situation can speak up for them and help them renounce the situation."
Michele Desmarais, Associate Professor of Religious Studies and founding director of UNO's Medical Humanities minor, worked with the Goldstein Center for Human Rights (GCHR) to sponsor and support the podcast. In October 2021 Desmarais was a writing instructor for the University of Iowa International Writing Program's series with writers in sub-Saharan Africa called, "Telling Our Stories: Creative Writing and Healthcare." Ajayi was one of the participants and they have worked together since.
"The DOHS podcast is a powerful forum for women and girls in Nigeria who have experienced sexual and gender-based violence to tell their stories, to be heard, to know that their lives matter. It weaves together storytelling, advocacy, and poetry to support, educate, help heal and promote change," says Desmarais. "The episodes are heart-breaking yet reveal incredible strength, resilience and talent. Each podcast is indeed, to quote Ololade's poem Womanity, 'a fight for rights, for chances, and everything in between.'"
The GCHR is excited to support Ajayi on this innovative podcast. This podcast can be heard on Apple Podcasts, Google Podcasts, and Spotify. You can also learn more by visiting the GCHR website or the DOHS website.