MA CCT Graduate Explores Heritage, Builds Cultural Bridges
"When we go to an academic setting, a piece of our heart goes with us."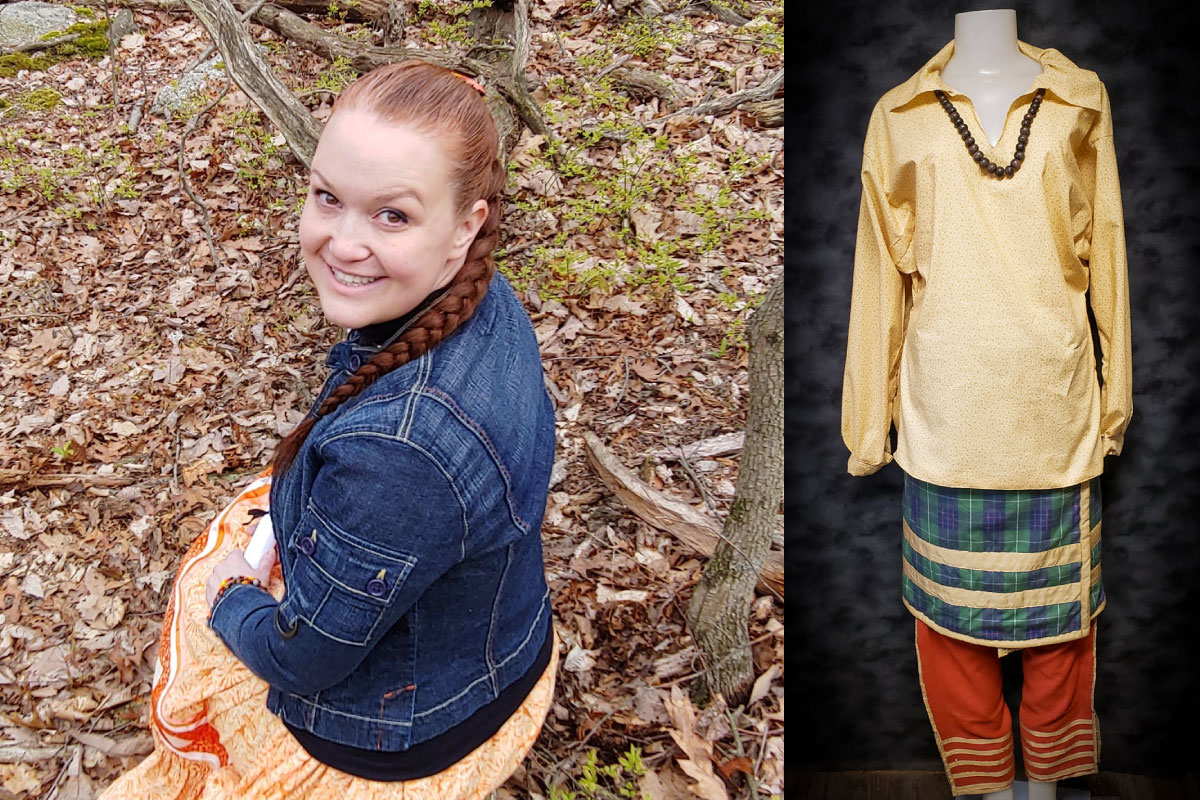 Chelle McIntyre-Brewer, a Spring 2020 graduate of the Master of Arts in Critical and Creative Thinking (MA CCT) program, owns a piece of Cherokee regalia, or the traditional clothes used for tribal ceremonial occasions, that she feels perfectly reflects her experience in the MA CCT program.
Crafted by McIntyre-Brewer's friend, Jules Thornton-Brison, the piece is an 18th century, post-contact design in Brewer's Scottish Highland clan tartan. It's both a visual representation of her heritage—Cherokee and Highland—and a reflection of the work she's done to understand her ancestry and the complexities surrounding it.
McIntyre-Brewer says a major starting point in this exploration of her heritage was the MA CCT. Students in the MA CCT choose from six concentrations in which focus their studies. McIntyre-Brewer says she was drawn to all of them, but ultimately chose two: Cultural and Global Analysis (CGA); and International Migration, Development, and Citizenship (IMDC).
"I have lived all over the world, and I can tell you that the only way for you to truly understand cultural and global factors is to be exposed to them," she said. "And studying those factors is the only way I'm going to be able to really get that. Just taking a vacation, you're not going to get what you need. You really do need to understand where you stand on issues, and both tracks (CGA and IMDC) give you the unique perspective to hone in on definitions and to form your own opinion based on quantitative and qualitative information that is informed and up-to-date."
She says she also enjoyed learning from a diverse faculty with a variety of backgrounds and experiences while in the MA CCT.
"You're not going to be able to get that kind of diversity in a lot of other programs and universities. UNO is offering these classes by people who have lived that life."
McIntyre-Brewer also connected with faculty in the Native American Studies program, where she chose to supplement her studies with a minor to better understand her Cherokee ancestry.
"The program gave me the tools and the courage to look into my heritage, but I would also point out the compassion of the Indigenous faculty and being able to sort through my heritage with them."
When McIntyre-Brewer graduated from the MA CCT program in May of 2020, she was the Master's student recipient of the Helen Hansen Outstanding Graduate Student award. In 2011, she received the Presidential Citizens Medal from President Obama for her work with Soldier's List, an organization she founded to support high-risk military service members and their families. Soldier's List sent medical relief packages around the world and educated military families about their rights regarding government services.
I have lived all over the world, and I can tell you that the only way for you to truly understand cultural and global factors is to be exposed to them.
- Chelle McIntyre-Brewer
McIntyre-Brewer's final project for her MA CCT degree explored Indigenous pediatric medical humanities in a clinical setting. Her daughter, Lorelei, has a heart condition that requires intense care, so she says the project held personal significance for her.
And it was the fully online nature of the MA CCT that gave McIntyre-Brewer the ability to care for her daughter, whose specialists are located in Pennsylvania. "There are a lot of sacrifices that need to be made when you have a really sick child. One of those sacrifices shouldn't have to be my mental health and my ability to access proper education. And so UNO offered what I wanted and supported me in my journey," she says.
Another advantage to the MA CCT's fully online format, McIntyre-Brewer says, is that her research often takes her quite far from the Omaha area. "I need to be able to, especially with interdisciplinary research, access different places at different times. If I'm doing my research mostly on the Five Tribes, it doesn't make sense for me to be away from the Five Tribes."
Currently, McIntyre-Brewer is continuing her Five Tribes and Highland studies at Northeastern State University, where she's working toward a Master of Arts in American Studies.
"What I'd really like to be able to do is help to build a cultural bridge between the Five Tribes that were so greatly impacted by Scots and Irish migration. It's a lot of work and it needs to be done, and that's what I want to do."
McIntyre-Brewer says she infuses all her work with both practicality and passion. "When we go to an academic setting, a piece of our heart goes with us. A lot of students bring their brains with them, but they don't always bring their hearts with them, and I think you can see this degree program is my heart first—and my brain just helps my heart achieves what it wants to do."
If you have a story idea, news tip, or inquiry please contact:
Courtni Kopietz | ckopietz@unomaha.edu