UNO, UNMC Join US Army to Create New Bioinformatics Pipeline Program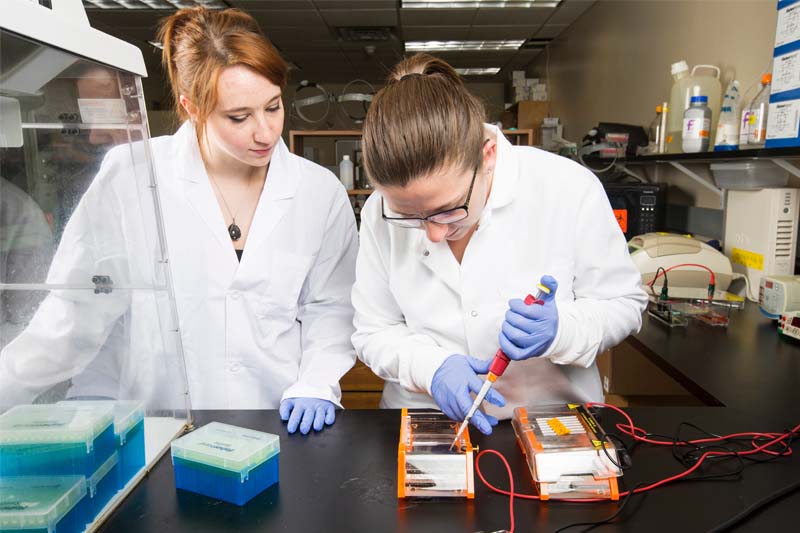 OMAHA – A new partnership between the U.S. Army, the University of Nebraska at Omaha (UNO), and the University of Nebraska Medical Center (UNMC) will provide an unparalled pipeline program to prepare students to research and combat infectious diseases on a global scale.
Beginning this fall, students enrolled at UNO will have the opportunity to join the Bioinformatics Research Education Pipeline (BREP), which is specially designed to provide students hands-on experiences and potential career opportunities with the U.S. Army Medical Research Institute of Infectious Diseases (USAMRIID).
Since 1969, USAMRIID has served as the Department of Defense's (DoD) lead laboratory for medical biological defense research, which includes protecting military personnel from biological threats as well as investigating and responding to diseases of public health importance.
Through the partnership, USAMRIID will leverage UNO's focus on educational excellence and hands-on research efforts through programs like bioinformatics and biotechnology. In addition, UNMC's new Global Center for Health Security will provide a world-class training and research infrastructure to help secure the globe against infectious disease and bioterrorism threats.
"Building upon the existing infectious disease and biodefense research programs at UNMC and the immersive educational opportunities in bioinformatics and biotechnology at UNO, the BREP pipeline program offers students the unique opportunity to do specialized research," said UNMC and UNO Chancellor Jeffrey P. Gold, M.D. "We are very grateful to the UNMC and UNO leaders who have built this collaborative program and look forward to proving unique opportunities for our students and faculty."
Students would begin the program in their second year at UNO, following a rigorous selection process. Once admitted, they would have the unique opportunity to work directly with researchers at USAMRIID on projects throughout their curriculum, leading to a senior summer internship at USAMRIID as part of the Army's College Qualified Leaders (CQL) program.
In BREP's first year, students already pursuing a degree at UNO will be selected to begin the pipeline. In future years, students will have the opportunity to apply for selection to the program.
"The BREP program provides an unparalleled opportunity for students interested in studying infectious diseases to work with and learn from world-class researchers with extraordinary tools and facilities," explained Paul Davis, Ph.D., a BREP mentor and associate professor of biology at UNO.
Upon graduating from UNO, BREP students will enter UNMC's graduate program, with a focus on topics including how to combat Zika virus and Ebola virus; treat staph infections; respond to anthrax exposure; or analyze large-scale biomedical data.
At the end of the program, the doctoral graduates from UNMC will have the opportunity to apply for a scientific position at USAMRIID to help the United States fight infectious diseases and medical threats at home and abroad.
The partnership also provides future research opportunities for faculty at UNMC and UNO, as well as the opportunity for USAMRIID scientists to teach courses at UNMC.
"The BREP program highlights the synergy developed between UNMC, UNO, and USAMRIID by giving Nebraska students experience in top-notch Department of Defense infectious disease research laboratories, and simultaneously infusing the USAMRIID workforce with our wonderful students," said Ken Bayles, Ph.D., BREP mentor and associate vice chancellor for basic science research at UNMC.
Funding for BREP comes from the IDeA Network for Biomedical Research Excellence (INBRE) program and USAMRIID.
If you have a story idea, news tip, or inquiry please contact:
Courtni Kopietz | ckopietz@unomaha.edu