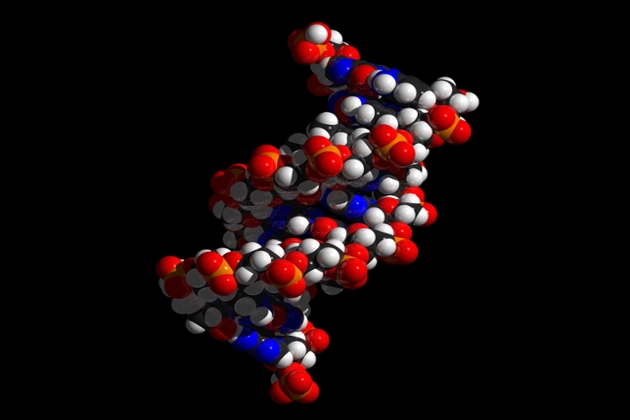 Bioinformatics is a rapidly expanding field of study that uses computation to extract knowledge from biology data. It includes the collection, storage, retrieval, manipulation and modelling of data for analysis, visualization or prediction through the development of algorithms and software. A Bachelor of Science degree in bioinformatics is offered within the Biology Department at UNO. This cross disciplinary degree requires bioinformatics courses offered jointly by the Biology Department in the College of Arts and Sciences and the Computer Science Department in the College of Information Science and Technology, as well as courses in mathematics, chemistry and biology from the College of Arts and Sciences. The bioinformatics major is also available from the College of Information Science and Technology.
Bioinformatics at UNO
Bioinformatics merges computer and information science with the study of genetic information and biological structures. Bioinformatics allows researchers to open new windows of insight into our genetic makeup, providing pathways to understanding disease processes, and creating novel diagnostic and treatment strategies. To capitalize on the growing body of knowledge regarding the genome, there is an immense and growing need for experts in this field. 
A graduate of the UNO bioinformatics program will possess a solid background in a wide variety of positions throughout the biomedical and biotechnology industries, providing a solid foundation for graduate studies in bioinformatics or related areas and, with the addition of a few courses, medical school.
Introduction to Bioinformatics
Advanced Bioinformatics Programming
Bioinformatics Algorithms
Database Search & Discovery in Bioinfomatics
Computerized Genetic Sequence Analysis
---
Maverick Club for Bioinformatics—UNO's bioinformatics students, or those interested in bioinformatics 
Pre-Health Professionals Club
Women in Science Technology Engineering & Mathematics
Several student scholarships available
---
Knowledge and Skills Gained as a Bioinformatics Major
Knowledge: 
Knowledge of fundamental biological processes at organism, physiological, cellular and molecular levels.
Basic understanding of principles of chemistry and their applications to living systems; properties of bio-molecules and their contribution to structure and function of cells.
Understanding of computer programming methodology; including algorithm design and program development. Capability of designing and applying software tools for biological data analysis.
Proficiency in the use of mathematical tools including discrete mathematics, calculus, and statistics.
Integrated knowledge and technical skills gained from diverse scientific disciplines of biochemical, mathematical, computational and life sciences; understanding key problems, possible solutions, and latest advances in bioinformatics.
Understanding of the process of scientific inquiry, preparation for rigorous research, quantitative problem solving skills, data analysis and interpretation of results.
Skills: 
Design, conduct and interpret scientific research 
Conduct statistical analysis 
Apply a scientific approach to problems 
Communicate findings using models, charts and graphs 
Communicate new research findings to lay audiences 
---
By nature, Liberal Arts majors make great employees in any field because of their ability to communicate effectively, think critically and solve complex problems. These timeless skills make them attractive to employers in all walks of society. Specifically though, bioinformatics majors often pursue careers as:
Bioinformatician Analyst
Cheminformatician
Medical Informatics Analyst
EMR Information Systems Analyst
Nursing Informatics Specialist
Chief Medical Information Officer
Scientific Curator
Network Analyst
Research Scientist
Phylogenitist
Structural Analyst
Bio-Statistician
Our Campus. Otherwise Known as Omaha.
The University of Nebraska does not discriminate based on race, color, ethnicity, national origin, sex, pregnancy, sexual orientation, gender identity, religion, disability, age, genetic information, veteran status, marital status, and/or political affiliation in its programs, activities, or employment. Learn more about Equity, Access and Diversity.
scroll to top of page