Winning paper entitled Russian Information Warfare and Implications for Deterrence Policy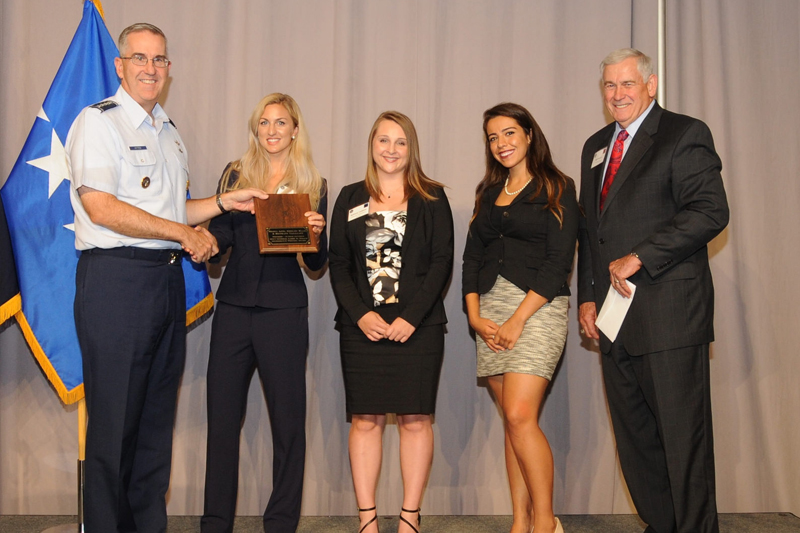 The nation's next great national security policymakers might be studying in Omaha.
University of Nebraska at Omaha (UNO) students Media Ajir, Shelby Haas and Bethany Vailliant earned top spot in the 2017 General Larry D. Welch Deterrence Writing Award junior division at this year's U.S. Strategic Command Deterrence Symposium. This is the second consecutive year a team of UNO students has won the award, and the second consecutive writing award for Vailliant.
Titled "Russian Information Warfare and Implications for Deterrence Policy," Ajir, Haas and Vailliant's paper covered a range of subjects, including Soviet roots of propaganda and current cyber tactics. The students also provided policy recommendations to deter future threats.
The US STRATCOM Consultation Committee praised their paper as "interesting and thought provoking."
"Seeing our students win two years in a row is a testimony to both the tremendous students who participate in the Department of Political Science's Intelligence Community Scholars Program and the leadership of our faculty," said Political Science Department Chair Jody Neathery-Castro.
Led by Political Science Assistant Professor Lana Obradovic, the Intelligence Community Scholars program assists students who are interested in pursuing national security and intelligence positions in government, academia and the private sector.
The symposium is a key event for US STRATCOM's Deterrence and Assurance Academic Alliance, a program whose establishment was assisted by Michelle Black, a professor in UNO's Political Science Department who formerly served as a US STRATCOM intelligence analyst.
Neathery-Castro says UNO was well-represented at the conference. In addition to the three students honored with the writing award, a fourth student - Kelley McCaa - presented research as part of a panel on emerging areas in deterrence research.
Students from any major interested in intelligence careers should contact Obradovic in the Political Science Department about applying for the Intelligence Community Scholars program. A new cohort will be selected in September.