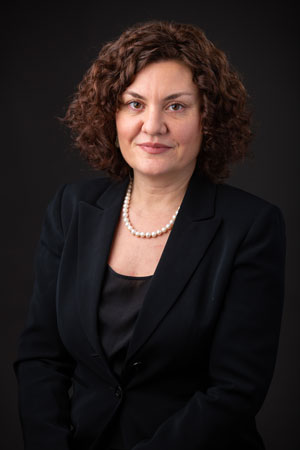 Lana Obradovic, Ph.D.
Director, International Studies
Program Director, BOLD Institute
Associate Professor, Political Science
402.554.3027
---
Additional Information
Office Hours
Email to schedule:
Advising appointment or meeting.
Background
Dr. Lana Obradovic is Director of the International Studies program, an Associate Professor of Political Science and the Director of the Intelligence Community Center of Academic Excellence at University of Nebraska at Omaha (UNO). She is a faculty member in USSTRATCOM's Strategic Leadership Fellows Program and teaches the Department of Defense National Security Innovation Network "X-Force" capstone and "Hacking for Defense" courses.  Dr. Obradovic also serves as the Academic Director of the BOLD Leadership Institute, funded by the U.S. Embassy in Sarajevo, Bosnia and Herzegovina. She has taught international relations and comparative politics courses for the past 18 years at St. John's University, CUNY, and Mercy College in New York City, and at Yonsei University in South Korea. Dr. Obradovic's book, Gender Integration in NATO Military Forces, won the ERGOMAS 2015 Best Book in Civil-Military Relations award. Her recent publications and research projects include "Teaching Deterrence: A 21st Century Update" in Journal of Political Science Education, USSTRATCOM's Women, Peace and Security and Deterrence study, and DHS's workforce intelligence training in counterterrorism. She earned her BA degrees in Political Science and International Affairs at the University of Nebraska-Lincoln (1999), a Master of Arts in Government and Politics and a Graduate Certificate in International Law and Diplomacy at St. John's University (2001), and a Master of Philosophy (2006) and a Ph.D. in Political Science from the Graduate Center of the City University of New York (2009).
Courses Taught
| | | | |
| --- | --- | --- | --- |
| PSCI |   | 2210 | International Relations |
| PSCI |   | 3260/8265 | U.S. Foreign Policy |
| PSCI |   | 4250/8256 | National Security & Intelligence |
| PSCI |   | 4260/8266 | International Law |
| PSCI |   | 4820/8826 | Politics and Film |
| PSCI |   | 8200 | Seminar in Foreign & Security Policy |
| PSCI |   | 8585 | Politics of Russia & Post-Soviet States |
| PSCI |   | 8980 | Directed Research Capstone |
Current Research
Her research interests include international security, American foreign and national security policymaking, gender and security, post-communist transitions, Balkans, and East Asia.