Event Spotlight: Madison Larimore at TEDxUNO
published: 2019/02/25
contact: Justin Garrison - English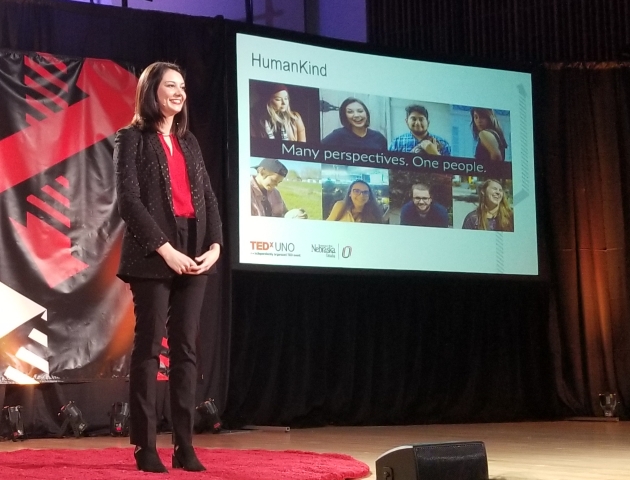 On Saturday February 16th, faculty, students, and community members packed the newly renovated Strauss Performing Arts Center to experience TEDxUNO 2019. The event, nearly annual since 2015, highlights ideas relevant to Omaha as a community. This year's theme was "Resilience," an idea expanded upon by each speaker in their own unique fashion. Organizer Jonathan Benjamin-Alvarado, Ph.D. expressed that the event was formed of "ideas worth sharing" from guests of many backgrounds. Dominique Morgan, the national director of Black and Pink, described his journey of Resilience in the Nebraska prison system and beyond. UNO political science student Carrie Anderson explored her experience overcoming a speech impediment and systemic issues she faced. Among eight other speakers, UNO English major Madison Larimore took the stage to describe how her project "HumanKind: A Perspective Collection" highlights the resilience of UNO students.
Larimore, currently a senior with a concentration in Creative Nonfiction, began her speech by asking the audience "What if we used our own stories to expand empathy?" She took issue with imagining ourselves in others' shoes because how we imagine them is "based solely on [our] own experiences." Instead she found that the best way to understand others is to "ask them" and "really listen." Her desire to empathize with the stories of those around her produced "HumanKind: A Perspective Collection," a project that is funded by a FUSE grant. For the project, Madison asks over 100 questions to her peers so that she might be able to tell their story through their words. HumanKind profiles combine quantitative data from surveys with students own perspectives to form a narrative. To complete the profile, it is paired with a professional photo of the student meant to "capture [them] organically" in a place that is meaningful to them.
Of the fifteen students interviewed so far, Madison found that each had faced "one major obstacle," mostly early in life. She stressed that the profiles are "not feel good movies," but rather something "messier, more complicated." Surprisingly, she saw that "no two obstacles were the same," but when asked about fulfillment all the answers were similar. They all seek connections and have not given up in the face of obstacles. From her interviews, it was clear to her that "we are all incredibly resilient" already.
With the help of HumanKind's FUSE grant mentor Jody Kiesner, MFA, Larimore continues to collect and share the stories of resilience present on UNO's campus. Find out more about "HumanKind: A Perspective Collection" and Madison at humankind.blog and in a previous spotlight here: https://bit.ly/2Xkqsr3. If you would like to contact HumanKind to set up an interview for yourself or another student, email contacthumankind@gmail.com with "Interview Request" in the subject line.