Undergraduate Research Opportunities
Get Involved in Research That Matters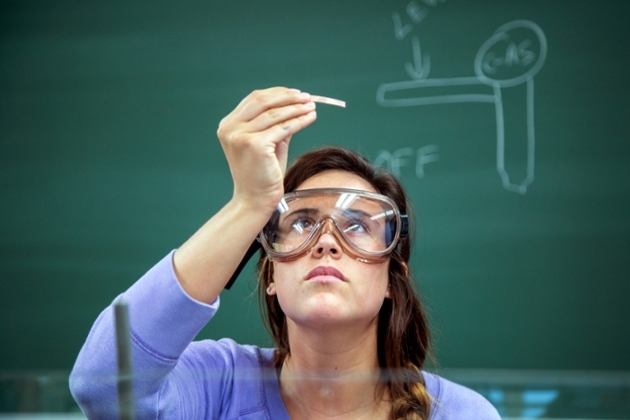 Chemistry Research Opportunities
Working on a faculty-initiated research project gives you the opportunity work closely with a mentor–a faculty member or other experienced researcher. With a self-initiated research project, you leave UNO with a product that represents the distillation of your interests and studies, and possibly, a real contribution to knowledge.
When registering for Undergraduate Research (CHEM 4950) it is expected that you will put in at least 3½ to 4 hours of research time in the laboratory a week. In addition, a presentation of your work is required, usually in the form of a poster or seminar.
Below is a list of professors with a brief description of their research and the necessary skills/requirements to begin research in their laboratory. If you are interested in doing research with one of the following professors, please talk with them about your interest and the possible research projects available to you. 
---
 Biochemistry
Preferred Experience
  General Chem II and a preference for completion of Organic Chem (CHEM 2260/2274)
Research Description
 Our lab uses absorbance spectroscopy to study the mechanistic details of flavoproteins involved in the biodegradation of aromatic compounds.
Contact
Dr. John Conrad
 Physical/Atmospheric Chemistry
Preferred Experience
  Organic Chem II Lab (CHEM 2274) and a preference for completion of Physical Chem II.
Research Description
Our lab uses infrared spectroscopy to look at water uptake by and release from aerosol particles commonly found in the atmosphere.
Contact
Dr. Joshua Darr
Analytical Chemistry/Spectroscopy
Preferred Experience
Quantitative Analysis (CHEM 2400/2404)
Research Description
Project 1 – Using Raman spectroscopy to study the transformation of pharmaceutical compounds.  Project 2 – Analysis of contaminants in biodiesel using near-infrared spectroscopy. 
Contact
Dr. Alan Gift 
 Organic Chemistry
Preferred Experience
CHEM 2260 & 2274
Research Description

We make compounds to treat botulism or tropical diseases. A project involving photochromic compounds is available.  Alternatively, students could develop new experiments for 2274 (e.g. polymer synthesis, comparative aromatic bromination, and others.)

Contact
Biochemistry
Preferred Experience
General Chem II and a preference for completion of Organic Chem (CHEM 2260/2274)
Research Description
Our lab studies a tumor suppressor protein to determine how protein structure relates to overall protein function.
Contact
Dr. Jodi Kreiling
Biochemistry
Preferred Experience

Taking or completed Biochemistry

Research Description

Project 1 – Protein expression in thermophilic organisms.

Contact
Dr. Richard Lomneth
 Inorganic Chemistry
Preferred Experience
Introduction to Inorganic Chemistry (CHEM 2500)
Research Description
Fabricate and characterize solid-state materials for use as nonlinear optics, ferroelectrics, and related materials.  Synthesis includes growth of single crystals for structural determination through X-ray diffraction.
Contact
Dr. Robert Smith
Organic Chemistry

Preferred Experience

Organic Chemistry Laboratory (CHEM 2274)
Research Description

Our lab investigates the chemical properties of estrogen metabolites and how these metabolites can initiate cancer.

Contact
 Physical Chemistry
Preferred Experience

General Chemistry II and Physics 2120, Physical Chemistry II preferred

Research Description

Our lab does computer modeling to look at changes in the electron density of molecules when influenced by intramolecular forces.

Contact
Medicinal Chemistry/Computational Chemistry/Organic Chemistry

Preferred Experience

Organic Chemistry I (CHEM2250)
Research Description
Computational design and synthesis of protein kinase inhibitors; molecular dynamic simulations of macromolecule-ligand interactions; and sequence and structural analysis of influenza viruses.