Support the Department of Chemistry
Help us continue to support our students and conduct research that matters.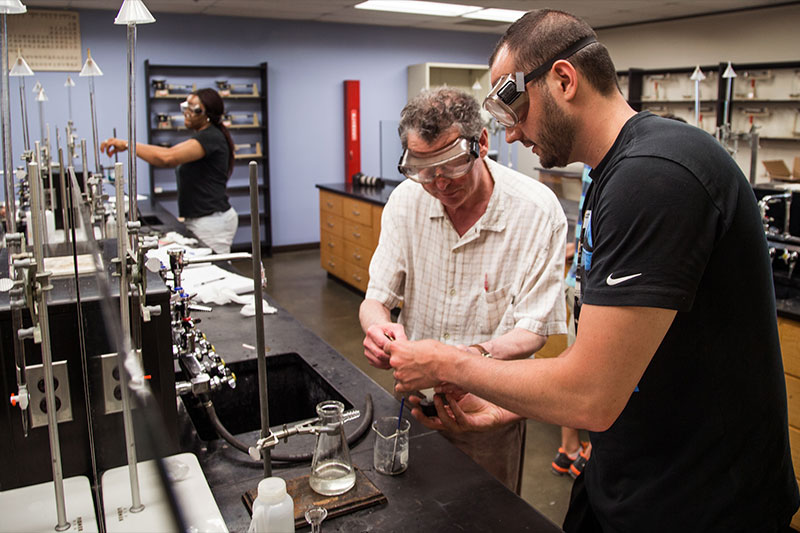 Research is a valuable way to apply learning and explore the world around you that can't be done any other way. We highly value and encourage undergraduate students to get involved in research with our faculty as early as possible and stay active in their research.
Since we are an undergraduate department, students get to work directly with faculty members and contribute directly to research progress. Many students have presented the results of their research at scientific meetings and have shared authorship with faculty on peer-reviewed journals.
---
Featured Funds in Chemistry
The Keppel Fund
The Keppel Fund has been very valuable in supporting student research by removing some of the financial barriers for students, particularly reimbursing them for the cost of tuition of our advanced research course. Many students have benefited from the generosity of donors to this fund.
The Dan Sullivan Scholarship
The Dan Sullivan Scholarship in Chemistry is the newest fund established to help chemistry students achieve their goals.
Dr. Sullivan was an outstanding teacher in the UNO Department of Chemistry and although he is retired, he continues to educate students of all ages in the community and beyond through his CAPOW shows. His passion for teaching chemistry is reflected in the focus of the Sullivan Scholarship which is designed to help support chemistry majors who plan to teach chemistry at any educational level after their graduation at UNO. Chemistry majors with a concentration in Education and others who plan to teach one day will benefit from this fund.