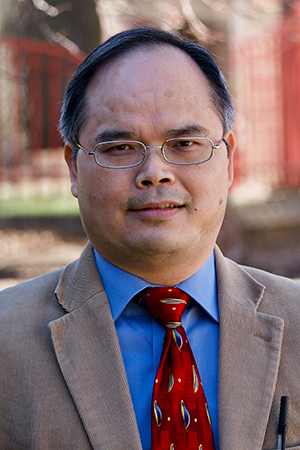 H. Andy Zhong, PhD
Professor and Chair
402.554.3145
---
email:
office:
personal website:
area of focus:
Organic. Medicinal, and Computational Chemistry
Additional Information
---
Selected Publications
For complete publication list, please click on the link and go to the NCBI webpage.
Haizhen A. Zhong, Elizabeth M Santos, Chrysoula Vasileiou, Zheng, James H Geiger, Babak Borhan, and Kenneth M. Merz, Jr.*. Free Energy Based Protein Design: Reengineering Cellular Retinoid Acid Binding Protein II Assisted by the Moveable-Type Approach. J. Am. Chem. Soc., 2018, 140 (10): 3482-3486.
Xianting Cao, Haizhen A. Zhong, Pengfei Zhang, and Hui Zheng. The Simple System of Fixing CO2 to Synthesize Benzimidazolones at Atmospheric Pressure. Journal of CO2 Utilization, 2018, 24, 250-255.
Sabbah DA, Al-Tarawneh F, Talib W, Sweidan K, Bardaweel S, Al-Shalabi E, Zhong HA, Abu Sheikha G, Abu Khalaf R, Mubarak MS. Benzoin Schiff Bases: Design, Synthesis, and Biological Evaluation as Potential Antitumor Agents. Medicinal Chemistry. 2018 Apr 12. doi: 10.2174/1573406414666180412160142. [Epub ahead of print]
Sabbah DA, Hishmah B, Sweidan K, Bardaweel S, AlDamen M, Zhong HA, Abu Khalaf R, Ibrahim AH, Al-Qirim T, Abu Sheikha G, Mubarak MS. Structure-Based Drug Design: Synthesis, X-Ray Crystallography, and Biological Evaluation of N-Substituted-4-Hydroxy-2-Quinolone-3-Carboxamides as Potential PI3Kα Inhibitors. Anticancer Agents Med Chem. 2018, 18(2), 263-276. doi: 10.2174/1871520617666170911171152.
Kumar V, Chaudhary AK, Dong Y, Zhong HA, Mondal G, Lin F, Kumar V, Mahato RI. Design, Synthesis and Biological Evaluation of novel Hedgehog Inhibitors for treating Pancreatic Cancer. Sci Rep. 2017 May 10; 7(1):1665. doi: 10.1038/s41598-017-01942-7. 
Udumula V, Endres JL, Harper CN, Jaramillo L, Zhong HA, Bayles KW, Conda-Sheridan M. Simple synthesis of endophenazine G and other phenazines and their evaluation as anti-methicillin-resistant Staphylococcus aureus agents. Eur J Med Chem. 2017, 125:710-721. doi: 10.1016/j.ejmech.2016.09.079. Epub 2016 Sep 28. 
Sabbah DA, and Zhong HA. Modeling the protonation states of β-secretase binding pocket by molecular dynamics simulations and docking studies. J. Mol. Graphics & Modeling., 2016, 68, 206-215 
Sabbah DA, Hu J, Zhong HA. Advances in the Development of Class I Phosphoinositide 3-Kinase (PI3K) Inhibitors. Curr. Top. Med. Chem., 2016, 16, 1413-26. 
Xu D, Li R, Wu J, Jiang L, Zhong HA. Drug Design Targeting the CXCR4/CXCR7/CXCL12 Pathway. Curr. Top. Med. Chem., 2016, 16, 1441-51. 
Ehlers T, Furness S, Robinson TP, Zhong HA, Goldsmith D, Arbiser J, Bowen JP. Methionine AminoPeptidase Type-2 Inhibitors Targeting Angiogenesis. Curr. Top. Med. Chem., 2016, 16 (13), 1478-88. 
Book Chapters
Zhong HA. ADMET Properties: Overview and Current Topics. Chapter 8, Pages 113-133. Book, Drug Design: Principles and Applications. Editor, Abhinav Grover, Publisher: Springer Nature; 2017. ISBN 978-981-10-5187-6. DOI 10.1007/978-981-10-5187-6_8.
Zhong HA, Güner OF, Bowen JP. Book Chapter, Chapter 20, "Rational Drug Discovery, Design, and Development" (pages 443-464), in Book titled Drug Delivery: Fundamentals and Applications, Second Edition ISBN 9781482217711 - CAT# K22118, CRC Press, Editors: Anya M Hillery, Kinam Park. (2016)
Zhong HZ, and Bowen JP. Computer-assisted drug design. Encyclopedia of Pharmaceutical Science and Technology, Fourth Edition DOI: 10.1081/E-EPT4-120050222. July, 2013. Pages, 620-633. Informa plc (Switzerland)
Bowen JP and Zhong HZ. Computational Chemistry. Encyclopedia of Pharmaceutical Science and Technology, Fourth Edition DOI: 10.1081/E-EPT4-120050220. July, 2013, Pages, 600-614. Informa plc (Switzerland)
Zhong HZ, Lee M, Bowen JP, "Modeling and Simulations of Nucleic Acids and Their Complexes". In Book "Synthetic and Biophysical Studies of DNA Binding Compounds." Editors: Moses Lee and Lucjan Strekowski, ISBN: 978-81-7895-290-1.  Transworld Research Network, Kerala, India (2007: pages 93-129).