Nebraska Opportunity Zone Summit
date: 08/13/20
time: 9:00 AM - 12:00 PM
location: Webinar • maps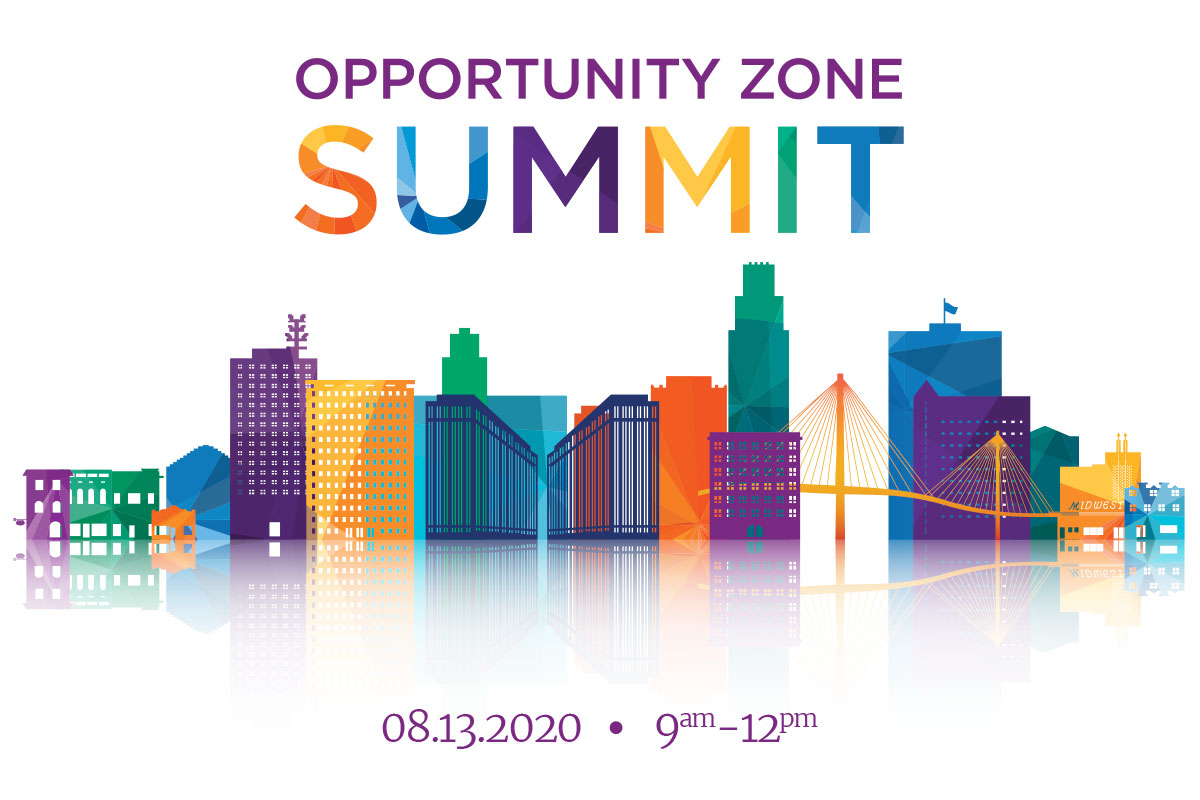 About: Federal Opportunity Zones are a new community and economic development tool that aims to drive long-term private investment into low-income communities throughout the country. Nebraska is seeking to utilize the program as an important tool to support the development of affordable housing, business development and job creation. 
The state of Nebraska, through the Nebraska Department of Economic Development, has designated 44 Nebraska census tracts in 18 counties that have officially been designated as Qualified Opportunity Zones as of April 9, 2018. Click here to see a map of each of the 44 tracks.
---
Details: August 13, 2020 | 9am-12pm | Virtual
---
Who Should Attend: Nebraska developers, community organizations, government agencies and investors wanting to explore the new tax incentive program.
---
Cost: No fee. Registration will provide details for joining the virtual OZ Summit.
---
Hosted By: Nebraska Business Development Center, Small Business Administration and Nebraska Department of Economic Development
2020 Agenda:
9:00

Opening Remarks

9:03

Governor Pete Ricketts

Video Welcome

9:08

Congressman Don Bacon

Welcome

9:15

Benefits of Opportunity Zones

10:00

Developer Panel: 
Gordon Whitten, I See It Ventures
Jeff Slobotski, Millwork Commons
Kim Kuhle, Veterans Villa and Small Business Center Opportunity Fund
Doug Ewald, Senior Vice Chancellor of Finance and Business Development for UNMC and UNO

10:45

Overview of Qualified Opportunity Funds for Nebraska Investors

This session will provide an overview of qualified opportunity funds, an economic development tool designed to stimulate economic development and job creation in economically disadvantaged communities. Investors have shown strong interest in the program's tax deferral, reduction, and elimination benefits. These benefits, along with qualified opportunity fund investment structures, will be explained

11:15

11:55

Closing Remarks

12:00

Adjourn
2020 Speakers
Walter Davis | Peachtree Providence Partners Company LLC

Walter Davis is a founding member of Peachtree Providence Partners Holding Company, LLC, formed in 2014. The subsidiaries of the holding company specialize in advisory services, financial solutions, commercial insurance brokerage, and private equity investing. Peachtree Providence Partners is headquartered in Atlanta, Georgia and has an office in Charlotte, North Carolina. The holding company has built a strong portfolio of start-up and mature companies that benefit from capital and operational management expertise.

Peachtree Providence Partners pursues growth in its current business lines both organically, as well as, through joint ventures and investments. Mr. Davis deploys a hands-on approach to create value for these portfolio companies by rationalizing underperforming assets, generating cost savings, and maximizing liquidity. He leverages deep expertise with more than 25 years of industry experience to add value and growth to portfolio companies.

As a founding member at Peachtree Providence Partners, Mr. Davis collaborates with Board Chairs, CEO's and Executive Management of client and portfolio companies in key sectors including, financial products, healthcare, technology, government, consumer products, higher education and professional services. He leverages an extensive network of proprietary sourcing relationships across various industries to develop and execute strategies addressing the specific needs of each client. Mr. Davis' unique combination of corporate and entrepreneurial expertise provides critical insights that drive enhanced performance.

Anthony Goins | Director of the Nebraska Department of Economic Development

Tony has a background in operations, where he specialized in global financial services and achieved a reputation as a strategic, results-driven executive. He formerly served as Executive Vice President and Chief Operating Officer at Cabela's World's Foremost Bank. Before moving to Lincoln, he was a Senior Vice President and Support Executive at JPMorgan Chase leading operations in Asia and North America. Tony has held senior-level positions at USAA, Ford Motor Credit Company, Key Bank, QVC, and American Express.

Tony is a small business owner, being co-founder of Capital Cigar Lounge in southwest Lincoln. He is deeply involved in the community, and serves on numerous boards including the Lincoln Community Foundation, Bryan Health, Blue Cross Blue Shield of Nebraska, the Lincoln Symphony Orchestra, the Omaha Opera, and as Advisor to the Board for Bank of Bennington, Board Director and Chair of Risk Committee for Nelnet Bank, and Board Director for Inceptia, a division of the National Student Loan Program.

Tony majored in business management at North Carolina A&T State University, and served as a Sergeant in the United States Marine Corps. He is married to Kimberly and they have three daughters, Toni (married to son-in-law Anthony Brockman, both in financial services), Briana, Jayla, and a son, Anthony II (assistant basketball coach at Clemson University, married to daughter-in-law Dr. Stephanie Goins). He has five grandkids: Jaylin, Jada, Jiya, Journey, and Reese.

Gordon Whitten | Founder and CEO, I See It Ventures Inc.

Gordon Whitten grew up in the small town of Harvard, Nebraska, with a population of 1,000 people. At age 14, he managed his mowing crew, and in high school, he was named offensive MVP in the 1989 Nebraska Shrine Bowl All-Star Game. Gordon graduated with Honors in Business Administration from Hastings College. He played college football and was the first player in Hastings College history to be named First Team All American and Academic All American simultaneously.

After college, Gordon moved to Lincoln and developed, Champions Fun Center, a seven-acre family-oriented, fun-plex. Gordon's entrepreneurial talents accelerated, and he went on to launch several new companies. Starting in 1999, Gordon has founded Capstone Technologies to support the mail industry, developed a tax-saving software called ItsDeductible™, integrated the software into every copy of TurboTax, founded Sojern to advance digital advertising within the travel industry, and started I See It Ventures, Inc. In 2020, Gordon moved I See It Ventures, Inc. to Ralston and launched his new business accelerator and real estate development project. Gordon offices in Ralston, where he is seeking investment opportunities and exciting new companies to locate within the Hinge Opportunity Zone.

Kim Kuhle | Owner, Veterans Villa & Small Business Center Opportunity Fund, LP

Kim Kuhle, a community developer with 30 years of experience, owns Veterans Villa and Small Business Center Opportunity Fund, LP and her company was selected as one of the six recipients of the State of Colorado Opportunity Zone Accelerator Program. Click Here. With the guidance of the Colorado Center for Innovation and Community Capital, Kim has initiated the development of a Veterans Villa and Small Business Center in Pueblo, Colorado Springs and Grand Junction. In addition, she is working with the owners of a 70 acre property in South Sioux City to establish a Veterans Small Business Center and a Nonprofit Office Center there.

Doug Ewald| Vice Chancellor for Business, Finance and Business Development UNMC and UNO

As the Vice Chancellor for Business, Finance and Business Development, Doug is able to leverage a career of diverse experiences into financial success while developing a team of professionals that challenge the status quo and leverage technology and best practices to further the mission of the organization. As a University of Nebraska Omaha graduate, Doug obtained his Master of Professional Accounting Degree, with honors. The same year, he earned his Certified Public Accounting license. His undergraduate degree in Accounting was earned with honors at Buena Vista University in Iowa. Later in his career, Doug received accolades from these academic institutions, including recognition as UNO's Distinguished Alumnus, as well as the John Fisher Alumni Award from Buena Vista. Doug has also been the guest speaker at numerous conferences, and has authored several publications.

Jeff Schaffert | Attorney, Koley Jessen P.C., L.L.O.

Recognized by Chambers and Partners as a leading tax attorney, Jeff Schaffart solves complex tax and legal issues by providing timely, pragmatic advice to private equity sponsors, investors, management teams, and business owners. He chairs Koley Jessen's Tax Practice Group.

When advising on corporate and partnership tax matters, Jeff helps clients defer, reduce, and eliminate taxes by structuring and implementing strategic transactions. He advises clients on tax-free rollovers of equity, taxable and tax-free mergers, stock and asset sales and acquisitions, restructurings, recapitalizations, reorganizations, spin-offs, and split-offs. He is also currently advising on structuring, forming, and investing in qualified opportunity funds and the potential tax-deferral and exclusion benefits of reinvesting capital gains into qualified opportunity funds.

Jeff has authored or co-authored over 30 articles and frequently speaks on tax matters.

Angela Martinez | Regional Director, Economic Development Administration's (EDA) Denver Regional Office

Angela Martinez serves as the Regional Director for the Economic Development Administration's (EDA) Denver Regional Office. Angela joined the Denver office in 2016 after serving for more than six years as EDA's Director of External Affairs in Washington, DC where she advised the Assistant Secretary on strategic policy issues and managed both the legislative and public affairs work of the agency.

As part of her work at EDA, Angela has helped shape and launch several multi-agency initiatives, including the Jobs and Innovation Accelerator Challenge, the Investing in Manufacturing Communities Partnership and EDA's Regional Innovation Strategies Program. Angela brings 20 years of experience in both the private and public sectors. Angela earned her Bachelor's Degree from Indiana University with a double major in Journalism and Political Science.

Earl Redrick | Field Office Director, HUD - Omaha, NE Office

Earl Redrick joined the U. S. Department of Housing and Urban Development (HUD) in December of 2002. He currently serves as the Field Office Director for HUD's Omaha, NE office. In this position, Earl serves as the principal staff person and agency representative for a full service field office with jurisdiction throughout the state of Nebraska. Earl oversees the administration of HUD's services, outreach activities and program delivery in the jurisdiction. He also serves as a liaison to federal, state and local stakeholders of elected officials, municipal leaders, community representatives and local residents. Earl's background is in Civil Rights, and his previous work with the Department included duties as an Equal Opportunity Specialist in the Office of Systemic Investigations and Investigator in the Office of Fair Housing and Equal Opportunity (FHEO). Earl holds a BA and MBA from Dallas Baptist University, and he is a current PhD candidate studying Leadership at DBU. Earl is a 2013 graduate of the acclaimed Excellence In Government Fellows program taught by the Partnership for Public Service, and he is a retired Army veteran, who is passionate about community service.

Doug Blade | Senior Stakeholder Liaison, IRS

Doug Blade is a CPA and has a bachelor's degree in Finance from the University of Oklahoma. Since 2010 Doug has been a Senior Stakeholder Liaison where he makes numerous Federal Tax presentations annually in person and by webinar. He has been employed by the Internal Revenue Service since October 1986 and worked from Dallas, Texas for his first eight years. Since the Fall of 1994 he has worked from the Springfield, Illinois office. During his IRS career Doug has held several professional positions including: Field Collections Revenue Officer, Employment Tax Specialist, Revenue Agent auditing Small Business and Self-Employed Income Tax Returns, Revenue Agent investigating potential Money Laundering in the BSA program and Revenue Agent, in Large Business and International Tax.

Elizabeth Yearwood | Economic Development Specialist and Public Information Officer, SBA

Elizabeth Yearwood is an Economic Development Specialist and Public Information Officer with the US Small Business Administration. She currently helps entrepreneurs connect to the resources, services and information they need to help start, grow, expand and recover their small businesses throughout the state of Nebraska.

Karl Elmshaeuser | Executive Director (WCNDD), USDA

Karl Elmshaeuser served as the Executive Director for the West Central Nebraska Development District (WCNDD) working with 18 counties and 58 incorporated communities for the past 11 years. While he was the Executive Director at WCNDD they received two national awards for community innovation programs. He served two terms on the Nebraska Rural Development Commission, recently served on the Nebraska Regional Officials Council and the National Association of Development Organizations board of directors. He has a Bachelors degree in Management from the University of Nebraska and served for six years in the United States Marine Corps. Karl is married to Kris Elmshaeuser. They have been married for 33 years and have four sons and two grandsons.
About NBDC
The Nebraska Business Development Center (NBDC) helps Nebraska businesses start, grow and develop, by strengthening Nebraska businesses for a healthy economy and prosperous communities. NBDC is a University of Nebraska at Omaha center that provides confidential consulting business development services across Nebraska to entrepreneurs and business owners for the life cycle of their business. NBDC partners with the University of Nebraska-Lincoln, University of Nebraska at Kearney, University of Nebraska Medical Center, Wayne State College, and Chadron State College to deliver its services statewide. The U.S. Small Business Administration (SBA), the U.S. Defense Logistics Agency (DLA), the U.S. Department of Commerce (EDA), and other federal, state and private organizations support NBDC. Visit nbdc.unomaha.edu for more information.
---
If you have a story idea, news tip or event, please contact:
Jen Decker, Communications Manager, Nebraska Business Development Center
jenniferdecker@unomaha.edu | 402.554.3616