Nebraska SBDC Announces New BuySide Program
NBDC's new BuySide program provides credentialed summary business valuation reports at no cost to potential buyers of existing small businesses.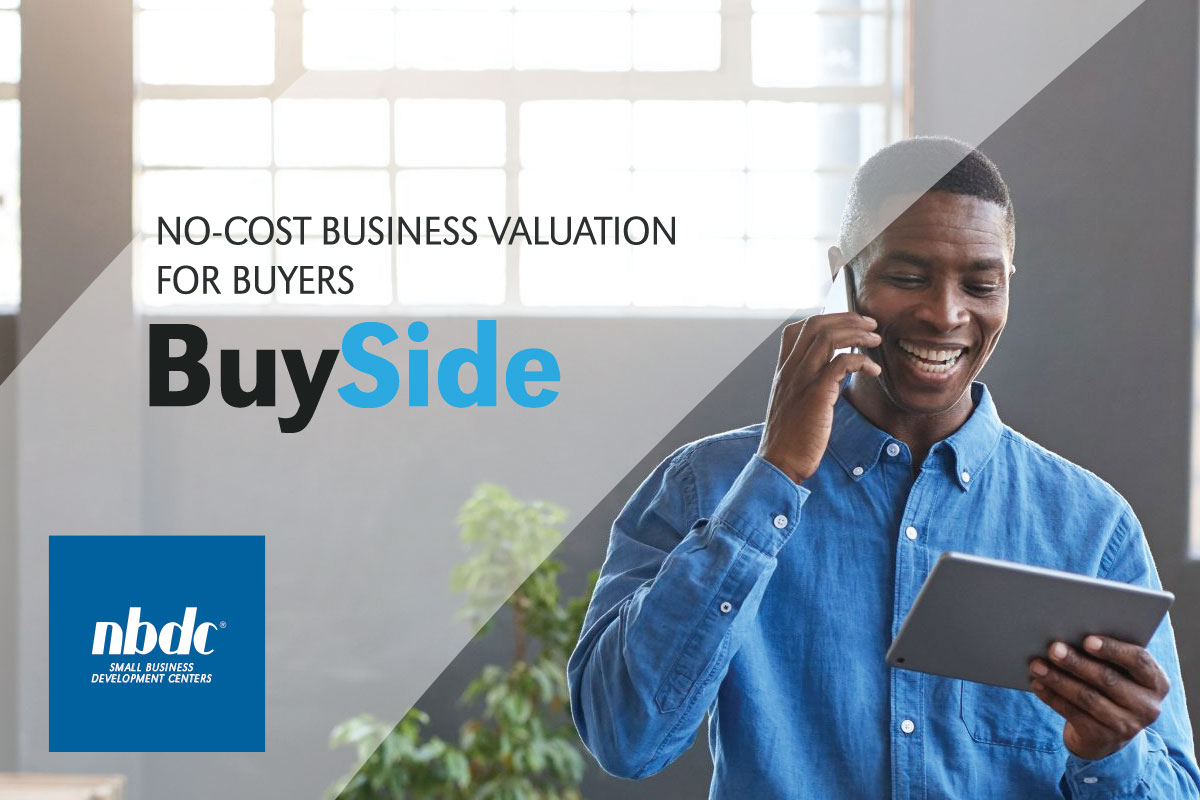 Omaha, Nebraska – Nebraska Small Business Development Center (SBDC), a program of Nebraska Business Development Center (NBDC), is pleased to announce BuySide, a new statewide program to provide no-cost business valuation services to support business transition and acquisition.
Not all entrepreneurs start a business. An existing business may offer a better path to success. Potential buyers need timely, reliable information to evaluate an opportunity, make an offer decision, negotiate purchase agreements, or apply for bank financing to support an acquisition.
BuySide will provide credentialed summary business valuation reports at no cost to potential buyers of small businesses. At a cost-savings of $1500, this is a great value for the prospective business owner looking at purchasing an existing business.
The reports are developed to a Fair Market Value standard. They are appropriate for opportunity investigation, performance analysis, purchase agreement development or negotiations between buyer and seller, and support of some lender financing requests.
The summary reports are a scaled-down version of the Comprehensive Business Valuation reports NBDC provides as paid engagements. While the summary reports may not be used to meet SBA loan requirements, they are suitable for many traditional commercial financing purposes.
BuySide reports include consideration of appropriate asset, income and market approaches and methods of valuation development. Each report is individually prepared by an experienced, credentialed valuation professional.
"2020 has demonstrated how important it is to be adaptive and proactive - to create and provide new solutions that help small business owners in a wider range of business environments. Thinking like a small business owner, we must be able to streamline processes and expand access to our clients. That is why the BuySide program is so important. By offering a no-cost business valuation option, we are one step closer to helping entrepreneurs achieve their goals of entering business ownership as well as contributing to our economy," said Odee Ingersoll, Nebraska SBDC Center Director.
The BuySide program is available at any of the nine SBDC service centers across Nebraska. Locations include Omaha, Lincoln, Wayne, Grand Island, Kearney, North Platte, McCook, Scottsbluff and Chadron. As with all consulting services at NBDC, the BuySide program and services are completely confidential.
For more information about the BuySide program, Click Here. Odee Ingersoll is also available to discuss the program in more detail: 308.865.8344 or ingersollo@unk.edu. To get started with the BuySide program or any of our confidential business consulting, visit the SBDC Directory to find the nearest consultant.
About NBDC
The Nebraska Business Development Center (NBDC) helps Nebraska businesses start, grow and develop, by strengthening Nebraska businesses for a healthy economy and prosperous communities. NBDC is a University of Nebraska at Omaha center that provides confidential consulting business development services across Nebraska to entrepreneurs and business owners for the life cycle of their business. NBDC partners with the University of Nebraska-Lincoln, University of Nebraska at Kearney, University of Nebraska Medical Center, Wayne State College, and Chadron State College to deliver its services statewide. The U.S. Small Business Administration (SBA), the U.S. Defense Logistics Agency (DLA), the U.S. Department of Commerce (EDA), and other federal, state and private organizations support NBDC. Visit nbdc.unomaha.edu for more information.
---
If you have a story idea, news tip or event, please contact:
Jen Decker, Communications Manager, Nebraska Business Development Center
jenniferdecker@unomaha.edu | 402.554.3616