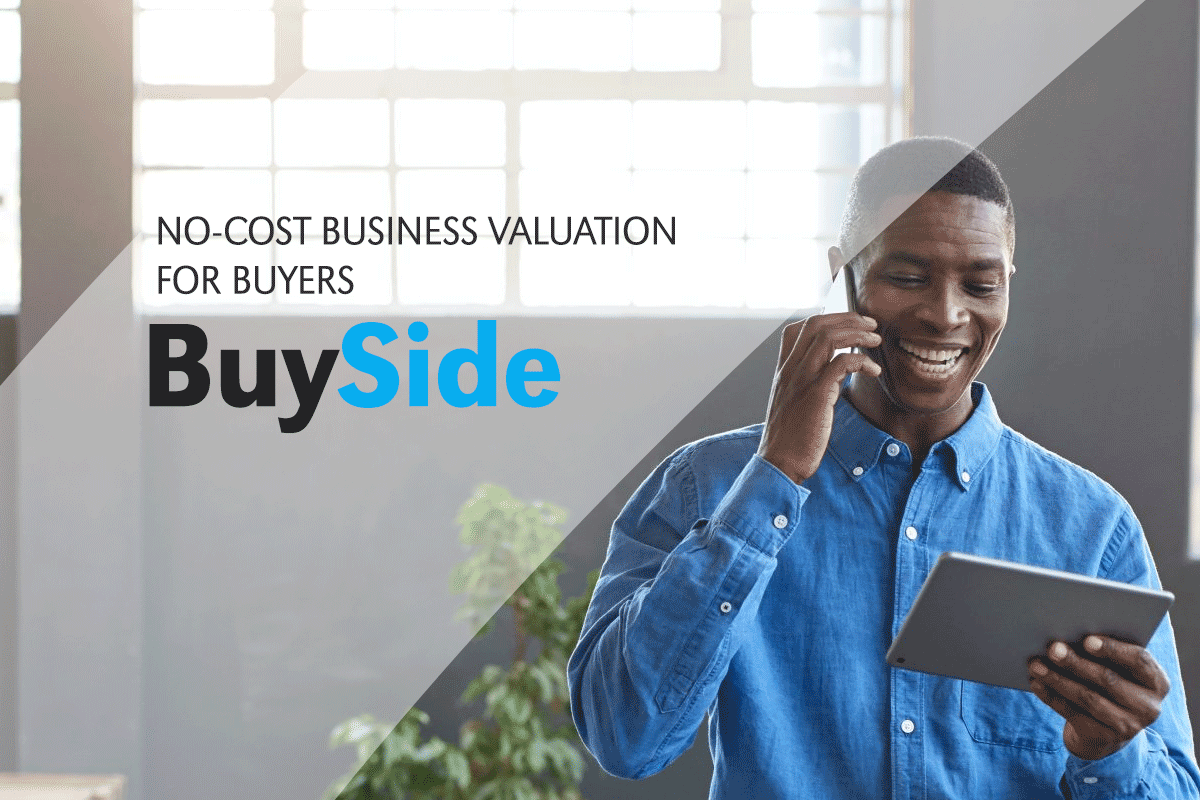 Not all entrepreneurs start a business. An existing business may offer a better path to success. Potential buyers need timely, reliable information to evaluate an opportunity, make an offer decision, negotiate purchase agreements, or apply for bank financing to support an acquisition.

Click center square for fullscreen view of BuySide brochure.
Savings of $1500 or more
NBDC's new BuySide program provides credentialed summary business valuation reports at no cost to potential buyers of small businesses. These reports are appropriate for
opportunity investigation,
performance analysis
purchase agreement development
negotiations between buyer and seller
support of some lender in-house financing requests.
Focus on the Buyer
BuySide reports are high-quality fair market value business valuation reports designed exclusively for buyer use. The reports value the entire business entity at a 100% controlling interest. We consider all approaches to value – asset, income and market approaches. Appropriate valuation methods include single-period capitalization or discounted future benefits method, direct market data - guideline private transactions method, and the net adjusted book value method.
Timely, Accurate, Summarized
Unlike rule of thumb or simple calculation estimates of value, BuySide provides a credentialed value report unique to that business and presented in a summary format. All projects are prepared by an experienced credentialed valuation analyst and delivered in around 10 business days after all requested information is received.
Do You Qualify?
For this program, a qualified buyer will have a credit score of 675 or greater, at least 10% equity to contribute to any potential purchase or have seller financing options for a portion of the purchase, have no bankruptcies or felonies in their past, and not be a family member of the business owner (family sale or succession events require a full valuation report). All valuation projects and consulting services provided to the client are confidential.
Before requesting a BuySide business valuation report, buyers are expected to conduct a reasonable amount of research and investigation into a project, including preliminary discussions with the seller. The time to request an NBDC BuySide valuation report is when such a valuation is required to move the project forward.
We aim to provide BuySide services to as many viable projects as possible. Therefore, there is a limit of one valuation report per buyer or buyer group per 60-day period and a total of not more than two reports per year.
---
NBDC Certified Analyst

Call for more information:
Direct Cell Phone: 308.440.3009
Omaha: 402.671.0403
Lincoln: 402.413.1094
Kearney: 308.865.8344
Email: ingersollo@unk.edu