NBDC Launches Agricultural Innovation Series
A collection of events targeting Nebraska entrepreneurs with innovations that serve agricultural sectors and support rural development.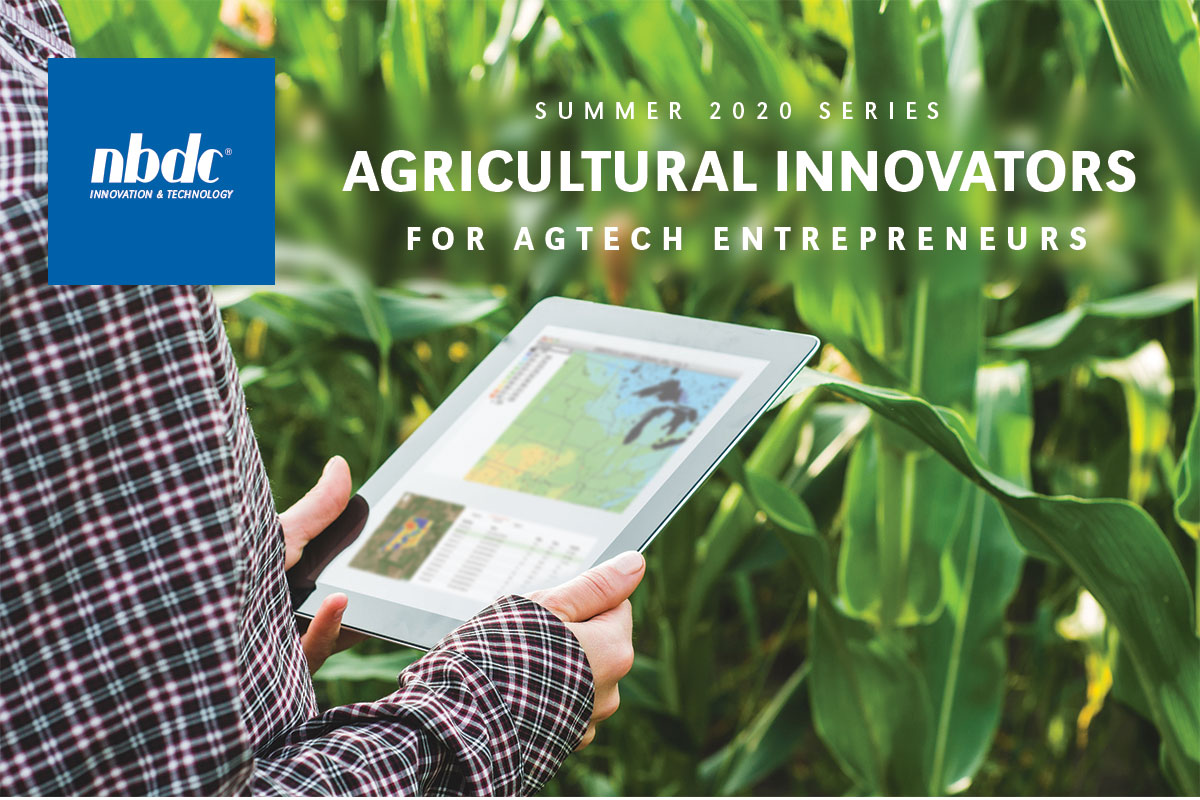 Omaha, Nebraska – The Nebraska Business Development Center (NBDC) at the University of Nebraska at Omaha (UNO) is pleased to announce the Agricultural Innovation Series, a collection of events targeting entrepreneurs with innovations that serve agricultural sectors and support rural development. NBDC will offer virtual training events throughout the summer to help tech entrepreneurs prepare for pitch events and conferences as well as funding opportunities.
Leading research experts from across Nebraska will share insights on emerging trends and needs in agriculture and rural communities during the Opportunities in Agricultural Innovation webinar on June 2nd. Panelists represent the innovation and research divisions of Nebraska's Corn Board and Grain Sorghum Board as well as Nebraska Farm Bureau, Nebraska Public Power District, and Nebraska Rural Poll (survey by UNL Department of Agricultural Economics).
"We put together this series of events in an effort to support innovators as they work to commercialize research and technology," said Sara Bennett, coordinator of the Agricultural Innovation Series. "Specifically, we are focusing on innovations intended for use in agricultural operations and rural development. Nebraska is a prime state to develop technologies that support and advance agriculture."
Training events will focus on educating innovators about federal research and development funding opportunities through the Small Business Innovation Research (SBIR) program. America's Seed Fund – the Small Business Innovation Research (SBIR) and the Small Business Technology Transfer (STTR) programs – provides competitive awards-based resources that enable small businesses to develop new technologies and facilitate the commercialization of innovation. USDA is among the federal funding agencies.
Three Nebraska companies that received SBIR grants from USDA will discuss their experiences with the program and commercialization journeys during Agricultural Innovators Meetup on June 16th (webinar). All three pursued the program with different backgrounds and received funding for different topic areas.
Subsequent engagements include training on customer discovery and the SBIR Road Tour. Customer discovery training will educate participants about how to identify customer segments and refine innovative ideas to respond to customers' needs. The SBIR Road Tour on October 19th provides an opportunity for small businesses and entrepreneurs to connect directly with SBIR Program Managers. Every SBIR Road Tour stop represents a unique opportunity for one-on-one meetings with federal program managers who seed a wide spectrum of innovations.
Agricultural Innovation Series is hosted in partnership with Invest Nebraska and The Combine. To learn more about these events and to register, visit http://nbdc.unomaha.edu/agribusiness-sbir. If you have questions, contact Sara Bennett at bennettsa2@unk.edu or 308-627-4535.
About NBDC
The Nebraska Business Development Center (NBDC) helps Nebraska businesses start, grow and develop, by strengthening Nebraska businesses for a healthy economy and prosperous communities. NBDC is a University of Nebraska at Omaha center that provides confidential consulting business development services across Nebraska to entrepreneurs and business owners for the life cycle of their business. NBDC partners with the University of Nebraska-Lincoln, University of Nebraska at Kearney, University of Nebraska Medical Center, Wayne State College, and Chadron State College to deliver its services statewide. The U.S. Small Business Administration (SBA), the U.S. Defense Logistics Agency (DLA), the U.S. Department of Commerce (EDA), and other federal, state and private organizations support NBDC. Visit nbdc.unomaha.edu for more information.
---
If you have a story idea, news tip or event, please contact:
Jen Decker, Communications Manager, Nebraska Business Development Center
jenniferdecker@unomaha.edu | 402.554.3616