NBDC Business Consultant, Laurie Matthews Tullius, Named 2019 Midland's Business Journal 40 Under 40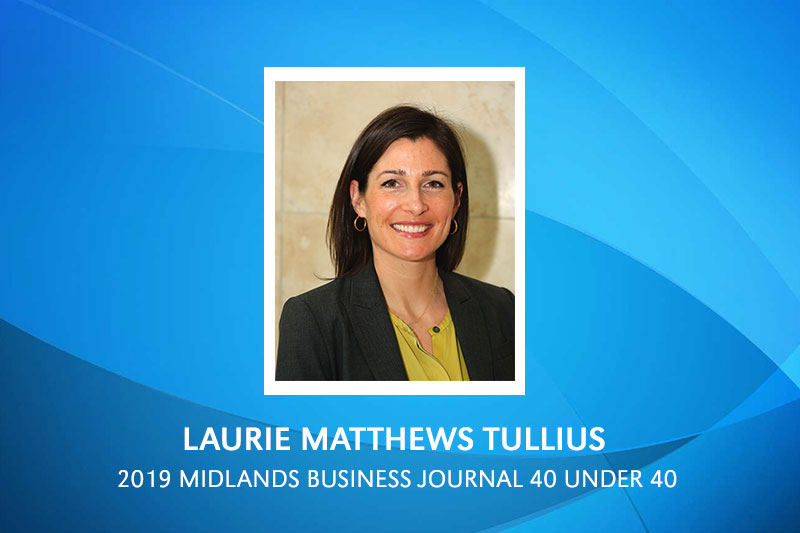 Omaha, Nebraska – Nebraska Business Development Center (NBDC) at the University of Nebraska at Omaha (UNO) is pleased to announce Business Consultant, Laurie Matthews Tullius, is a 2019 Midlands Business Journal 40 Under 40 Winner.
The 40 Under 40 Awards, recognizing Greater Omaha, Sarpy County and Council Bluffs entrepreneurs, executives, and professionals under the age of 40, is a banner event for the Midlands Business Journal, which since its founding in 1975 has focused on telling the positive growth stories of area businesses.
The 40 Under 40 Award is in its 18th year of existence, recognizing professionals for their skills in leadership and entrepreneurial endeavors since 2002. The 2019 class showcases the hardworking and dedicated professionals in the Greater Omaha community. Midlands Business Journal will host an Award Luncheon on November 8th, 2019 to honor the 40 award winners.
Since joining NBDC in 2015, Laurie Matthews Tullius has increased NBDC's Professional and Organizational Development revenue by 19% serving and meeting with over 350 businesses in Nebraska spearheading developmental strategies on employer and employee continual improvement projects. She has also served her team by developing a strategic sales plan, accounting for growth and organizational changes. Laurie regularly represents NBDC through speaking engagements, thereby supporting business growth and economic development in the pursuit of strengthening communities.
"Laurie brings a well-rounded background and a level of energy to the Professional and Organizational Development program and has been a vital asset to our success," says Harold Sargus, Manager - Professional and Organizational Development with NBDC. "We are pleased to have Laurie on the NBDC team and I'm grateful her efforts have been recognized by an outside organization."
If your company is interested in learning about the professional and organizational development opportunities available to you, contact Laurie Matthews Tullius: lamatthews@unomaha.edu or 402.554.6250.
About NBDC
The Nebraska Business Development Center (NBDC) helps Nebraska businesses start, grow and develop, by strengthening Nebraska businesses for a healthy economy and prosperous communities. NBDC is a University of Nebraska at Omaha center that provides confidential consulting business development services across Nebraska to entrepreneurs and business owners for the life cycle of their business. NBDC partners with the University of Nebraska-Lincoln, University of Nebraska at Kearney, University of Nebraska Medical Center, Wayne State College, and Chadron State College to deliver its services statewide. The U.S. Small Business Administration (SBA), the U.S. Defense Logistics Agency (DLA), the U.S. Department of Commerce (EDA), and other federal, state and private organizations support NBDC. Visit nbdc.unomaha.edu for more information.
---
If you have a story idea, news tip or event, please contact:
Jen Decker, Communications Manager, Nebraska Business Development Center
jenniferdecker@unomaha.edu | 402.554.3616