Omaha 54 Panel
In November 1969, the activism and personal sacrifices of the Omaha 54 played a pivotal role in the creation of the Department of Black Studies.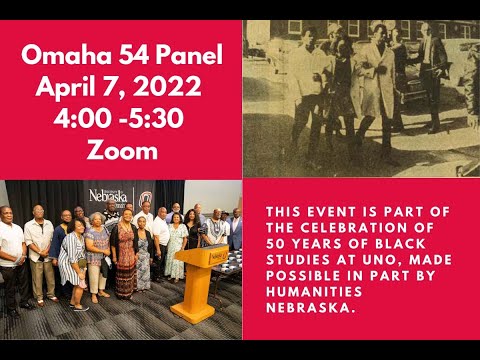 In November 1969, the activism and personal sacrifices of the Omaha 54 played a pivotal role in the creation of the Department of Black Studies. We are honored to welcome four members of the Omaha 54 to this program. Attendees will hear from Dr. Karen Hayes Harris, Michael Maroney, Dr. Catherine Pope, and LaVell Williams, Sr.
A recording of the Omaha 54 Panel event is available.
This event is part of the celebration of 50 years of Black Studies at UNO, made possible in part by Humanities Nebraska and the Nebraska Cultural Endowment.
For more information about Black Studies' 50th Anniversary events and programming, visit the Black Studies webpage.
---
About Charting Our Path
Charting Our Path: Celebrating 50 Years of Black Studies is a cooperative project of the Department of Black Studies and UNO Libraries. The project will honor the 50th anniversary of the Department of Black Studies in 2021-2022 through campus and community speakers, exhibits, and events as well as supporting expanding research, creative activity, and open access instructional resources. Support is provided by UNO's Strategic Investment in Social Justice, Inequality, Race, and Class initiative. Charting Our Path is one of the 'Telling Our Story' proposals and was funded for 2021-2023. The project leads are Dr. Cynthia Robinson, Amy C. Schindler, and Claire Du Laney.
About the University of Nebraska at Omaha Libraries
UNO Libraries fulfill the UNO mission through dynamic services, highly qualified and adaptive personnel, unique and extensive collections, and accessible learning spaces and environments. With its two locations, Dr. C.C. and Mabel L. Criss Library on UNO's Dodge Campus and in KANEKO-UNO Library located in Omaha's Old Market, UNO Libraries provides UNO students, faculty and staff, and the Omaha community with the resources and materials needed to excel academically and professionally.
About Humanities Nebraska
Created in 1973 as a state affiliate of the National Endowment for the Humanities, Humanities Nebraska (HN) is an independent, non-profit organization governed by a volunteer board of public and academic members. Humanities Nebraska funds programs that explore Nebraska's heritage, build community awareness, and strengthen our ties to cultural traditions at home and abroad.
The Nebraska Cultural Endowment is a public/private partnership that designates funds to HN for distribution.
Any non-profit group is eligible to apply for a grant from HN. The HN staff is available for grant consultation and will read proposal drafts. Contact the HN office if you need assistance with a project idea.
For a copy of Humanities Nebraska grant guidelines, contact HN at 215 Centennial Mall South, Suite 330, Lincoln, NE 68508, phone 402-474-2131, fax 402- 474-4852, or e-mail at info@humanitiesnebraska.org. The entire grant guideline packet is online at: www.humanitiesnebraska.org.