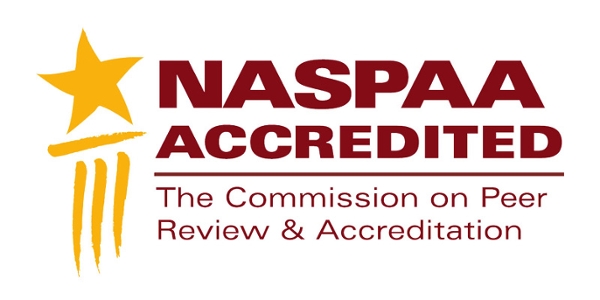 MPA Program Self-Study
UNO's MPA program completed its Self Study Report for review by the Commission on Peer Review and Accreditation (COPRA) of NASPAA. Programs that are accredited by NASPAA have been determined to be in substantial compliance with the Standards set forth by the field. UNO's MPA Program completes the Annual Accreditation Maintenance Report each year.
NASPAA Program Data
UNO's MPA Program values transparency, accountability and truthfulness. The faculty and staff believe in the value of public service and strive to provide information and data that reflect our strengths and limitations. You will learn more about the program through the recommended framework of the Network of Schools of Public Policy, Affairs, and Administration (NASPAA).
Degree Title: Master of Public Administration (MPA)
Organizational Relationship: MPA resides in the School of Public Administration housed in the College of Public Affairs Community Service
Modes of Delivery: Omaha, *Online
Number of Credit Hours: 39
Length of Degree: 2.5 years or seven semesters
Dual Degrees: MPA/MSW, MPA/MIS
Concentrations/Specializations: *Aviation, *Criminology Criminal Justice, *Emergency Management, Health Care Administration, Information Management, *Local Government, *Nonprofit Management, *Public Management, *Public Policy
(*Available online)
Number of Students: 232
Mission Statement: The mission of the Master of Public Administration program is to strengthen the public service in a democratic and diverse society by educating students to manage and lead public and nonprofit institutions effectively, ethically, and democratically.
Admission: The general prerequisite for admission to the MPA program is a four-year bachelors' degree with a minimum of a 3.0 GPA of the junior-senior year (last 50-60 credit hours). Under extenuatingcircumstances an average below 3.0 will be considered. The following factors will be considered in determination of a student's admission status:
Grade point average for the junior-senior year
Grade point average for the undergraduate degree
Work history
Writing skills (based on the applicant's admissions essay)
References (based on two written letters of recommendation)
GRE Exam (complete four to six weeks before application deadline)
New Enrollment in 2015-2016 Academic Year
Total: 70 (43 On-campus | 27 online)
Faculty
Number of faculty teaching in the program: 16 full-time, tenure-track faculty, 5 part-time faculty
Faculty:
Ethel Williams, Director
Jodi Benenson
Dee Dee Bennett
Bob Blair
Tara Bryan
Yu-Che Chen
Craig Christiansen
Patrick Connelly
Carol Ebdon
Angela Eikenberry
Christopher Goodman 
James Harrold
Bryce Hoflund
Hans Louis-Charles
Jooho Lee
Craig Maher
Gary Marshall
Patrick O'Neil
Susan Ogborn
Christine Reed
Sandra Sattler Weber
Cost of Degree
Tuition for Resident On-campus: $255/credit
Tuition for Non-resident On-Campus: $714.50/credit
Resident Online: $336/credit
Non-resident online: $566/credit
Financial Aid Information: Many UNO students utilize FASFA for their financial aid. Visit UNO's Office of Financial Support and Scholarship here. 
Assistantships: The MPA program does not have graduate assistantships available. However, students can view the UNO Human Resources website to view available graduate assistantships here. 
Graduate Placement:
Employment Statistics

Total Number of Graduates

National or central
government in the same
country as the program

2

State, provincial, or
regional government in
the same country as the
program

6

City, County, or other
local government in the
same country as the
program

8

Nonprofit domestic oriented

17

Nonprofit/NGOs
internationally-oriented

1

Private Sector but not
research/consulting

2

Obtaining further
education

2

Unemployed

1

Status Unknown

2

Total

41

Graduation Completion:
| | | | | |
| --- | --- | --- | --- | --- |
| | Initially Enrolled | Graduated in 100% of Degree Length | Graduated in 150% of Degree Length | Graduated in 200% of Degree Length |
| Students in the 2011-2012 Cohort | 71 | 27 | 35 | 37 |
Faculty Contribution: Click here to see an index of faculty publications.
Our Campus. Otherwise Known as Omaha.
The University of Nebraska does not discriminate based on race, color, ethnicity, national origin, sex, pregnancy, sexual orientation, gender identity, religion, disability, age, genetic information, veteran status, marital status, and/or political affiliation in its programs, activities, or employment. Learn more about Equity, Access and Diversity.
scroll to top of page