CPAR Raises the Profile of Statewide Research
The UNO Center for Public Affairs Research continues making impactful strides statewide.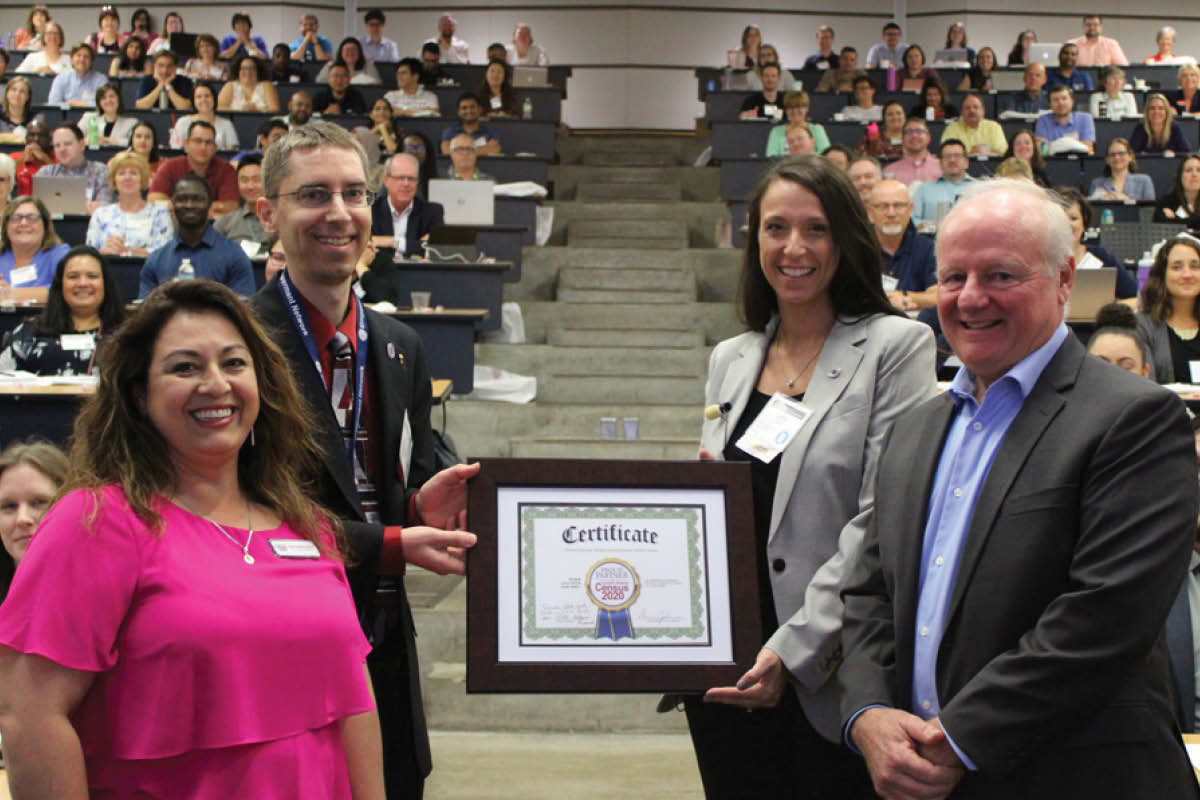 The Center for Public Affairs Research (CPAR) at the University of Nebraska at Omaha (UNO) has been busy, despite the changing times we have all experienced since the onset of 2020.
In addition to raising the profile of how research affects our community, public policy, and change, CPAR also hosted its 31st Annual Nebraska Data Users Conference. This year was with a bit of a twist—it was the first-ever virtual event. A total of 275 research partners and data users attended statewide. Organizations represented during the event ranged from state officials, Nebraska Departments of Revenue and Education, the Governor's office, and a healthy showing of nonprofits such as the Sherwood Foundation and the Urban League of Nebraska.
Read up on the latest article where Director of CPAR, Dr. Josie Schafer was interviewed by the American Society for Public Administration's (ASPA), PA Times Magazine.
What are your center's mission and objectives? Who and what drove its creation and how has it evolved to meet today's public service challenges?
The Center for Public Affairs Research (CPAR) is a research and community outreach unit of the University of Nebraska at Omaha (UNO) College of Public Affairs and Community Service. Our purpose is to disseminate public affairs knowledge widely and support evidence-informed governance in Nebraska.
The center began in 1963 as the Urban Studies Center to address urban problems and information needs. The first research project, Perceptions of Poverty Families about the Incidence, Effect and Redress of Poverty in Omaha, was conducted in 1965 by the first director, assisted by 60 sociology students. In 1989, its name changed to the Center for Public Affairs Research; the governor designated it as the lead agency for the Nebraska State Data Center. It also initiated the statewide S.T.A.R.T. Economic Development program. Today, we host a variety of programs, including the Nebraska State Policy Initiative.
Who are your center's primary audiences? Who requests your assistance most frequently and who are the main beneficiaries of your work?
Much of our work is done with and for Nebraska state senators. Our state has the only unicameral legislature in the nation; it is part time and senators are term limited. As a result, they are keenly interested in data. CPAR provides statewide data, district and county data, over time data and comparisons to other states. We also work hard to find media to share data with senators that respect their demanding schedules. For instance, we put together online dashboards and printed infographics so that senators can access information wherever and whenever they need it. Staff testify before the legislature on topics and provide presentations in districts. Recently, we filmed a series of short videos with the chair of the state's planning committee to share topics discussed in committee. The center is dedicated to posting its work on all projects for the public.
What is some of your most important and impactful work?
Since 2009, CPAR has worked with the legislature to develop a database of state policy information and present in-depth policy briefs at the request of the planning committee, composed of nine senators charged with strategic public policy planning for the state. At times, we testify on specific bills in standing committees.
The center continues our leadership in the U.S. Census Bureau's Data Center Network in Nebraska. This work includes efforts to share Census data in different formats, including infographics, online dashboards, responding to data requests and training on data use. Last year, CPAR hosted our 30th Annual Nebraska Data Users Conference with more than 300 in attendance. We are organizing outreach activities with the Census Bureau related to the 2020 Census.
In recent years, we have worked with the Nebraska Department of Transportation to research statewide transportation topics, promote transportation, assist agencies with civil rights compliance plans and develop a web application for use by rural transit agencies and the department to ensure compliance with federal funding. In addition to transportation grants, the center manages $500,000 in grant and contract projects for a range of clients, many of them nonprofits.
Our most recent project is governing.unomaha.edu. When Governing magazine announced it was going out of business, CPAR negotiated with the publishers to archive some data stories and contract with its former data editor to create new stories. Elected officials at all levels need accurate, trustworthy data in a format they can access quickly. We want to provide that data and context to support a more evidence-informed approach to governing.
How do you balance increased demand for data, studies and analysis in today's climate of evidence-based decisionmaking? How do you prioritize requests for help—who gets served first and what secondary audiences benefit later?
We certainly see an increase in the demand for public affairs research, but not to the point of turning work away. If a research project is not a good fit, we will reach out to faculty or other UNO research centers to find a good match. The dean of the College of Public Affairs and Community Service is extraordinarily good at networking and placing projects to ensure everyone has the opportunity to receive high quality information.
How is your work used and what is its impact? How have you become a trusted source of information and assistance for elected officials, policymakers and public agencies?
The center and college are focused on the impact of our research, though seeing that impact can be hard, particularly in the context of governing. unomaha.edu and the Nebraska State Data Center. It is important that people access and use data themselves. We post information with the hope that it will inspire thinking, applying it and making change. However, staff might not know who is using the data or how.
Contract projects work differently; staff usually know the goal for the data and how it will be used to create change. For example, the Greater Omaha Area Chamber of Commerce asked us to survey persons who had lived in Nebraska but now reside in another state. It intended to use the data to inform a media release it hoped would focus on what could be done to attract people to the state. Similarly, an education nonprofit asked us to assemble a factbook ahead of a key legislative debate. CPAR staff knew the impact it would have right away; the requesting agency was not going to plan and pay for a project it did not plan to publicize and enact.
That said, CPAR chooses to not have a voice. Other than the Nebraska State Policy Initiative, staff do not typically work with the same clients over time; the center does not advocate for signature projects or issues. We define ourselves through the lens of providing information. Staff rarely interpret; never advocate; and normally do not consult on implementation. That can be frustrating at times because we want to see the data put to great use. Yet it also is why CPAR is a trusted source of information. Our reputation for providing quality, nonpartisan information is why people work with us; that means not bringing our own ideas into the work.
How does being housed in a university strengthen your center's reputation and visibility? Would your mission change if the center was an independent nonprofit/think tank?
Being part of UNO is critical to our reputation. The university is a metropolitan institution that values engagement—"strengthening our community through the transformative power of shared resources, dynamic collaboration and sustained partnership." That value is why UNO has the center and why staff are able to do the work. Its commitment to engagement provides us a broad platform to conduct this research. Moreover, it gives us access to research and resources to ensure the work is the highest quality.
Where does your center exist within the university hierarchy? How does that position impact your work?
CPAR is a standalone research center in the College of Public Affairs and Community Service. That allows us to work easily with faculty, staff and students across eight different programs. The center is working on new collaborations across colleges, including developing the Nebraska Education Policy Lab, which will have researchers from three different colleges from another university and 20 graduate students.
What are the feedback loops for your work? Once you share it with external organizations, who comments on it, responds to it or probes for new research questions?
Internally, everyone reads everything, but not in a formal capacity. Externally, everyone reads, sees and hears everything. Nebraska is a small place for discussing a hot topic. For example, a presentation for the board of regents could be seen by a state senate staffer, who then requests the same presentation later. If the work is relevant and engaging, you do not have to search for an audience; the relevant parties will want to learn more, and more information will become known.
What do you want public administrators and policymakers to know about your center? And, do you have a message for other centers?
CPAR is focused on research and service. Our staff perform high quality research, oriented through a service lens. What does this mean? We make it easy to work with us, we're affordable and accessible. We focus on translating research to multiple audiences with ease, and, we make ourselves available to learn and engage in the community so the research is informed by relevant issues.
PA TIMES interviewed Josie Schaefer for this profile. She can be reached at jgschafer@unomaha.edu.
Learn more about ASPA's PA Times here.
Interest from this article was strong on the impacts of research advancements that CPAR continues to make. After this article was published in ASPA's PA Times Magazine, Schafer did a follow up webinar with four other research centers open to ASPA members only. The webinar was well attended, and the start to many exciting partnerships ahead.