Two-Time UNO Alumna Awarded the CPACS Hubert Locke Distinguished Service Award
An esteemed two-time UNO alumna, and very active member of the community, Betty G. Foster, PhD, was named this year's recipient of the Hubert Locke Distinguished Service Award.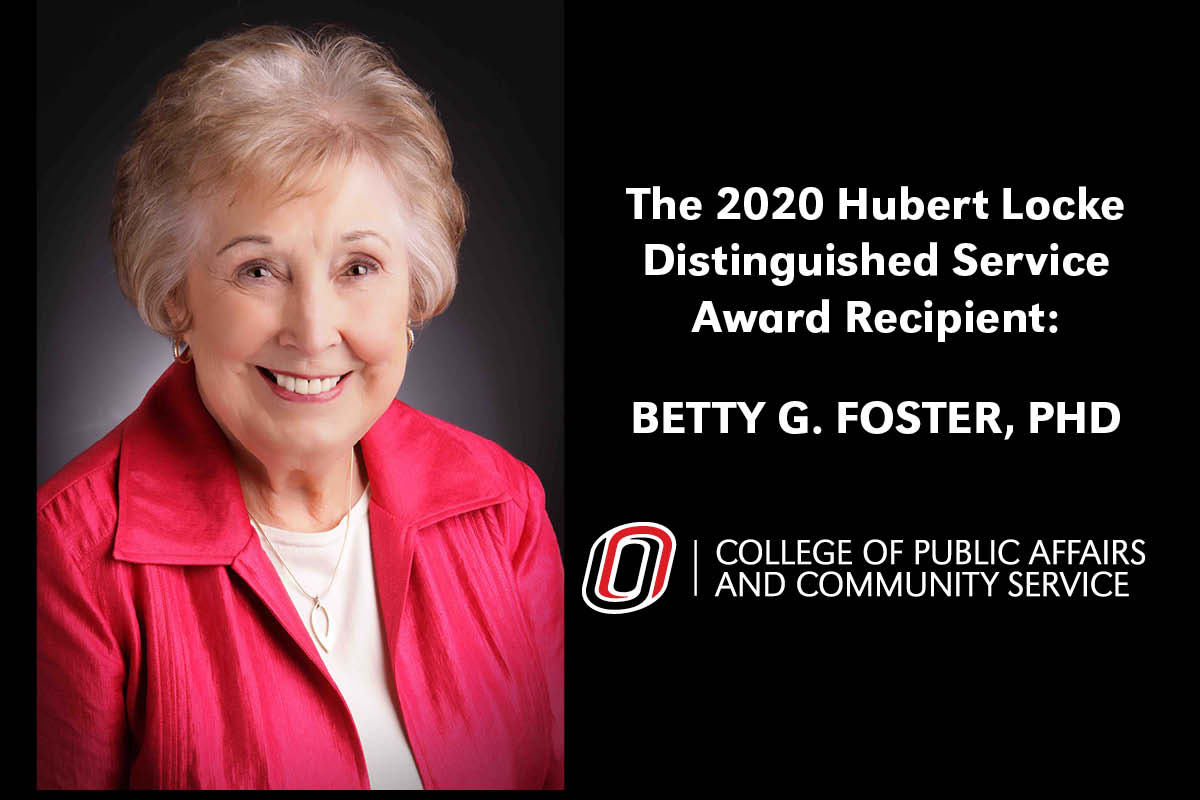 The individuals honored with the alumni award for excellence in public service demonstrate, through both their daily deeds and greatest achievements, the finest attributes of public and community service: integrity, stewardship, volunteerism, leadership, and a commitment to social justice and human dignity. They are a credit to their professions, their families, and our college. We congratulate them for this and all their achievements.
About this Year's Award Recipient: Betty G. Foster, PhD
Foster was born and raised in rural northwestern Nebraska. She married and had five children before completing her education, which included bachelor's and master's degrees from UNO and a doctorate from Kansas State University. Betty served on the faculty at the University of Nebraska Medical Center (UNMC) for 20 years as a gerontologist in the department of internal medicine, division of geriatrics and gerontology.
In 1982, she married Chuck Powell, PhD, a faculty member in the Gerontology Department at UNO. Her professional involvement includes Board Chair of the Douglas County Health Department, Chair of the Midlands Alzheimer's Association Chapter, Chair of the Boards of Midwest Geriatrics and Florence Home, and a member of the Board of Examiners for Nursing Home Administration for Nebraska.
In 2007, she was selected as a Woman of Wisdom by the Program for Women and Successful Aging at UNO. She was honored in 2009 by the Midwest Region of the National Association of Local Boards of Health for her public health service. In 2013, she was chosen for the Alumni Award for Excellence in Public Service by the College of Public Affairs and Community Service at UNO.
After retirement, she became an active volunteer for Methodist Hospital and Nebraska Medicine. She taught classes at Methodist College of Nursing on caregiving and advance planning and serves as a Community Representative on the hospital's Nurses Improving Care for Hospitalized Elderly (NICHE) program. Through her Kiwanis Club, she volunteers as an Airport Ambassador for the Omaha Visitors' Bureau, is on the Opera Omaha Guild Board, and also serves as a member of the Affordable Housing Board for Immanuel Communities. She is a member of EngAge Wellness at UNMC.
Betty established the Dr. Chuck Powell Professorship of Gerontology to honor her husband and to recognize outstanding gerontology faculty members at UNO.
Kudos to you, Dr. Foster. Your lifetime of achievements and passion for gerontology are truly inspirational!
About the Hubert Locke Distinguished Service Award
This award was established in 2002 to honor an individual who has demonstrated exemplary commitment to the ideals of public service through their professional activities, community service, and philanthropy. Dr. Hubert Locke served as the first permanent dean of the College of Public Affairs and Community Service from 1972 to 1976. After leaving UNO, Dr. Locke joined the faculty of the University of Washington where he served as dean of the UW Graduate School of Public Affairs from 1982 to 1987. Dr. Locke's distinguished record of public and community service represents the highest ideals of CPACS. We are proud to recognize individuals who follow in his footsteps.