Graduating CPACS Student Spotlight: Justine Barton
The UNO College of Public Affairs and Community Service (CPACS), is thrilled to announce the recipient of the 2020 Division of Continuing Studies Dean's Award: Justine Barton.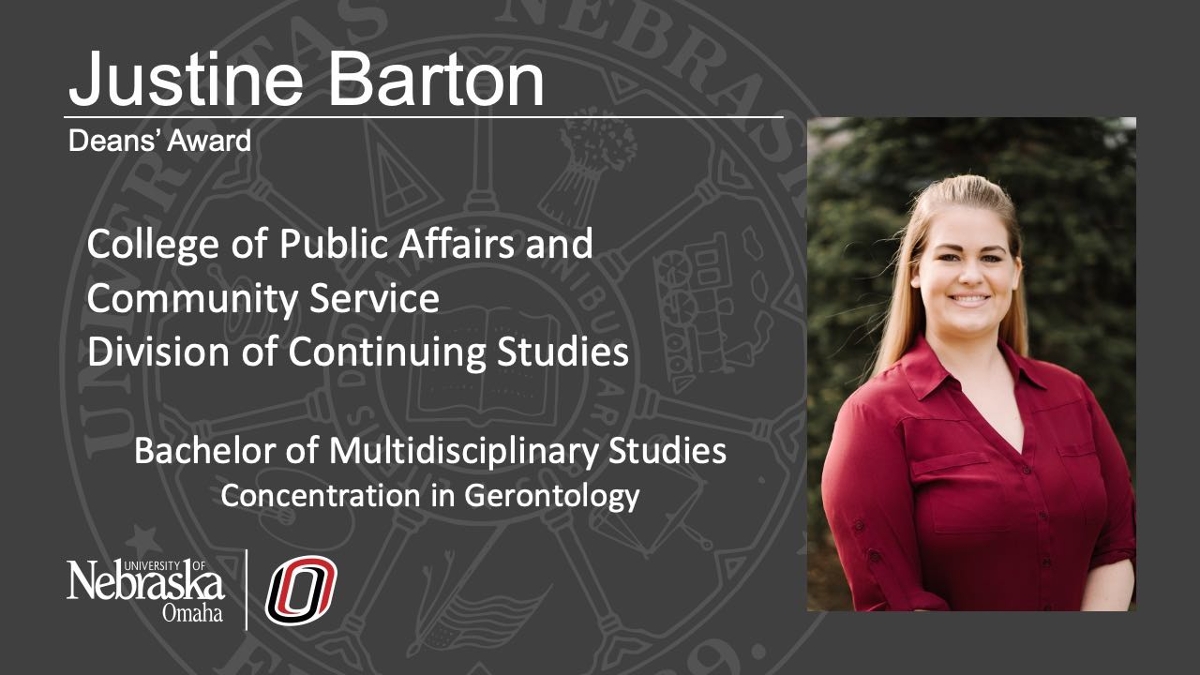 Barton is graduating with a Bachelor of Multidisciplinary Studies with a concentration and certificate in Gerontology. Justine lives in Elgin, Illinois, and completed her UNO coursework entirely online. She is graduating with an impressive GPA of 3.95 while holding membership in the Alpha Sigma Lambda Honor Society.
Barton has an outstanding history of serving, leading, and advocating for those with memory loss, which she describes as her "passion and purpose in life." In her current position as the Senior Memory Care Director at North Shore Place in Northbrook, Illinois, Justine leads the operations of a 44-bed memory care assisted living facility. She has founded two memory cafés in Elgin, Illinois, and Wauwatosa, Wisconsin, and successfully led a grassroots initiative which resulted in Elgin being recognized as a Dementia Friendly Community.
As impressive as Barton's accomplishments are, the road she has traveled to get here has been daunting, making her accomplishments all the more impressive. As a young child, she faced personal tragedy and her grandmother stepped in as her main source of support and care and still is to this day. Justine is the first in her family to graduate from college, and she expressed that she wanted to complete this degree to make her grandmother proud. Her grandmother is not the only one who is proud of her. She is a mother of four young children who also share that pride.
Kudos to you and this prestigious honor, Justine. We are so proud to call you a member of the UNO CPACS family!
Information provided by excerpts from Dr. John Bartle's speech during the Student Honor's Convocation on April 29, 2020.