Urban Studies Grad's New Book is a Captivating Story of Resilience
The School of Public Administration is excited to feature one of its outstanding Master of Science in Urban Studies Graduates, Garry Clark -- a leader in the community, and a published author.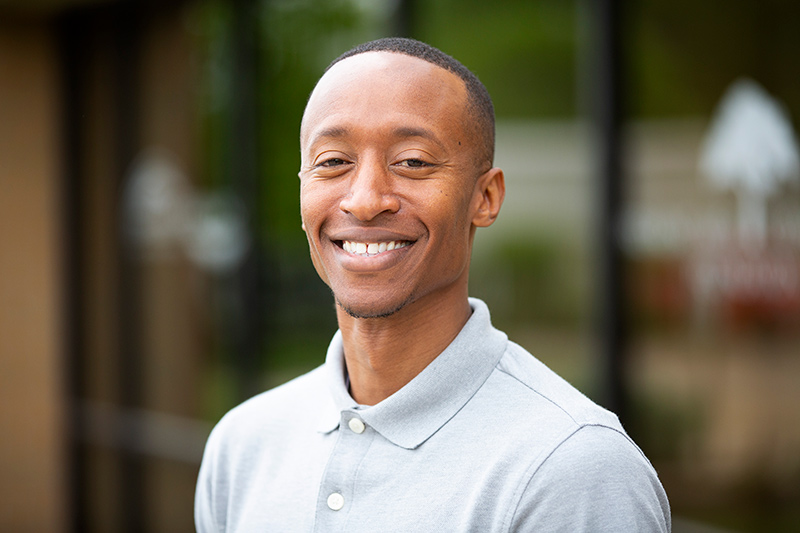 Garry Clark, a Master of Urban Studies alum from the University of Nebraska at Omaha, published his first book, Unlikely Viking, in February 2019.
Unlikely Viking captures the story of Clark's exodus of hope and overcoming obstacles. The memoir details Clark's childhood from more than 13 homes in Washington D.C. to rural Nebraska, breaking a cycle of drug abuse and fear. Using his extraordinary ability to run, Clark found hope in Blair, Nebraska where he attended Dana College and amassed 11 track records.
Clark's memoir opens a window into an upbringing foreign to most rural Nebraskans. His story is an inspiring tale of resiliency, showing readers that the environment one is born into doesn't hold people back, instead it allows people to transcend barriers.
Clark received his Bachelors of Arts in Sociology from Dana College in Blair, Nebraska, and his Master of Science in Urban Studies from the University of Nebraska at Omaha. While at Dana College, Clark was named the first male National Champion. In 2010 he was inducted into the Dana College Hall of Fame for Track and Field.
During his early career, Clark served as a City Planner/Main Street Manager and Economic Development Specialist in Florida, Maryland and in Washington, D.C. Previously, Clark served as the Nebraska Investment Finance Authority's Opportunity Manager in Omaha and as Cuming County's Economic Development Director in Northeast Nebraska for five years.
Clark is currently the Executive Director of the Greater Fremont Development Council in Fremont Nebraska.
Clark's professional highlights include the Midlands Business Journal's 40 Under 40 Award for rising nearly $2 million to fund a Rural Workforce Housing Program in Dodge County, Nebraska, 2nd Vice President of the National Rural Economic Developers Association and board member on the Nebraska Economic Development Association's Board of Directors.
To learn more about Clark and his book visit his website at www.clarkspeaks.com.