Thank you to everyone who supported the 2022 Chuck Powell Memorial Lecture. We look forward to seeing you in 2023!
Past Speakers
2012: Paul & Lori Hogan, co-founders of Home Instead Senior Care

2013: Dr. Tom Osborne, Hall of Fame football coach & Co-Founder of TeamMates

2014: Glenn Van Ekeren, President of Vetter Health Services

2015: Jane Miller, Chief Operating Officer, Gallup Corporation

2016: Susan Henricks, CEO, ICAN

2017: Sarah Rowan, an inspirational speaker and noted life advocate for individuals walking with forgetfulness

2018: Jane Potter, Professor of Geriatric Medicine, University of Nebraska Medical Center and Home Instead Center for Successful Aging
2019: Julie Kaminski, Senior Vice-President and Chief Operating Officer for Immanuel Senior Living.
2021: Steven S. Martin, Managing Partner, Paxton Advisors, L.L.C.
2022: Dr. Kenneth Rockwood, Professor of Medicine, investigator, active staff physician, and the Kathryn Allen Weldon Professor of Alzheimer Research at Dalhousie University.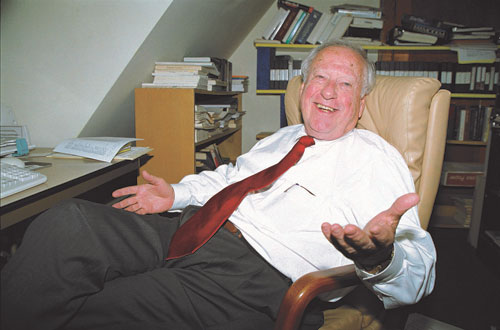 Dr. Chuck Powell
Gentleman. Educator. Navy man. All could be used to describe the late Dr. Chuck Powell, professor emeritus of the University of Nebraska Omaha (UNO) Department of Gerontology and the man for whom this lecture series is named.
Leadership was a subject familiar to Dr. Powell, who, as a 30-year U.S. Navy commander, participated in the Berlin airlift. Powell found gerontology in the second half of his life, earning his doctorate from the University of Nebraska in 1987 and joining the UNO faculty. "He was a wonderful gentleman and a great member of our faculty," said Terry Haney Chair of Gerontology Dr. Julie Masters.
The Dr. Chuck Powell Memorial Lecture Series is open to university gerontology students, alumni, faculty, and the community. It is sponsored by the UNO Department of Gerontology and through the generosity of Dr. Amy Haddad and Mr. Steven Martin.
The Chuck Powell Memorial Lecture Series began at UNO in 2012. In just a few short years, the lecture series that focuses on leadership has become an annual rite of fall for UNO Gerontology students.