Expand your career opportunities!
The Master of Arts in Gerontology is a degree program designed to help meet the educational needs of working professionals and those interested in research.
T

wo Degree Options
Both options are offered online or on campus.
Thesis option: designed for those who wish to gain additional knowledge and insight from the research in the field of gerontology, to interpret the research critically, and who may wish to be prepared to conduct research on their own.
Non-thesis option: designed for practitioners currently working with older adults or aspire to work with elders in some capacity. The non-thesis track provides students with the necessary educational support to understand normal and abnormal age-related changes. The training will also allow students to design, implement, and evaluate programming for elders and their families.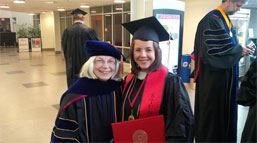 Professor Holley with a proud student at graduation
Admissions
Applications for this program are accepted on a rolling basis. All materials must be submitted prior to the beginning of the semester in which the student has elected to begin coursework.
Required to apply:
Be accepted to the UNO Graduate College (UNO Graduate Admission process). Learn more about graduate admissions.
Program-specific requirements:
Two (2) Academic Letters of Recommendation
Personal Statement (minimum two-pages)
Applicants are required to have a command of oral and written English. Those who do not hold a baccalaureate or other advanced degree from the United States, OR a baccalaureate or other advanced degree from a predetermined country on the waiver list, must meet the minimum language proficiency score requirement in order to be considered for admission. A minimum TOEFL score of 550 paper-based; 80 internet-based; 53 PTE, or 6.5 IELTS is required for this program.
More information can be found in the Graduate Catalog.


---
Student Learning Outcomes (SLOs) for the Master's Degree

SLO 1: Analyze fundamental interdisciplinary evidence-based knowledge and theories for competent gerontological practice.
SLO 2: Critique and analyze diverse and complex aging issues and outcomes from an interdisciplinary perspective.
SLO 3:Exhibit abilities to effectively use basic communication (written, oral, interpersonal) skills and information technology.
SLO 4: Evaluate and appraise ability of oneself and others to demonstrate social and cultural awareness, sensitivity, respect, and support of multiple perspectives, and exhibit personal and social responsibility, and ethical and professional behavior in all settings.
Questions regarding the Master of Arts in Gerontology can be directed to the Gerontology Master's Program Chair:
Lindsay Wilkinson, Ph.D.
210N CPACS
6001 Dodge Street
Omaha, NE 68182
Phone: 402.554.6632
Email: lwilkinson@unomaha.edu