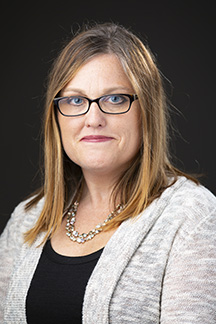 Tina Peterkin
Clinic Director & Instructor
RH 512
---
Additional Information
---
Biography
Tina Peterkin has over 24 years of pediatric experiences in a variety of settings including academia, private clinics, schools, and early childhood programs. She has presented on the use of sign and gestures to help facilitate language development in infants and toddlers. She also served as Assistant Professor at Creighton University Dually Appointed to the Departments of Occupational and Physical Therapy. In addition, Tina served as the primary investigator of a Creighton Global Initiative Grant which researched how to best serve families of patients with special needs and administer patient centered, cross-cultural care.
She has contributed three posts to the ASHA Leader. In one of the posts, "A Dizzying Condition", she shared her personal journey with vestibular crisis and rehabilitation. She was also asked to be the guest speaker for the New Jersey Speech and Hearing Association webinar series in December 2018. She presented on the role of the speech language pathologists in vestibular rehabilitation. On June 1,2019, Tina accepted the position of Clinic Coordinator/ Full time Faculty Position at UNO in the Department of Special Education and Communication Disorders.
Research Interests
How to provide healthcare services while navigating cross cultural differences.
Education
MS in Speech Language Pathology, University of Nebraska at Omaha.