Special Education Graduate Program
Graduate candidates who want to complete a Master's degree in Special Education and add an endorsement or concentration can select one of these programs:
The Special Education Supervisor endorsement is offered through the UNO department of Educational Leadership.
Check out the Special Education Graduate Program Options flier >>
For more information, including program requirements and prerequisites, visit the Special Education page in the Graduate Catalog through the Office of Graduate Studies.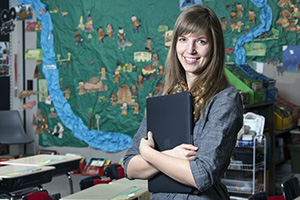 ---
Comprehensive Examinations
The comprehensive examination is designed to evaluate the candidate's ability to apply principles, as well as the candidate's skill in demonstrating sound scholastic and composition capabilities. It is therefore, recommended that candidates remain current with the literature both in special education and the field of major interest.
Upon completion of the course work listed on the plan of study, students register for comprehensive exams. All work for "incompletes" must be completed and grades posted prior to completion of the exam. Questions should be directed to the candidate's advisor.
---
Practicum Information
All candidates in this department must obtain the permission of their academic advisor prior to applying for and registering for practicum. All candidates who are adding an endoresement must complete one (or more) practicum as part of their preparation. This experience must be an all-day, 16 week experience in the endorsement area. Admission to a practicum is by application only.
Practicum Application Deadlines:

Spring - September 15

Fall - February 1

NOTE: If the date falls on the weekend,

applications are due at 5:00 p.m. on the previous Friday.
Please type the appropriate application, print a hard copy, obtain necessary district signatures (inservice only), and turn the form in to Roskens Hall 512 to be routed for signatures. All applications need to be typed with the necessary district signatures prior to turning in to your advisor.
Graduate In-service Practicum Application (completing practicum in your own classroom)
Graduate Practicum Application (need a classroom placement)
Advanced Practicum Application (SPED 8840)