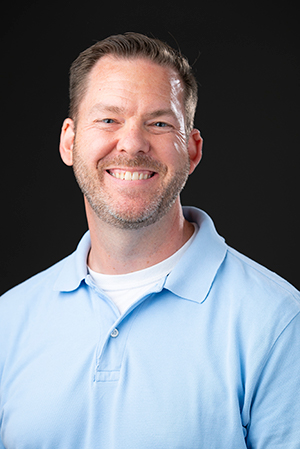 email:
office:
area of focus:
Additional Information
Teaching
Dr. McKevitt teaches primarily graduate-level school psychology courses. He also teaches two undergraduate courses, Educational Psychology and Psychology in the Schools.
Courses Taught
Graduate
PSYC 8500 (Professional, Legal, & Ethical Foundations of School Psychology)
PSYC 8520 (Foundations of Assessment)
PSYC 8540 (School Age Assessment)
PSYC 8800 (Ethics & Law for School Psychologists)
PSYC 8970 (Master's Level Practicum in School Psychology)
PSYC 9780 (Educational and Psychological Consultation)
Undergraduate
PSYC 3510 (Educational Psychology)
PYSC 4510 (Psychology in the Schools)
Research
Dr. McKevitt's research interests are in the areas of school-wide positive behavior support, social skills, and social-emotional-behavioral interventions.
Past Work Experience
Associate Professor, School Psychology Program, 2012-2018
Assistant Professor, School Psychology Program, 2006-2012
School Psychologist, Heartland Area Education Agency 11, Johnston, IA, 2000-2006
Lecturer, Drake University, Des Moines, IA, 2004-2006
Lecturer, Iowa State University, Ames, IA, 2002-2004
Teaching Assistant, CPC Behavioral Healthcare, Morganville, NJ, 1994-1996
Education
PhD, University of Wisconsin-Madison (Educational Psychology), 2001
MS, University of Wisconsin-Madison (Educational Psychology), 1999
BA, Boston College (Psychology, Summa Cum Laude), 1994
Credentials
Nationally Certified School Psychologist
Licensed School Psychologist in Iowa
Certified School Psychologist in Nebraska
Honors and Awards
2020 University of Nebraska at Omaha Outstanding Graduate Mentor Award
2018 Nebraska School Psychologists Association Founders Award
2014 School Psychology Review Editorial Appreciation Award
2011 UNO Alumni Outstanding Teaching Award
2009 Society for the Study of School Psychology Early Career Scholar
2008 Psychological Corporation/Trainers of School Psychology Junior Faculty of the Year Professional Development Scholarship
2001 Wisconsin School Psychologists Association Seibel Award for outstanding graduate student
2000 Student Affiliates in School Psychology (APA Division 16 Student Organization) Research Award
2000 Michael Vincent O'Shea Fellowship Recipient, awarded by the Department of Educational Psychology at the University of Wisconsin-Madison
Peer-Reviewed Publications
*Denotes student co-author
McKevitt, B. C., Mussman, K. L., & Jessop, K.L. (in press). Promoting professional practice standards: Opportunities from a university-school district partnership. Journal of Educational and Psychological Consultation. https://doi.org/10.1080/10474412.2022.2070493
DeVeney, S. L. & McKevitt, B. C. (2021). Interprofessional experience for future education professionals: School psychology and speech-language pathology students. Teaching and Learning in Communication Sciences Disorders, 5 (1), Article 1.
Weaver, A. D., McKevitt, B. C., & Farris, A.* (2017). Using multiple-stimulus without replacement (MSWO) preference assessments to increase student engagement and performance. Beyond Behavior, 26, 5-10.
Swain, K., McKevitt, B. C., & Ritzman, M. (2016). Graduate students' experiences with interdisciplinary collaboration. Trainers' Forum: Journal of the Trainers of School Psychologists, 34, 26-40.
Uvaas, T.* & McKevitt, B. C. (2013). Improving transitions to high school: A review of current research and practice. Preventing School Failure, 57, 58-64.
McKevitt, B. C., Dempsey, J. N.*, Ternus, J.*, & Shriver, M. D. (2012). Dealing with behavior problems: The use of positive behavior support strategies in summer programs. Afterschool Matters, 15, 16-25.
McKevitt, B. C. (2012) School psychologists' knowledge and use of evidence-based social-emotional learning interventions. Contemporary School Psychology, 16, 33-45.
Riley, J. L.*, McKevitt, B. C., Shriver, M. D., & Allen, K. (2011). Increasing on-task behavior using teacher attention delivered on a fixed time schedule. Journal of Behavioral Education, 20, 149-162.
Elliott, S. N., Kratochwill, T. R., McKevitt, B. C., & Malecki, C. K. (2009). The effects and perceived consequences of testing accommodations on math and science performance assessments. School Psychology Quarterly, 24, 224-239.
McKevitt, B. C. (2005). Creating a school-wide system of positive behavior support. NASP Communiqué, 33(6), 1-4 (special insert).
McKevitt, B. C., & Elliott, S. N. (2005). Observations and ratings of preschool children's social behavior: Issues of representativeness and validity. Psychology in the Schools, 42, 13-26.
McKevitt, B. C., & Elliott, S. N. (2003). Effects and perceived consequences of using read-aloud and teacher-recommended testing accommodations on a reading achievement test. School Psychology Review, 32, 583-600.
Elliott, S. N., McKevitt, B. C., & Kettler, R. (2002). Testing accommodations research and decision-making: The case of "good" scores being highly valued but difficult to achieve for all students. Measurement and Evaluation in Counseling and Development, 35, 153-166.
Elliott, S. N., Kratochwill, T. R., & McKevitt, B. C. (2001). Experimental analysis of the effects of testing accommodations on the scores of students with and without disabilities. Journal of School Psychology, 39, 3-24.
Other Publications
McKevitt, B. C. (2021). Spotlight on the Northside Independent School District. Communiqué, 50(4), 22-23.
McKevitt, B. C. (2016). Foreword for book written by Michael Downes, Nature + Nurture: Effective tips for child behavior and nutrition.com.
Professional Affiliations
National Association of School Psychologists
Nebraska School Psychologists Association
Association for Positive Behavior Support