Gerald F. Seib, Chuck Hagel Discuss Importance of U.S. Leadership in a Changing World
Gerald F. Seib, former Washington Executive Editor for the Wall Street Journal, joined UNO alumnus Chuck Hagel, former U.S. Secretary of Defense and former U.S. Senator from Nebraska, for a discussion on global leadership.
published: 2023/04/06
contact: Office of Strategic Marketing and Communications
email: unonews@unomaha.edu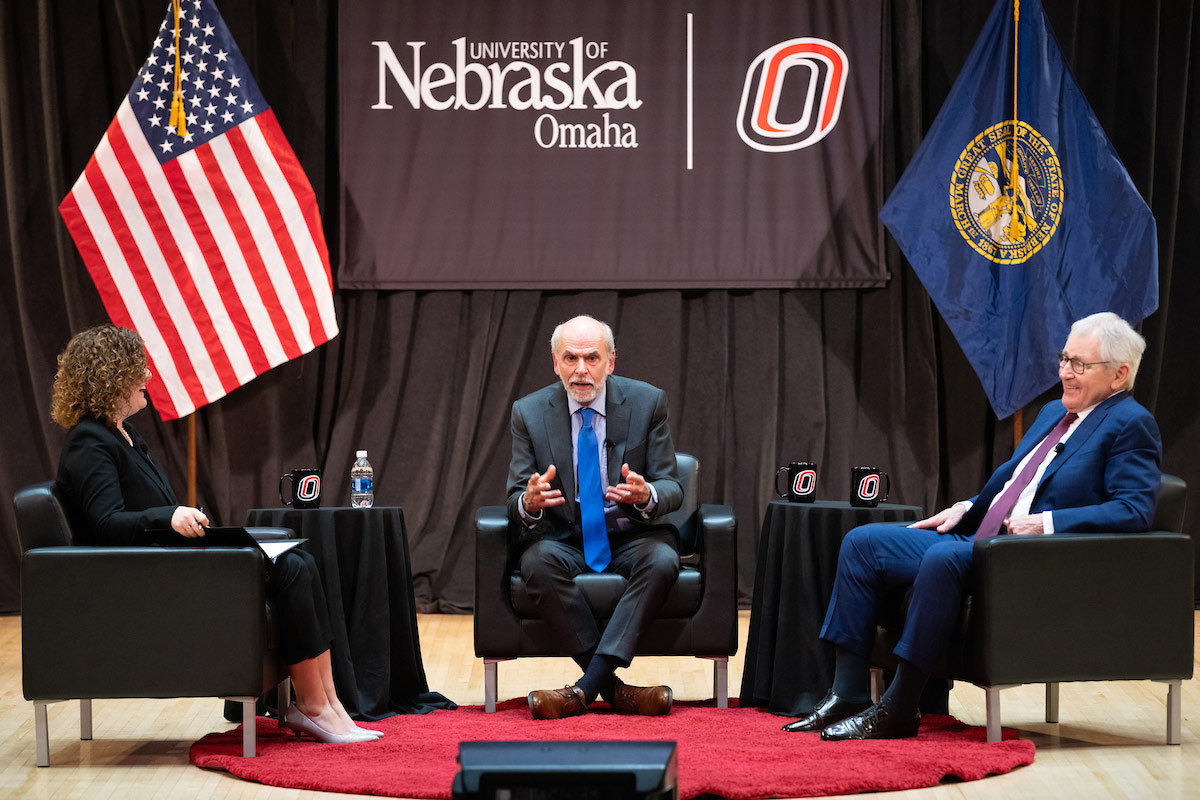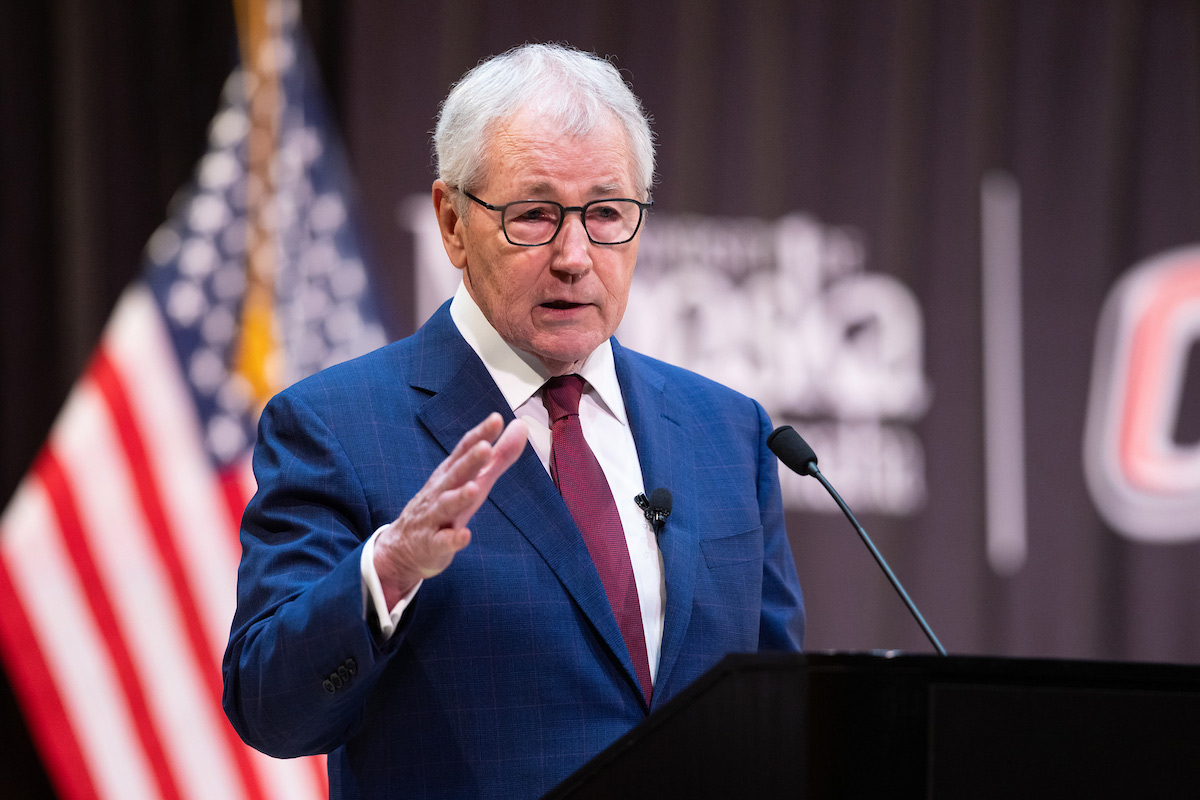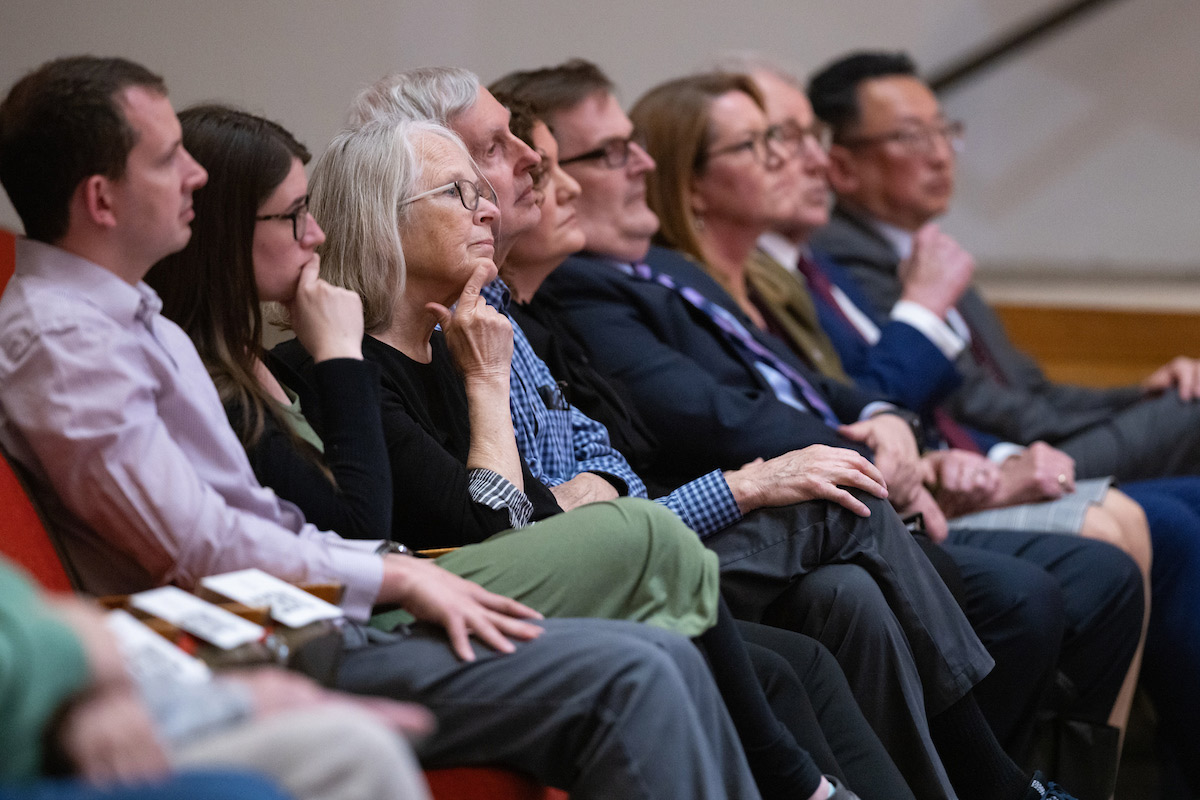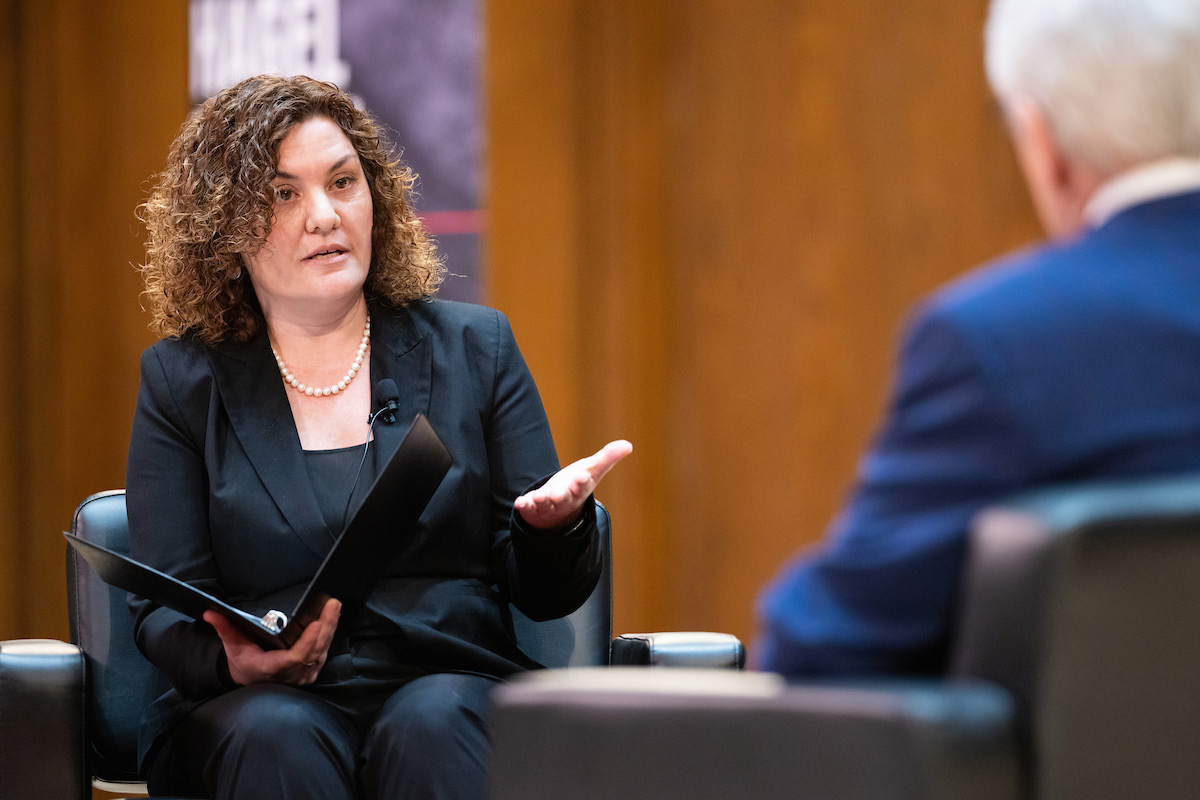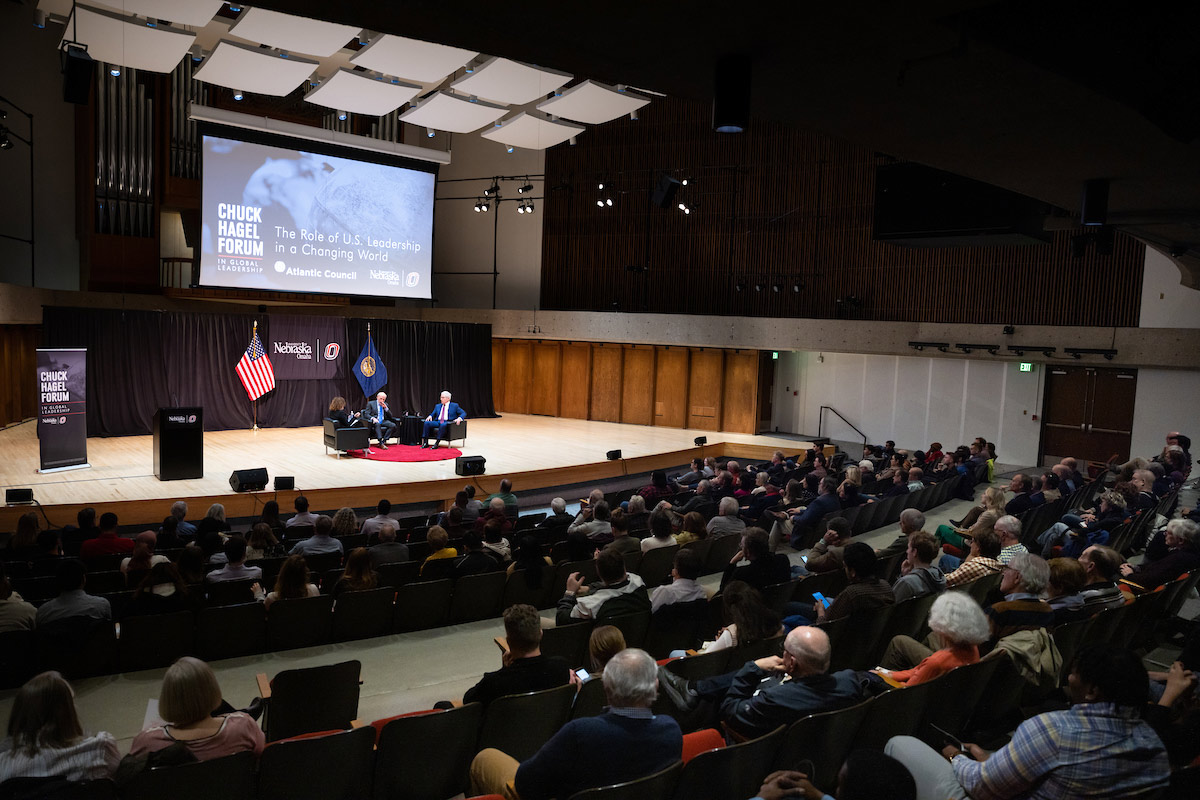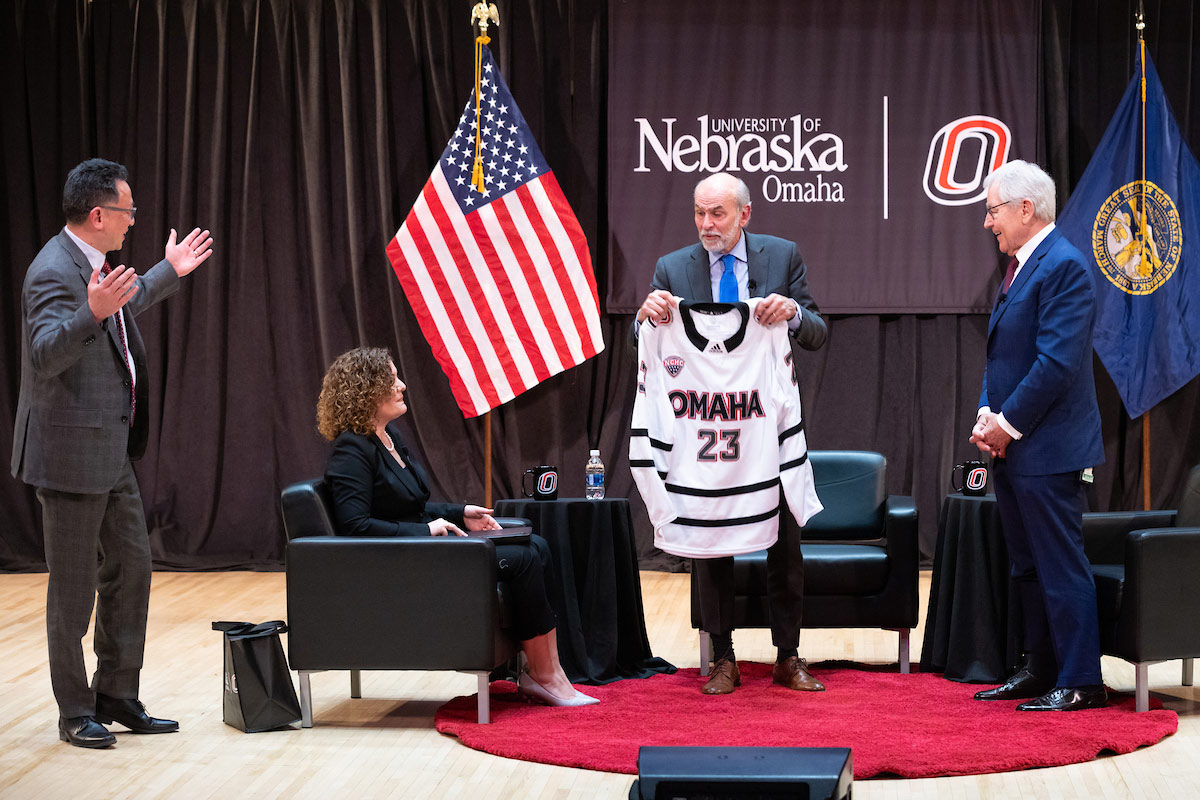 On Thursday, April 6, the University of Nebraska at Omaha (UNO) and the Atlantic Council welcomed the UNO and Omaha communities to hear from two national thought leaders on the topic of global leadership and engagement.
Gerald F. Seib, former Washington Executive Editor of the Wall Street Journal joined former U.S. Secretary of Defense Chuck Hagel for the 2023 Chuck Hagel Forum in Global Leadership, where they discussed the challenges facing global democracy.
During his opening remarks, Seib spoke on the importance of democracy, particularly in engaging young people. He shared how one of the things that truly impressed him about Hagel when they were both in Washington was that when students from Nebraska toured Washington, D.C., Hagel always made it a point to meet and speak with their tours.
"The future of democracy lies not with us… it lies with the young people at this university, in your high schools," he said. "They're the future, and we have to inspire them."
He spoke also to concerns about the rise of authoritarian regimes in many parts of the world, noting that "authoritarian leaders are doing a pretty good job of making progress by arguing that countries run by a firm hand with a centrally controlled economy are by definition more efficient than democracies." He continued, "Democracies, by contrast, are places where people spend a lot of time arguing and fighting and failing to fall in line behind a simple plan. Not to be too melodramatic, but this is the thinking that helped lead to World War II with leaders of Germany and Japan that fascism was superior to democracy and would overtake democratic nations. Some of this autocratic thinking appears to be seeping through in our own society."
But, Seib concluded with the thought that "there's still plenty of reasons to be optimistic, and I am. Democracy has proven over time to be strong, resilient, and durable. Still, I want to say tonight that there are some steps that we can all take to strengthen democracy of ourselves, but also for the rest of the world."
Hagel continued Seib's thought on the powerful potential in democracy, saying, "When the U.S. and our allies created the post-World War II world order, that order was created not based on American interests, but on the common interests of all people."
Hagel also spoke about his experiences traveling the world and noted that there is a perception among those he has interacted with globally that shows there is a sense of deteriorated trust in that power of democracy right now, particularly in relation to the United States, and that there is a concerted need to make moves to regain that trust in the face of rising authoritarian regimes.
"If we don't practice democracy, if people don't see it here, there's no way we can change the world," Hagel said. He also added that the only way that the U.S. can lead and truly make that meaningful change is to ensure we understand the cultures and philosophy within the countries we would seek to help.
The event featured an open discussion built from questions submitted by UNO students and moderated by Lana Obradovic, Ph.D., the director of international studies at UNO, and associate professor of political science.
Their discussion feature topics that included:
America's ability to face complex, unique challenges.
Threat deterrence in multipolar security environments.
The role of organizations such as NCITE and the Nebraska Deterrence Lab to help deter multipolar risks and threats.
Artificial intelligence and how to prepare for its impact on employment trends.
Ways that young leaders can engage and empower their voice when speaking out.
How the U.S. can work with allies to coordinate responses to cybersecurity threats.
The impact of climate change on national security and international partnerships.
"We must recognize that here and abroad, democracy is not a spectator sport," Seib said.
The presentation will soon be available to view in its entirety.
About the Global Forum Series
The 2023 event is the fifth installment of the Chuck Hagel Forum in Global Leadership series. The series debuted at UNO in 2019 with a discussion between Hagel and then-former U.S. Vice President Joe Biden on pressing global issues. The 2020 event featured former U.S. Secretary of State John Kerry. The 2021 event featured former U.S Secretary of Homeland Security Tom Ridge.
For the third consecutive year, this forum is hosted in partnership with the Atlantic Council, a nonpartisan organization that galvanizes U.S. leadership and engagement in the world, in partnership with allies and partners, to shape solutions to global challenges.
This event series explores critical issues with global leaders in search of solutions to today's global challenges. The Chuck Hagel Forum in Global Leadership provides an opportunity to engage with Hagel and other global leaders, policymakers, and thinkers.
About the Atlantic Council
The Atlantic Council promotes constructive leadership and engagement in international affairs based on the Atlantic Community's central role in meeting global challenges. The Council provides an essential forum for navigating the dramatic economic and political changes defining the twenty-first century by informing and galvanizing its uniquely influential network of global leaders. The Atlantic Council—through the papers it publishes, the ideas it generates, the future leaders it develops, and the communities it builds—shapes policy choices and strategies to create a more free, secure, and prosperous world.