Nebraska Deterrence Lab Hosts Experiment with Regional FBI Agents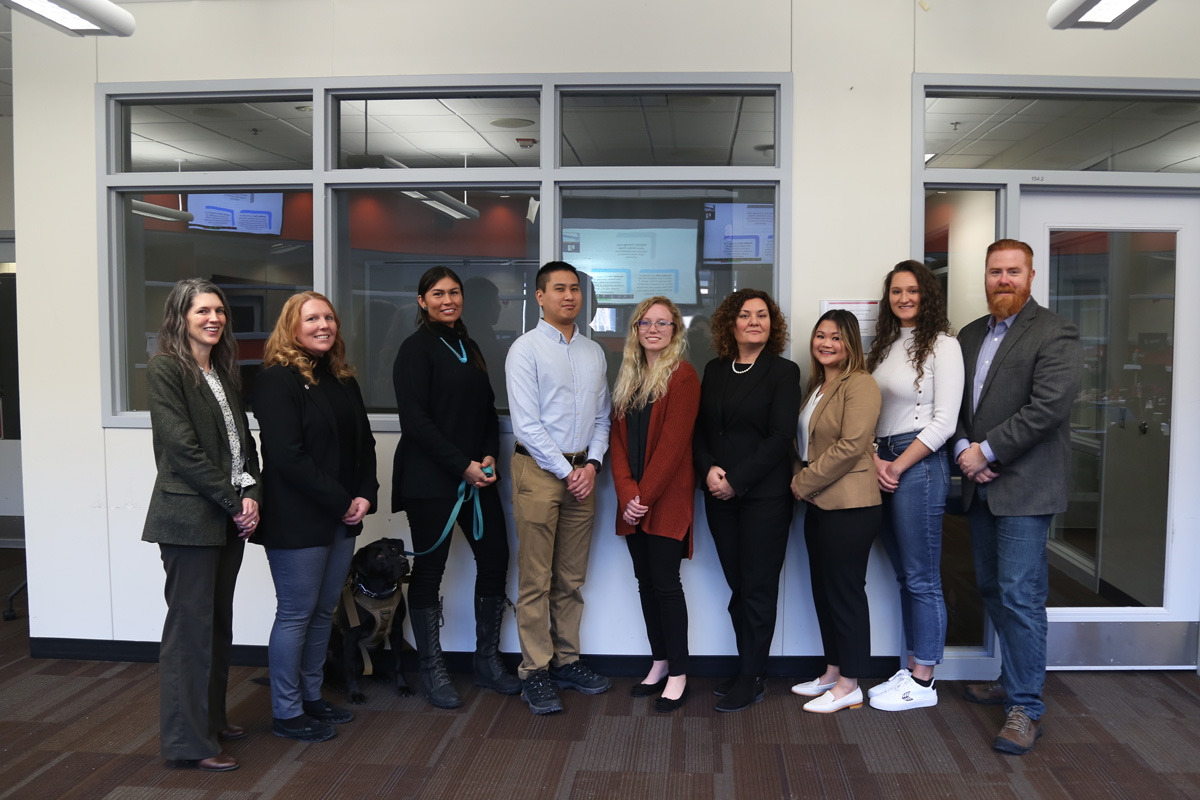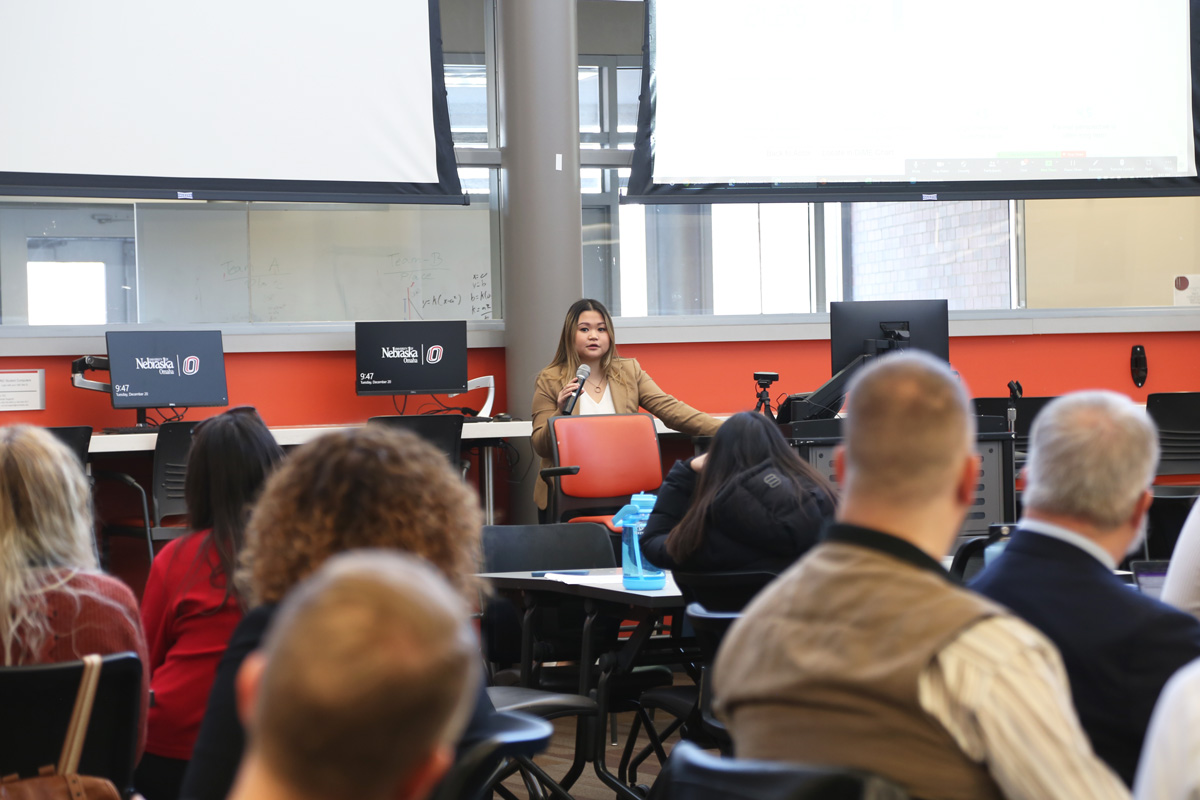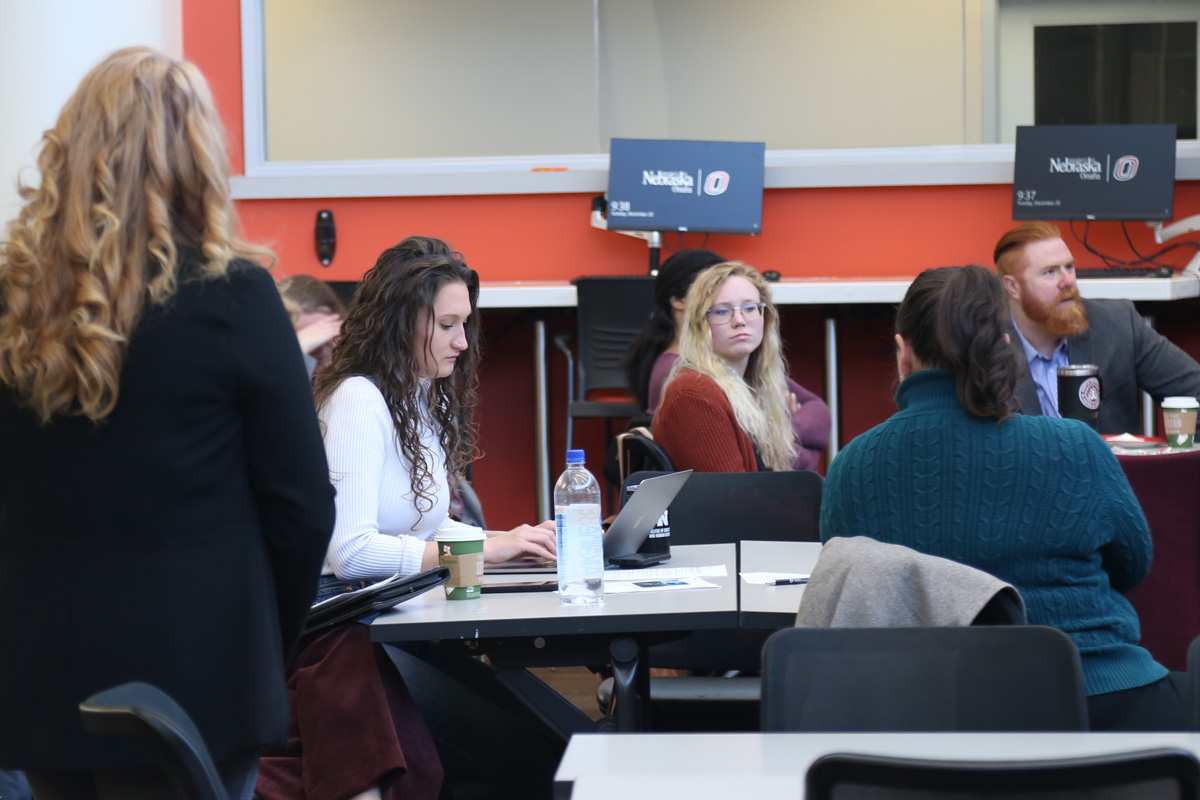 To help agencies better anticipate emerging national and international security challenges and deter future threats, researchers at the Nebraska Deterrence Lab are developing and testing tools that can help inform decision-making and analysis. Contributors and collaborators include faculty and students from the University of Nebraska at Omaha (UNO) and the University of Nebraska-Lincoln (UNL).

In December of 2022, agents and analysts from the FBI joined faculty and students to run an experiment using the multi-actor deterrence analysis methodology (known as MADAM). In the experiment, participants analyzed potential threats to the Nebraska and Iowa agricultural economy — these threats could include anything from actions by terrorist groups or unfriendly nations to threats like climate change, cyber threats, and diminished access to resources.

For a critical infrastructure sector tasked with feeding the world, understanding which vulnerabilities exist and how they might be exploited by others is crucial to understand, particularly in today's environment.
Dr. Michelle Black, principal investigator on the project and Co-Director of the lab, said the experiment shows how the research can be applied to current and relevant security issues — especially those close to home. In working with FBI analysts in this scenario, they are testing the flexibility of MADAM and looking for feedback on how the tool could help classify unfriendly actors (state and non-state actors) and potential threats. In many ways, the tool and actor profiles need to be fluid so they can be adapted for various scenarios.
"If we start putting up walls, that limits our collaboration and our chance to innovate," Black said.
For each state or non-state actor identified within the scenario, a proprietary algorithm scores aspects such as objectives and actions. Participants in the experiment input the data into a custom developed tool, created by UNO's College of Information Science and Technology (IS&T) graduate student Steve Saunders. Dr. Deanna House, Co-Director of the lab, established space and resources to help create the lab in August 2022. House converted previous research and experiments — including one with NATO participants which relied exclusively on hand-written analysis and took five full days — into the design of a tool coded by Saunders and used by the FBI experiment. The software reduced the time required to less than half.
Several other undergraduate and graduate students, in addition to Saunders, have contributed to the MADAM project. Josie Nelson, a graduate student in political science, has worked on the project for almost three years, starting during her undergraduate years at UNO.

"I've always been drawn to international affairs and security, and this project is a great nexus of the two," Nelson said. "I think we are doing some really groundbreaking research that's getting attention from a lot of government agencies, including our FBI counterparts here. We've worked with NATO in the past, and we're hoping to get a [Department of Defense] agency for our next scenario."

Jimmy Hang, an undergraduate pursuing a bachelor's of multidisciplinary studies, was drawn to the project while taking Black's course on U.S. foreign policy. He added, "It's been a really great experience working on this project with Dr. Black, and with this work we are developing and fostering partnerships between UNO and other agencies."

The project overall provides an opportunity for students to learn unique skills through active, hands-on research. Medicine Flower Blue Star, a graduate student in political science focusing on international affairs, joined the project in fall 2022 and said she's thoroughly enjoyed the experience.

"I love research, and I love connecting information," Blue Star said. "Meeting people who are actually working within the field and seeing how they think and analyze things has been so beneficial."

Nelson said the results of the experiment so far validate the work and show the methodology is a lot more versatile than originally thought. The experiment and its outcomes will help further research in deterrence and national security, and hopefully provide value to agency partners.

FBI Omaha Supervisory Intelligence Analyst Wade Greening said, "Staying ahead of evolving threats to U.S. interests is core to the FBI's mission. When we can work with partners to deter adversaries now from criminal activity, our communities will be safer, and our agricultural partners can continue fulfilling their critical role in feeding this nation."
The full Nebraska Deterrence Laboratory team includes:
Michelle Black, Associate Professor of Political Science at UNO, Security Innovations Academic Program Director and Research at NCITE, and NSRI fellow
Deanna House, Assistant Professor of Information Systems and Quantitative Analysis at UNO and NSRI fellow
Lana Obradovic, Director of International Studies and Associate Professor of Political Science at UNO, and NSRI fellow
Tyler White, Associate Professor of Practice of Political Science and Director of National Security at UNL, and NSRI fellow
Elsbeth Magilton, Director of Externships and the Executive Director of the Space, Cyber, and Telecommunications Law, University of Nebraska College of Law at UNL
Josie Nelson, Graduate Assistant and Student at UNO
Steve Saunders, Research Assistant at UNO
Rachel Urban, Graduate Assistant and Student at UNL
Medicine Flower Blue Star, Graduate Student at UNO
Miranda Barna, Undergraduate Student at UNO
Jimmy Hang, Undergraduate Student at UNO
Cameron Carpenter (UNO Contributor)
Blake Hopping (UNO Contributor)