Samantha Sack interns in Basel, Switzerland, and Boston, MA.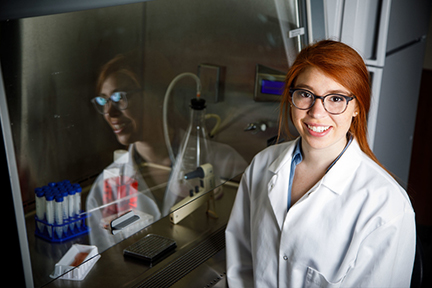 Samantha Sack has had an amazing year so far. This spring as a junior biotechnology and biomechanics major, she became only the third student in UNO history to win the prestigious Barry Goldwater Award and this summer she contributed to important research in public health at two world-renowned institutions, Swiss Tropical and Public Health Institute (TPH) and Harvard University.
Her inspiration for applying for the internships comes from her studies here at UNO. She explains, "Overall, my work in Dr. Davis' lab has inspired me to continue working with parasites, as they are often neglected diseases that impact largely developing countries. It's incredible to know that I can make a difference in these individuals' lives."
Sack, who plans to pursue a doctorate in immunology or public health, is also quick to point out how much the encouragement of her fellow students and UNO faculty contribute to her successes: "I work in Dr. Paul Davis' parasitology lab here at UNO, and it's a very supportive environment. Dr. Davis himself was my biggest advocate and supporter of both internships. He actually set up the internship at Swiss TPH for me, since they collaborate with him on research projects. He also instilled a lot of confidence in me to apply to the Harvard internship. Former lab members Harim Won and Madalyn McFarland have both gone to Harvard for PhDs in this program, and they encouraged me to apply too!"
At Swiss Tropical and Public Health Institute, she worked with drugs that target parasites that cause diseases like the neglected tropical disease schistosomiasis and hook worm. At Harvard's Biological Sciences in Public Health, she worked on treatment against the parasite that causes malaria. She explains, "Because these parasites mutate relatively rapidly, resistance against antimalarial drugs is on the rise. Therefore, I also work on determining how these parasites develop resistance to new drugs using a closely related parasite."
According to Dr. Paul Davis, Biology, "Samantha is a student with amazing talent for hard work and staying focused. She approaches her work in the area of drug discovery with the enthusiasm, vigor, and knowledge of a scientist with many more years of study than would be expected. I anticipate great things to come from Samantha in her future."