The Advantages of an Online Graduate Program
Discover 9 benefits of earning an online graduate degree or certificate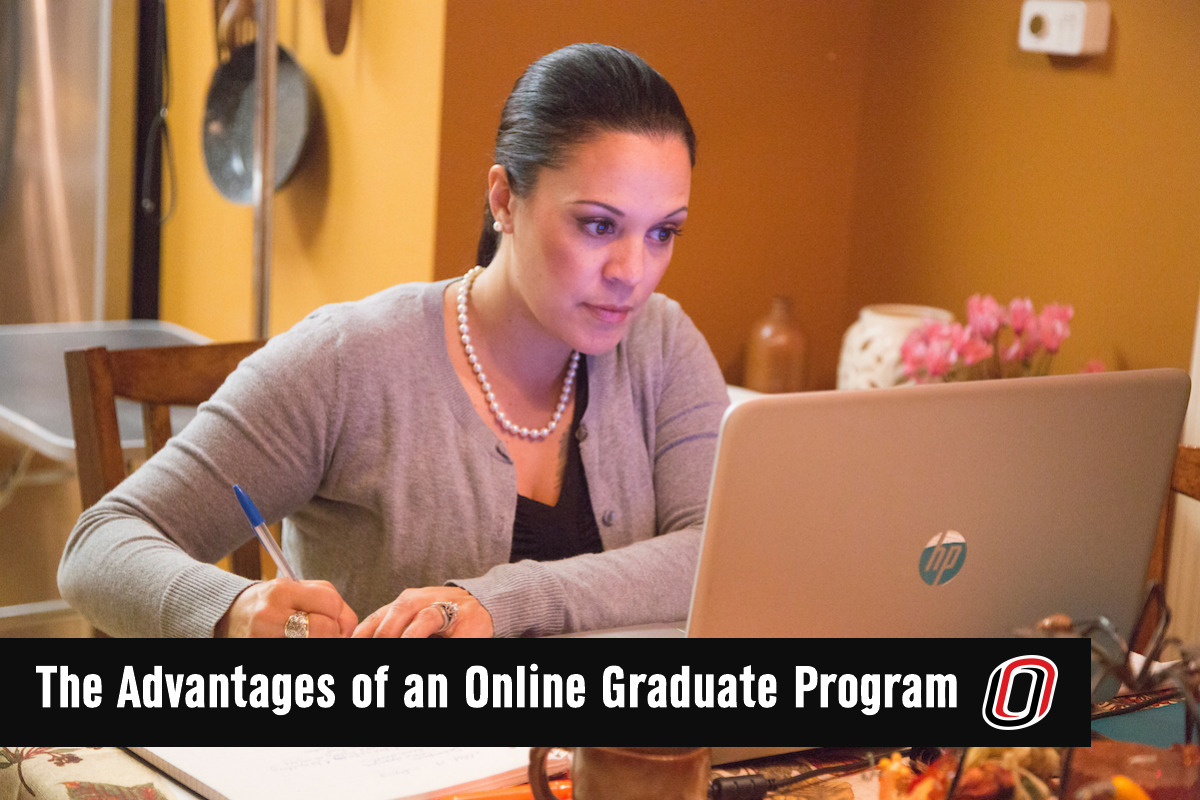 Earning a graduate degree is no easy task, but many universities are here to help students achieve their goals through online graduate programs. Various universities have built their own online learning space that are geared towards students who are working professionals, full-time parents or even undergraduate students heading into graduate school that need the amenities and convenience that an online program can provide them.
As technologies continue to evolve, so do educational systems and learning environments. Online education helps individuals drive their career trajectory in the right direction and empowers them to learn what they want, how they want, and when they want. According to the National Center for Education Statistics (2022), 2.2 million graduate students that were enrolled in the fall of 2020, were enrolled in at least one online education course. Around 1.6 million students enrolled in fall of 2020, were exclusively enrolled in online courses.

9 Benefits of Online Graduate Programs
Micro-credentials, Short Courses and Certificates
Many universities have offered bite-sized educational experiences for decades. These public-facing programs often present programs such as

graduate certificates

, short courses, and opportunities for extended and continuing study for personal, professional, and lifelong learning. Micro-credentials allow students to personalize their online learning, as they can select short-form micro-credentials tailored to their career goals and responsibilities. Micromasters are available through several colleges and in a wide variety of topics including business, IT, and more.
Affordability




Students may find that earning a degree can be more

affordable through online graduate programs

, especially when it comes to books, fees, transportation costs, and other costs related to higher education. With online education, students do not have to go back to a traditional school setting, instead, they can learn at home at a minimal cost. This approach also allows students to explore different schools around the country and compare costs and benefits that suit their needs best.
Improved Accommodation for Nontraditional Students




Non-traditional students

,

such as students who are returning to school later in life, often face some uphill battles during the college experience. These students typically have full-time jobs and family responsibilities. Students can take full advantage of classes that work around their work, kids, and other responsibilities, without having to cut into their income or family time.

Online programs work with a student's schedule, not against it. Whether they are traveling or taking care of their kids, most online programs give students the flexibility to do coursework when it fits into their schedule day or night.
People are Learning from World-Class Experts




With the rise of online education; it is becoming easier to gain access from experts. World-class experts from various fields have started sharing their knowledge, skills, and lessons with students.

Online degree programs

allow renowned experts to broadcast their message virtually and to wider demographics. Professors can pack their teachings and insights into courses and books and distribute them virtually. This allows students to access a world-class education from the comfort of their home.
Video Learning




Video is a versatile mode of learning because it's interactive and facilitates online learning. With an increasing number of learners opting for interactive content, video outperforms text-based learning. Video-based learning has existed for years, but interactive video learning is a new phenomenon. The interactive mode erases issues like passive viewing and inefficient performance tracking. It creates engagement for students by offering embedded questions, quizzes, notes, keywords, and much more.
Open Educational Resources (OER's)




Textbooks are becoming increasingly costly for students. College students spend about

$1,290

on books and associated materials, according to a College Board survey. The alternative is

OER (Open Educational Resources) over traditional formats

. Digital OERs are steadily replacing printed material as they are cost-effective and compact. Widespread acceptance of OER by faculties and students is a rising education trend that will become mainstream in future.
Online Communities are the New Classrooms




Online learning does not mean learning alone. Communities exist all over the internet and involve like-minded peers. Instructors are building communities within their campus course management systems to reinforce engaged learning. It makes it easier to connect with peers who are at the same level and with more experienced peers. Online communities' foster relationships between students all over the world. Communities are on the rise as they are a virtual campus of like-minded people with similar goals.
Improved Learning Environment




Online graduate programs allow students to rewind and review the materials as many times as they may need. These programs typically offer more reading materials, extra study guides and additional study materials to help students stay engaged. As a bonus, students choose their learning environment, whether that be a coffee shop, a library, or their living room. Overall, giving students the advantage of creating a better

learning experience

.
Career Advancement or Career Change




One of the best benefits of completing an

online graduate degree or certificate

is the chance to advance a career or make a career change. Students can continue working while also earning a graduate degree or certificate with an online program. A graduate degree or certificate can help increase salary, help get a promotion or help break into a new industry.
The online learning experience will only continue to improve as more technology is developed for the education sector. Currently, UNO offers 14 online graduate certificates, 20 online graduate degrees, and 3 online graduate endorsements. Each year, those numbers continue to rise and create more opportunities for students to earn a graduate degree or certificate completely online.

About UNO Office of Graduate Studies
The UNO Office of Graduate Studies has more than 110 years of experience educating professionals and academics, and helping individuals succeed in their careers. The mission of the Office of Graduate Studies is to develop, enhance, and promote outstanding graduate education; to ensure a rich environment for learning, creative activity, and the discovery and communication of new knowledge; and to be recognized for excellence in regional, national, and global engagement and contributions. With over 90 graduate programs at all levels, UNO has numerous opportunities.
About the University of Nebraska at Omaha
Located in one of America's best cities to live, work and learn, the University of Nebraska at Omaha (UNO) is Nebraska's premier metropolitan university. With more than 15,000 students enrolled in 200-plus programs of study, UNO is recognized nationally for its online education, graduate education, military friendliness, and community engagement efforts. Founded in 1908, UNO has served learners of all backgrounds for more than 100 years and is dedicated to another century of excellence both in the classroom and in the community.