UNO now offering new International Graduate Student Scholarship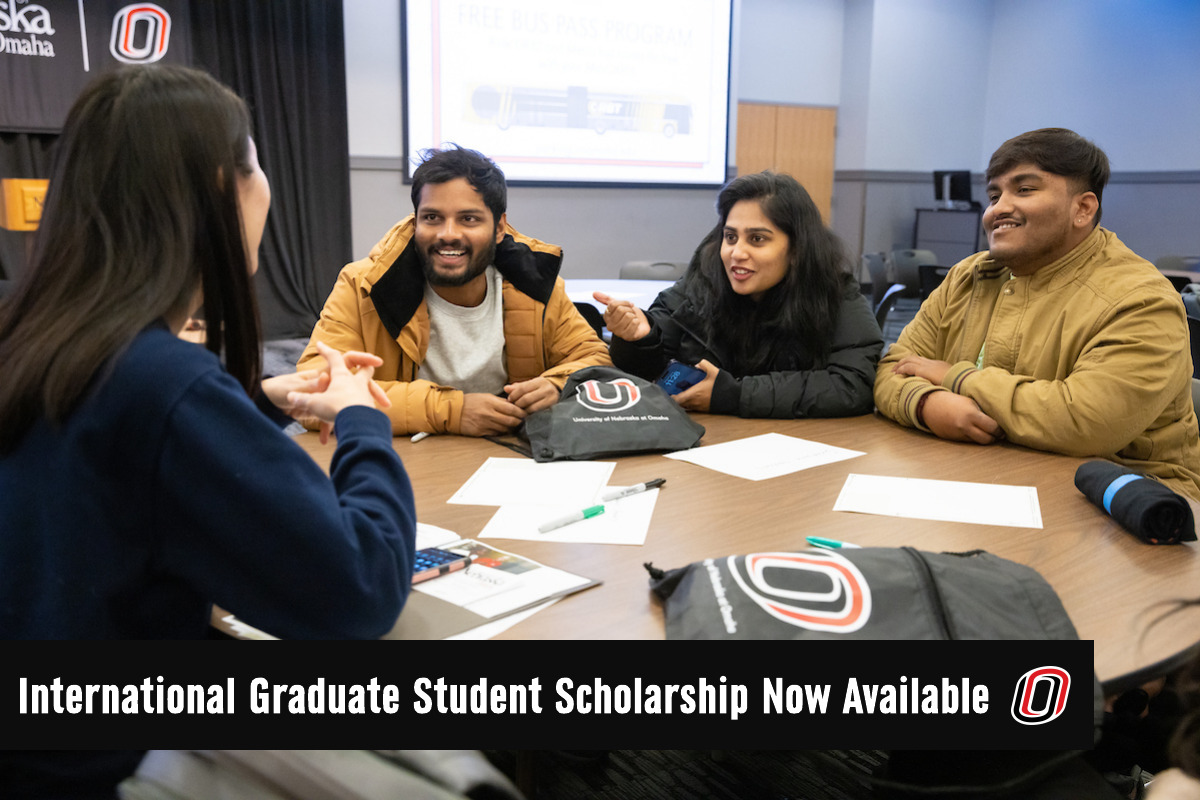 In coordination with the Office of International Programs, the Office of Graduate Studies at the University of Nebraska at Omaha (UNO) announces the new UNO International Graduate Scholarship now available to newly admitted international students choosing to enroll in Omaha. Distribution of the new UNO International Graduate Scholarship began with awards for 25 newly admitted international graduate students, representing 7 countries, in the Spring 2023 semester.
"One of the great things about being a student at UNO is the opportunity to interact with faculty, staff and peers from around the globe," said Juan Casas, Interim Dean of Graduate Studies. "These interactions provide students with rich opportunities to learn about different cultures and foster new connections, experiences and relationships that will serve them well for the rest of their lives."
Regardless of country of origin, the new International Graduate Scholarship automatically remits a portion (starting at approximately $2,000 per year) of tuition costs for all newly admitted first-time (and transfer) international graduate students after admission. A separate scholarship application is not required.
The scholarship requires each international graduate student to enroll in at least nine (9) credit hours per semester; and it is renewable for up to three to five years, dependent upon the level of graduate program (i.e., master's, educational specialist, or doctoral), assuming the student remains in good standing.
"We are excited about this new scholarship which will make a graduate education at UNO even more affordable and accessible to talented students from around the world who enrich our community so much," said Jody Neathery-Castro, Interim Associate Vice Chancellor for Global Engagement at UNO.
The International Graduate Scholarship cannot be combined with other tuition remission-based scholarships or graduate assistantships. In addition, the scholarship is not transferable in part or in whole to any other university or campus including UNL, UNMC, or UNK.
Additional information about the new International Graduate Scholarship can be found on the International Programs scholarships web page.
About the UNO Office of International Programs
For UNO students, International Programs (INPR) serves as their envoy to the world. INPR manages a diverse set of projects and academic pursuits, from training teachers in Afghanistan to preparing native Nebraskans for a new world – a world digitally linked, partnered in trade, and demanding transnational solutions.
About UNO Office of Graduate Studies  
The UNO Office of Graduate Studies has more than 110 years of experience educating professionals and academics, and helping individuals succeed in their careers. The mission of the Office of Graduate Studies is to develop, enhance, and promote outstanding graduate education; to ensure a rich environment for learning, creative activity, and the discovery and communication of new knowledge; and to be recognized for excellence in regional, national, and global engagement and contributions. With over 90 graduate programs at all levels, UNO has numerous opportunities. 
About the University of Nebraska at Omaha 
Located in one of America's best cities to live, work and learn, the University of Nebraska at Omaha is Nebraska's premier metropolitan university. With more than 15,000 students enrolled in 200-plus programs of study, UNO is recognized nationally for its online education, graduate education, military friendliness, and community engagement efforts. Founded in 1908, UNO has served learners of all backgrounds for more than 100 years and is dedicated to another century of excellence both in the classroom and in the community.