Benefits and Affordability Options for Undergraduate Students Considering Graduate School
Undergrad student considering graduate school? Here are a few benefits and affordability options to help get started on achieving a graduate degree at UNO.
contact: Molly Walther - Office of Graduate Studies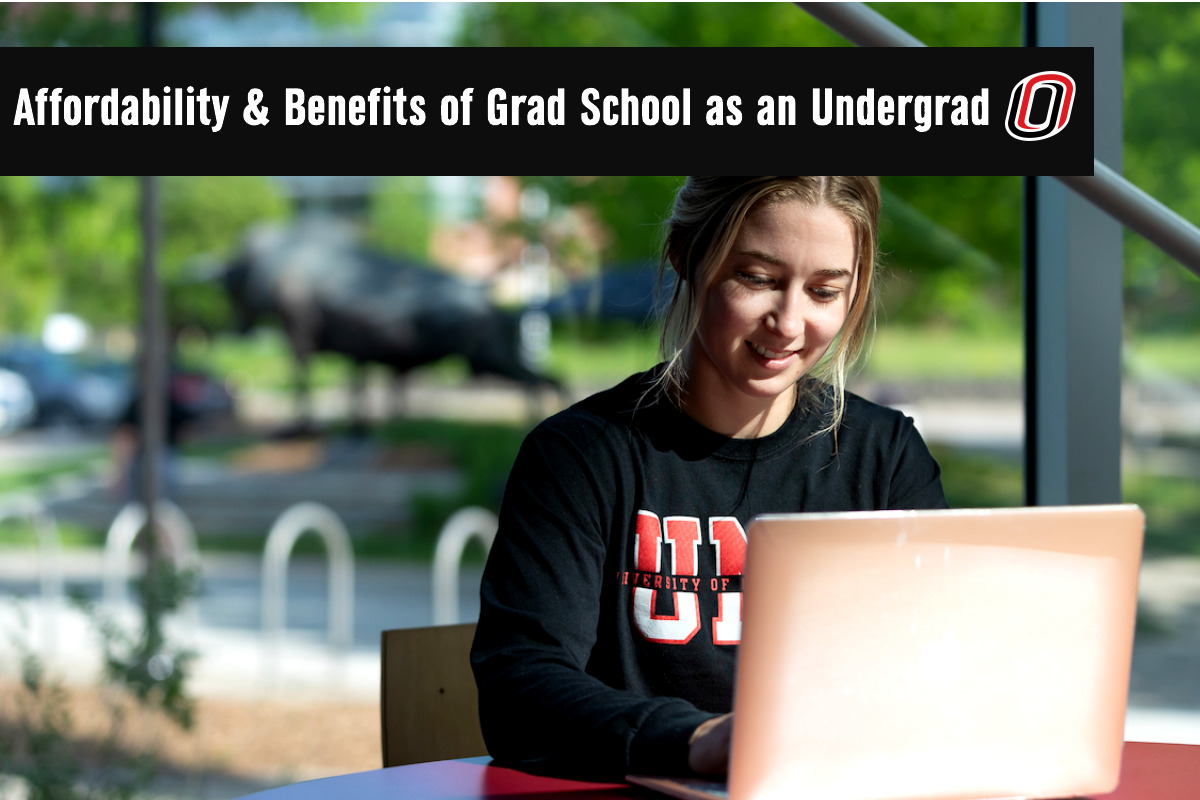 As undergrad students begin their journey towards graduation, some may have considered graduate school as their next step in their career path. Graduate school is an opportunity to help them achieve their goals both academically and professionally, and with over 90+ programs at UNO (University of Nebraska at Omaha) there is something for everyone.
According to a recent survey, 63% of grad students enter a program within 12 months of earning their undergraduate degree. UNO reports that 18.6% of the applications for graduate admission received for the Fall 2022 semester were from individuals who had also completed a degree at UNO and chose to continue their graduate education as a Maverick.
Students who pursue grad school at their undergrad institution have many advantages such as 1) connections with faculty and staff from their undergrad experience; 2) familiarity with the campus and surrounding areas; 3) and the ability to finish or continue working with their undergraduate research lab and creative activities. There are numerous benefits to pursuing graduate school following an undergraduate degree and we have listed just a few of those below.
Higher Salary and Superior Job Opportunities
Many students continue their education and earn their master's degree or a graduate certificate for the potential of earning higher salaries and to be considered for more prestigious job opportunities. Over the last five years, 33% of companies have raised their educational requirements and are looking for candidates who have a masters in addition to their bachelor's degree.
Research and Fellowship Experience
Another benefit of graduate school is research and creative activity opportunities. If a student has a passion or strong interest in a field or industry and wants to continue learning and working in it, graduate school can offer that opportunity. Many master's and Ph.D. programs offer fellowships and research funding for students in their field of study. Having graduate level research on your resume can open a variety of doors for when students graduate and head into the workforce.
Refresh or Grow Your Skills with Graduate Certificates
If a student feels as though they are not ready to jump into a master's program, they could consider starting with a graduate certificate. Here at UNO, there is a multitude of graduate certificates, which are great to add to a resume and help build a skill set. As a bonus, some of the graduate credit certificate hours may be put towards a master's degree if a student later chooses to begin a program.
Flexibility of Courses and Programs
Graduate school can offer flexible scheduling to align with your needs and personal timeline. Many graduate students continue to work their full-time jobs while attending graduate school. Several universities offer a variety of class structures to ensure your program works within your current schedule. Those structures can be in-person, remote, hybrid, or fully online. Within UNO's graduate studies, you will find all those class options available depending on your program. Many students enjoy our option to enroll in a master's or graduate certificate program that are offered fully online with our digital learning program.
Affording Your Grad Degree as an Undergrad
We understand that financials and affordability play a key role in the decision to continue in higher education. Here at UNO, as an undergraduate student, they have the advantage of a few different options to help get started on a graduate degree with affordability in mind.
Fast Track Program at UNO 
The Fast Track program at UNO offers highly qualified and motivated undergraduate students the opportunity to complete a master's degree along with their bachelor's degree in an accelerated time frame.
Graduate Studies Jump Start Scholarship 
The Jump Start Scholarship is a one-time award for eligible undergraduate seniors to help achieve their graduate academic and professional goals by defraying some of the costs associated with their first semester of graduate school.
Undergraduate Students Taking Graduate Courses 
Start your graduate program early as an undergraduate junior (3.5 GPA) or senior (3.0 GPA). UNO undergraduate students may take graduate courses (maximum of 12 credit hours) to begin their journey in graduate school now, while still completing their undergrad degree.
About UNO Office of Graduate Studies
The UNO Office of Graduate Studies has more than 110 years of experience educating professionals and academics, and helping individuals succeed in their careers. The mission of the Office of Graduate Studies is to develop, enhance, and promote outstanding graduate education; to ensure a rich environment for learning, creative activity, and the discovery and communication of new knowledge; and to be recognized for excellence in regional, national, and global engagement and contributions. With over 90 graduate programs at all levels, UNO has numerous opportunities.
About the University of Nebraska at Omaha
Located in one of America's best cities to live, work and learn, the University of Nebraska at Omaha (UNO) is Nebraska's premier metropolitan university. With more than 15,000 students enrolled in 200-plus programs of study, UNO is recognized nationally for its online education, graduate education, military friendliness, and community engagement efforts. Founded in 1908, UNO has served learners of all backgrounds for more than 100 years and is dedicated to another century of excellence both in the classroom and in the community.