DAP Trucking, Inc. is Building Success One Heavy Load at a Time
William Page has created a successful business rooted in integrity and a strong work ethic. Learn how NBDC has supported his journey.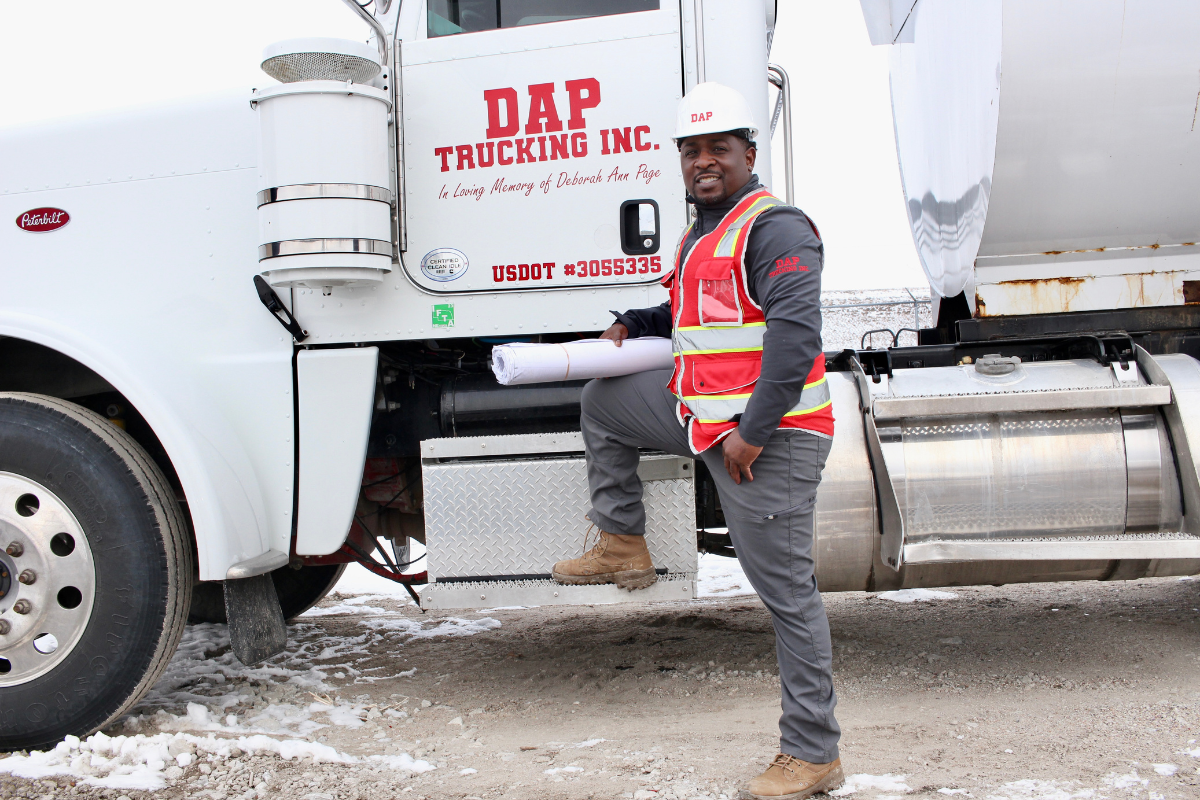 Omaha, Nebraska – William Page, owner of DAP Trucking Inc., has created a business rooted in the integrity and strong work ethic instilled by his father and grandfather.
"I'm originally from Pittsburgh," Page says. "My grandfather worked in the steel mill for 32 years, and my father for 30 years. It's a tough job, and the work ethic I saw in them has been passed on to me."
Page has done his share of hard work. His list includes contract work at a steel mill, installing refrigeration units on truck trailers, and a stint at a transmission company. He moved to Florida to work at his brother's trucking company, hauling sand, aggregates and rock, but the pay was figured by the load and that reduction in income put him on the road to Omaha.
Here, he founded DAP Trucking in 2017, and earned a diesel technician's associate's degree from Metropolitan Community College.
Page started with one dump truck and used his industry contacts to put it to work for a grading company, an excavating contractor and running asphalt. In the winter, he also hauls snow for the City of Omaha. With the assistance of the Nebraska Enterprise Fund, Page acquired a second truck. Currently, he owns four trucks and has employed two additional drivers. DAP Trucking offers waste management, construction materials transportation and construction management services.
Interested in the U.S. Army Corps of Engineers and its contract work on levees in Missouri along Interstate 29, he turned to the Nebraska Business Development Center (NBDC) and its APEX Accelerators program (formerly Procurement Technical Assistance Center/PTAC) consultants for assistance in obtaining a System for Awards Management (SAM) registration.
In April 2022, the APEX team referred Page to NBDC Consultant Eswari Kalugasalam for market research and analysis. "I was keen on diversifying my operations, and wanted to ensure that I was making the right decisions," Page says.
Because of the research and analysis, Page decided to focus more on current market needs, Kalugasalam says. "I am also working with him on market strategy, branding, and marketing," she says.
In response to the NBDC's market analysis, Page is earning his certification in construction management. "He is very resilient, and very open to suggestions and ideas," Kalugasalam says. "He is willing to do what it takes to help his company succeed."
Page says the NBDC's services "have given me validation and confidence in the direction I am going. Eswari helped me hone my company roadmap. She asked lots of tough questions, and answering them made me re-prioritize my efforts. "
Page and DAP Trucking continue to take on new projects locally as he moves the company closer to his goals. "I see my company taking on more construction management projects in this city," he says. "That way, I can keep the pricing fair and run my trucks."
He says he has learned a lot from the construction process. "It's amazing to see projects grow from the ground up," he says. "Every construction job needs a strong foundation, and it's the same with building a company."
Page says he thinks Omaha is the best place for him to build that foundation. "Omaha is a place that encourages you to grow as a business owner," he says. "If you are willing to work hard, this city will give you whatever you want. I am grateful for the support I've received from both Mr.Darrel & Nancy Fager, Diane Good Collins, Scott Shamberg & NBDC, and I look forward to the continued partnership."